21st birthday!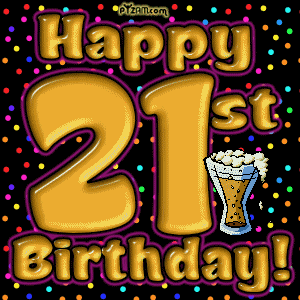 United States
January 20, 2009 2:14pm CST
My 21st birthday is coming up soon..it's February 9th! I'm gonna be going out more then once for my birthday. I plan on going out with a couple of friends and they all plan on getting me drunk. lol so that'll be fun...

I'm also going out again with my cousin to a gay male strip club... that is going to be interesting... lol I'm not used to seeing guys strip and i'm a lesbian so it's not really my cup of tea anyway... but my cousin works there and i've always wanted to go and hang out with him and see what it is he does and i haven't been able too because you have to be 21 to get in. it's weird though its 21 for females and 18 for males. but anyway... I also might be going out one more time with another friend....but that'll just be hanging out and having a few drinks. it'll be my clamest night out lol So what did you do/plan to do for your 21st birthday? Did you get wasted? do you plan on drinking?
7 responses

• Malta
20 Jan 09
In my island, we don't wait so eagerly for our 21st b'day to get wasted, as legal drinking age is 16 and to go in a strip club is 18. So there's no such big deal for us. My 21st has just passed a month ago, my boyfriend, I and another couple have planned a nice holiday in the snow. My b'day was departure day and also the longest day of all the holiday. I woke up at 1am and slept around 11.30pm, so I had time to do all the imaginable things ever :) I hope you'll enjoy yourself just like I did. Then tell me how it went ;)

• Belgium
20 Jan 09
hahahahahah are you from America? here in Belgium, you can drink in a pub at the age of 14 it is maybe illegal, but i can. also, you can enter that kind of clubs at 18, even girls. the legal age to drink is 16, and im 16 in 3 months. i totally gonna be wasted, cuz my friends birthday is 3 days before mine. we totally gonna be wasted and stuff! :) cant wait longer!! peace out


•
21 Jan 09
Gosh it is a long time since I was 21!! For my 21st I had planned just a quiet night out with a few friends but my mum had planned a surprise party behind my back in the pub that she ran. I have to say that my 21st was and still remains one of my best memories to this day. I hope that you have a fantastic time and wish you all the best for your birthday.


• United States
21 Jan 09
An early happy birthday to you! It sounds as if you'll have a lot of fun. Be sure to have a designated driver, you don't want your 21st birthday to be your last! I didn't do anything on my 21st. I was alone, I probably baked myself a cake and went to bed early.

• Canada
20 Jan 09
I actually don't remember my 21st birthday LOL Not because I was drunk... it's because 18 is the legal drinking age here so that's the "big birthday" for us. Hope you have fun at the strip club... I went to one with my sister and a bunch of her female in-laws and we had a blast. The guys are so much fun. At one point, we were seated along the stage and one of the strippers kicked over my drink while dancing. He stopped his performance, knelt down and wiped up my spilled drink as best he could, kissed my hand and apologized and had them send me a new one. All the while, the rest of the women are hootin' and hollerin' at him LMAO It was so funny. Weird that the club you're going to has a different age limit for females and males... I guess maybe they prefer having a male clientele first, given that it's a gay club? ... who knows. Anyway, have a happy 21st and be safe :)