She turned 50 today!

United States
March 9, 2009 8:12pm CST
Barbie, originally based on a 'sexually-themed gag toy for men,' celebrates 50 years 90 percent of American girls, ages 3 to 10, own at least one, Mattel toy company says Doll inspires with 108 careers and fosters 8 million collectors worldwide.One woman in London, England, had cosmetic surgery to look like Barbie. http://www.cnn.com/2009/LIVING/03/09/barbie.50th.anniversary/index.html Do you remember your 1st Barbie? Who never had one?
3 responses

• United States
16 Mar 09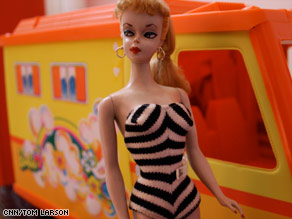 I remember getting my first Barbie doll. I was eleven years old and I received her and others for Christmas.I was really excited too because before that it had been all baby dolls for me. I didn't play with them much because I didn't want to mess them up. I would never go as far to want to have surgery just to look like Barbie or any other doll. I know they are having controversy right now about her but I feel if they do something about her then alot of other dolls will be on the cutting block next, because they too make young girls wanna be like them..especially Bratz dolls.

• United States
24 Mar 09
Thanks for the best response I appreciate it bunches..




• United States
18 Mar 09
Well, I never had a Barbie. I'm a guy. And I'm not one of those fruity guys either, thank you very much. I have always heard complaints from women about Barbie and the body image message she conveys. I don't favor my daughter being given Barbie dolls for this reason. The idea that she was based on a sx themed gag toy for men is news to me. Odd to say the least.