Meek Inherit The Earth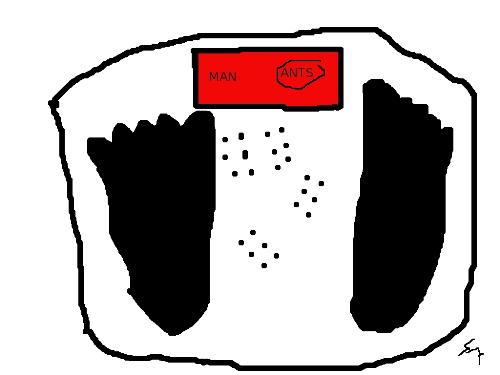 United States
April 3, 2009 6:19am CST
Jesus said "And the meek shall inherit the Earth!" * The meek already have it by weight...if you want to discuss just ants. Comparing all the ants of all nine thousand different species (some of the largest varieties can be an inch long) to all the people of the world, (some of the largest individuals can be six feet, well over 300 pounds) the ants weigh twelve pounds to our every one. That is a lot of ant poundage. When we start tossing other things that creep, crawl, fly, and just plain 'bug', we aren't such a weighty being at all.
4 responses

•
3 Apr 09
And the ants and all other living creatures give off CO2 and some people think that CO2 causes global warming and the end of the world is nigh. So save the planet today and stamp on an ant! ps. I find it hard to think of army ants as meek!


• United States
3 Apr 09
Noted, I cut+pasted the text because you'd need to do some searching to find the text. * Close up of a Bullet Ant: http://animalreview.files.wordpress.com/2009/01/bulletant3notpaidfor.jpg?w=400&h=345

•
3 Apr 09
And the zombie termites are saying 'Don't think - just work. We have our soldier termites to protect us' Then 'Wooops! I've been cut in two by a bullet ant!'

• United States
4 Apr 09
I just do not consider the insect kingdom to be necessarily meek. Lowly, maybe, but not meek. They are aggressive and relentless at times.

• United States
5 Apr 09
Thats true. They've been known to bite the hand that feeds them too.

• United States
3 Apr 09
WOW! This just seems incredible they are so little and cant weight very much themselves. But I guess there is just 576879790790 million of them out there than any other species.



• United States
5 Apr 09
If we can avoid blowing our butts to kingdom come. Watching the news...I worry about that.