Do you like painting?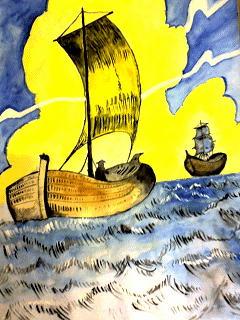 India
April 7, 2009 5:38am CST
Hi all. I like doing painting and drawing whenever I get free time mainly on weekends. It gives me lot of satisfaction and I feel good when I look back my paintings. Though I am not a professional artist..I do this as just a hobby. I have attached a painting done by me in water color for your viewing:-) I am sure ..many of you also would have been a artist at some time point of your life. Do you like painting or drawing? What kind of painting you do? Water Color or oil painting?
4 responses

• Philippines
7 May 09
I do like painting and drawing. It gives me the freedom to express myself and produce/promote my ideas. I'm a fine arts student so we have painting classes and i learned a lot of techniques from my teachers. Right now I don't use oil or acrylic much on canvas. I do digital painting in Photoshop or Corel Painter due to lack of materials.

• Denmark
11 Apr 09
I don't paint much at the moment, but in the past I have spent a lot of time on painting and drawing. I have never tried oil painting, I tend to use acrylics instead. Some of my paintings are abstract and others are a mixture of acrylics and paper. I have tried water colours in the past, but I haven't used them much. I would like to try water colours again someday. I also like to draw, and most of my drawings are a kind of fantasy pictures. I use a pencil and sometimes I also use a bit of colour.

• Indonesia
7 Apr 09
Of Course.. I really like painting. I have become obsessed painters such as Van Gogh and Leonardo Da Vinci. But I prefer to paint comic cartoons with Japan themes. I have this talent since I was child. Thank you..

• India
7 Apr 09
I like all art forms,but i am not good in paintings.I like to see paintings done by the great artists.