Can Dogs Suffer from Alzheimer's?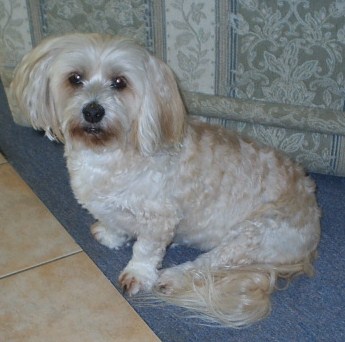 Gold Coast, Australia
April 18, 2009 9:56pm CST
One of my dogs (Penny who is 12) is showing classic symptoms of Alzheimers. I wasn't sure if dogs can suffer from this disease, so I looked it up on the net, and want to share my findings with all of you who have pets - incase you may need to know one day. Apparently, there is a medical conditon known as canine Cognitive Dysfunction Syndrome (CDS) which causes disorientation, confusion, memory loss and personality changes that are very similar to Alzheimer's disease in humans. Penny is showing most of the symptoms. Sometimes she looks at me and doesn't know who I am, other times she is fine. She wanders around the house aimlessly at night, and barks for no apparent reason. It's very upsetting for us to see her like this, but at the moment she is happy, eating fine, and still enjoys her "walkies" with her sister Poppy, although she is tiring more easily now. We are just taking each day as it comes, and enjoying her whilst we have her. We have decided to treat her naturally by changing her diet and including more omega3 fatty acids in her diet. This can sometimes counteract the effect of brain-aging - I hope so. I found the information here - http://www.bellaonline.com/articles/art25417.asp It may be useful to some of you who have pets. As if that isn't enough to cope with, she also has a large malignant growth which is attached to her abdomen. Because of her mature age, we have chosen not to have surgery, as I doubt she would survive the operation - and our vet agrees. She isn't in any pain yet, but when it starts, we will re-assess the situation and do what is necessary. I hope this is helpful to some of you, but if anyone has any other advice, or is going through the same with a dog or cat, I would love to hear from you.
4 responses

• United Kingdom
19 Apr 09
Oh Abby I am so sorry to read this I really am poor little Penny I hope that she will still be with you for a while I have never had that with any of my Pets so I did not even know there was such an Illness I will of course now know if I should ever notice it Give Penny a big Hug and lots of love from me and Gissi and of course to you to Big hugs

• Gold Coast, Australia
20 Apr 09
Hi Gabs. I knew you'd be upset reading about Penny; she is the first dog we have had who has suffered from "dementia", so not all dogs get it - just like not all humans get it. I gave Penny a big hug from you and Gissi; she pricked up her ears when I said Gissi's name, so she still remembers him! Treasure every moment with Gissi, for that is what we are doing with Penny.

• United Kingdom
20 Apr 09
Yes I am upset about it as I feel I know her I do treasure every moment with my little Boy here specially because I am not sure of the age even the Vet says he dos not believe little Man to be very old or his Heart Murmur would be a lot worse but he does scare me when he gets over excited and then ends up having a breathing and coughing fit I dread the Day I really do But tell Penny we love her she is so precious I really feel for you both as in you and P it must be awful for you both to see her like this Love to you all xx


• United States
8 Jun 09
I have read that dogs can suffer from that. Very sad.

• Gold Coast, Australia
8 Jun 09
Getting Alzheimers was the last straw for my sweet Penny ladym, because as you know, we had to have her put to sleep a month ago, she was very sick and the vet could do nothing for her. Her loss of memory never got as bad as it could have, so perhaps it was a blessing she went when she did, before she got any worse.