Questions about Hollyhocks

United States
4 responses

• Cambridge, England
27 Apr 09
Hollyhocks are pretty sturdy and don't usually need staking unless you get a high wind. We have some that have self-seeded for years right by the front gate in a fairly exposed area and I don't think we've ever staked them. When they die, their stems are pretty tough to cut up for the green bin! I hope you're aware that they are biennials and so flower (usually) in the SECOND year if you plant seeds, so you'll likely just get little low green plants this year. You'll need to plant seeds this year AND next year in order to have them every year (they are very good at self seeding).

• United States
27 Apr 09
That has been my experience as well. Biennial, selfseeding strong plants.

• United States
27 Apr 09
I didn't know that, thank you so much for the information!


• Cambridge, England
27 Apr 09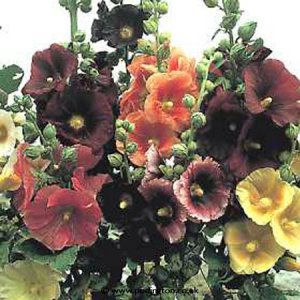 Hollyhocks are a plant that I've just taken for granted as one of the most spectacular and 'friendly' cottage garden plants (I love foxgloves and delphiniums, too, but they are both poisonous so one regards them with only guarded friendship!) Hollyhocks are members of the mallow family and a good bee plant - bumblebees love their pollen. I thought there was only one (biennial) variety but I find that there are annual, biennial and perennial varieties. The ones I know grow towering spikes covered in lovely, open mallow-like blooms with colours all the way from an acid lemon yellow, through oranges and pinks to the deepest purple you can imagine (nearly but not quite black). I have seen an almost lime green variety but I think it was a different species from the 'cottage' variety. It had smaller flowers and was more compact (only about 4 feet high, where ours often grow to 6 or 8 feet). Ladyluna knows them as Alcea but I have always known them as Althaea (in Spanish, 'c' is pronounced 'th', so the difference is not that important - I guess that American horticulturists use a Spanish/Latin version of the name). They apparently come from Asia but have certainly been popular in England from at least the 13th Century - the name 'Hollyhock' comes from two Saxon words meaning 'holy mallow' and an old country name for them is 'St Cuthbert's Cole' ('cole' being an old word for cabbage or any leafy - and possibly edible - plant ... we get coleslaw and kale and cauliflower from the same word.) Here in England we do get winters with a week or ten days below freezing but I have never known that to kill off the hollyhocks. When we do get warm, dry summers, the flowers seem to love them but the leaves suffer quite a lot from rust (a fungal disease). Although it looks a little unsightly, it doesn't seem to affect their growth too much. As children we also used to make dolls out of the flowers (but then we were brought up with the Flower Fairy books by Cicely Mary Barker - you may like to see them here: http://584001d1.seriousurls.com ). There is actually no Hollyhock Fairy on the website but I am sure that the books had one. I don't think we ever used toothpicks or cocktail sticks as arms - I have a feeling that we carefully tore and curled part of the green calyx to look like arms ... but then, if the calyx was the bodice and the petals the skirt, I can't think what we used as a head! The other thing we used to admire was the seeds, which are arranged in slices around the centre like slices of a fairy cheese (and that is what we called them).

• United States
28 Apr 09
Good morning Dragon, While I still appreciate many things about the high desert (I'm at 7000' elevation), the horrible soil is definitely not one of them. 'Course, the nearly persistent high winds and drought are two others. Both make gardening a less hardy plant than hollyhock a real challenge, if not a nightmare. I see that my earlier response about hollyhocks has been somehow deemed 'offensive', and thus yanked from the record. I certainly hope that I didn't offend Owlwings, or anyone else. Geesh, I'm not sure how my response might have been deemed 'offensive', though I certainly apologize if I've put anyone off. I welcome the opportunity to learn in what way I might have offended anyone with my views, information, and link about hollyhocks.

• United States
28 Apr 09
I looked back into my trash file and found your reply--what in the world would be offensive about it?! Maybe it was my reply to yours of how much I hated the desert? I swear, I have no idea what these moderators are thinking. Maybe they suspected the link was for personal gain? They are just silly sometimes. So you live in the high desert! That's much better, more moderate and at least there you have actual trees and vegetation instead of the ugly scrub that I had to live with for so long. I used to love to go north of Phoenix into Prescott, Camp Verde and Flagstaff to get a bit of the flavor of home--it wasn't much but it was a bit comforting! Lots of people love the desert and I can see why, I guess. It's not for me, though. Thanks for the hollyhock seed site!


• United States
28 Apr 09
Hello Dragon, Yes, there is much more vegetation here than in the lower-lying regions. In fact, there are forests all around us. Even some 'tall' forests. I cannot begin to share with you how much 'amendment' I have had to cart into my gardens over the years. The clay is so basic (high pH) that the soil continually reverts back to rock hard clay. Sphagnum helps, though it is only temporary. Grrrr! I completely understand why you abhor the flats of the low lands desert. Eee gads, how can the sense of desolation not have an effect on its Human occupants? 'Course, there is something to be said for the zero humidity when it's 100 degrees outside, huh? I could find nothing even remotely 'offensive' about your reply back to me. I'm mystified.

• Canada
27 Apr 09
It has been a long time, and what we did was to tie a string in front and then tie the string to a pole on either end and have the hollyhocks behind them. But I think if you plant them very close you do not have to worry about it. I do not know that much about them. Roses and carnations were more my thing.

• United States
28 Apr 09
My grandpa loved carnations, especially red ones. I don't know if I could grow them but I think I might try them this year. They last so long in vases and really light up a room. There's not much that's as lovely as the scent of a carnation!


• United States
27 Apr 09
I have never seen them staked, my friends have just had them growing wild. I think they bloom and grow about two years and die, but reseed themselves so it looks like you always have some. I could be wrong on that. My friend had all kinds of colors because the bees cross pollinated them. One year she had one with lime green flowers. I think they will probably do well beside your garage and enjoy the reflected heat.

• United States
27 Apr 09
I LOVE lime green! I hope I eventually get a couple like that. When I was little, Grandma taught me how to make a doll out of one of the flowers with a bud for the head, using toothpicks. I loved to play with my hollyhock dolls!