A Starbucks Opened In The Bathroom of An Existing Starbucks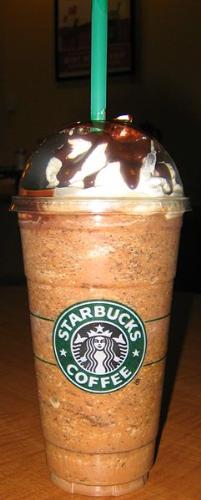 United States
May 7, 2009 10:01am CST
No, not really, but that was one of the funniest stories from The Onion. What do you usually get at Starbucks? I love the Venti Mocha Frappuccino but when I saw the calories and carbs in them I almost fell over. Do you ever look to see how many calories, carbohydrates or the amount of sugar there is in a blended drink there? The Venti Mocha Frappuccino has 500 calories, 82 grams of cabs (67 from sugar) and 9 grams of protein. At almost five dollars a pop it isn't something that I indulge in often.
4 responses

• United States
7 May 09
But it tastes so good! ...But yes, honestly...you are so right


• Australia
8 May 09
Never go to Starbucks freak. If I want a caffine fix I have a cheap one at home. I'm afraid I don't spend much money on companies with marketing budgets larger than some countries total expenditure.

• United States
9 May 09
I have never spent any money at Starbucks. I've had people buy the stuff for me but I think it is the height of ridiculousness (is that even a word?!) to spend so much money on a cup of coffee, no matter how tasty it is. I wasn't impressed with their espresso, either. I think it's just a trendy thing that lets people show off their prosperity. It's a status symbol. A lot of them have closed lately, though. I love the Onion! I don't go there nearly enough, I'll have to make a visit today and get a few laughs.

• United States
8 May 09
I call it Fivebucks, I like their Chai Tea but that's about it.