Let's generate electricity by walking!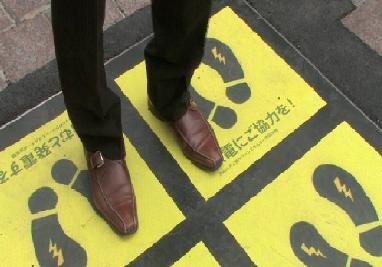 Jordan
May 9, 2009 12:05pm CST
I read an article about generating electricity by walking, and I got amazed about this idea, this is really cool idea. "Kohei Hayamizu" from Tokyo, invent a sheet that convert vibrations into electricity and put it in the busiest pedestrian areas - the Shibuya train station. So when people move and walk this would generate electricity free of charge. What do you think about this idea? Do you think you would use it if it was in your country? Do you think it would be an alternative source of energy? Do you have any other ideas about alternative sources of energy?
4 responses

• United States
9 May 09
Based on what you wrote, I think that sounds like a very great idea! I just hope it would be efficient enough. It would be nice to be able to create electricity by doing something as simple and clean as walking. And the whole 'free of charge' sounds pretty good too in my opinion lol.

• Adelaide, Australia
18 Jul 11
I haven't heard of that one before. It sounds quite unique - well done!

I wonder how much it costs & how much power output you get for your investment? I don't think our train stations are that busy down here, but if we put one of 'em under the gate, maybe 400000 sheep would generate enough power to run a sheep station? The idea with any alternative energy source is to get as bigger "bang for your buck" as possible, ie. the highest power output for the smallest financial outlay. We can very easily & for a very, very small cost in junk-box spare parts achieve this for ourselves today. We need to become self-sufficient again. We need to take responsibility, each one of us, for supplying our own energy & not exceed the extent that we can supply it by the demands we make of it. The simplest, cheapest, best design I've seen put into practice use the same principle Tesla discovered in his 1896 experiments in Colorado Springs, USA. Tesla's work is being carried on today in a very practical sense, particularly by John Bedini who has published a book of free energy generation circuits & schematics that people can build for themselves, which has been updated very, very recently. Older copies are also available from any large Library should you choose to read it. You can also read up on the principles involved at http://cheniere.org/ You may join up with a free yahoo group & there are over 3000 members there who have already built & tested the John Bedini Monopole Mechanical Oscillator Energizer with Simplified Schoolgirl Circuit. This model was so-named when an eleven year old school girl successfully built & tested a working model herself & had an article in the local paper about it. These 3000+ people from just about every country on earth have published their own reports & are standing by, ready to help you, with free 24/7 support. You can also buy a kit of parts from places like http://r-charge.com