Planning a holiday in the USA

France
8 responses

• United States
24 May 09
The Grande Canyon becuase why not it is a huge beautiful hole in the ground that has lots of neat things to do if you like the out doors. I would suggest planning it all online, you can walk down or ride a donky down or take a helocopter ride around, there are tons of things to do. Moab Utah, it is surrounded by national parks that are great including Arches national park (also online) Moab is a great place to visit if you like rock climbing or crawling, the Colorado river is right there and last May we went white water rafting there. San Antonio Texas, visit the Alamo, Fiesta Texas (a theme park), the zoo, and walk the river walk. Beware the humidity, but San Antonio is great. Dallas Texas, reallt to visit here you are visiting many places. The Fort Worth stock yards, six flags over Texas (theme park), there are several great Art musems:The Kimble, the Dallas Museam of Art. The Fort Worth Zoo. Ripley's Belive it or Not museam (I know that I cannot spell museam sorry) I could go on and on, I love to travel. If you are a history person then stay on the East coast and visit Washington DC. California has Disney world and Hollywood and the Red Wood National Forest with trees big enough to drive your car through. There are so many cool places, it just depends on what you like, there is bound to be great places to visit that fit you likes

• United States
24 May 09
While I agree that Texas Has many wonderful sight to see and texas is a state that is known worldwide. I thinks to get a good picture of the USA, I would visit Washington DC, New York City, Texas, the the four corners area. In that area you are close to the grand canyon, the colorado rockies, the beautiful dessert areas of the USA and American Indiand Reservations. That would give you a little taste of much of the USA. Personally We enjoyed Moab, Utah and Durango Colorado. We also rode the narrow rail train to Silverton Colorado, which was a beautiful ride through the edge of the rockie mountains. If you have time you could add not only the forest mentioned above which are beautiful and huge, but Yellow Stone due to its unique features like old faithful. There is so much to see here that You need to make it as long a vacation as you can and do as much as possible as it might be the only chance you get, but we will let you know that it is in our opinion the most beautiful country in the world, and as Texans we are pround of our state more than the rest.

• United States
30 May 09
It doesn't matter where you visit you're always within range of something to see or do. If you do get to come here, I hope you have a wonderful time.

• Panama
26 May 09
Places of interest you may want to visit are as follows : NEW YORK CITY, WASHINGTON, DC and FLORIDA'S DISNEY WORLD.For NEW YORK CITY YOU WILL NEED A Tourist Guide Map which will outline the Tourist's attractions. Be sure to make use of the ' Circle Line ' which gives you a ' scenic MANHATTAN ISLAND COASTLINE TOUR.Washington's DC Tour includes the President's Residence, the CAPITOL BUILDING, etc.These sites are miles apart, so you may want to access them by tour buses or trains rather than planes. It all depends on your affordability and preference. Great travel, and enjoy visit.

• United Kingdom
25 May 09
I suggest you might like to visit California because it has so many sights. It has Los Angeles which has Beverley Hills, the Universal Studios, Disneyland, Hollywood and Venice Beach. San Francisco is a very beautiful city with the Golden Gate Bridge. I think San Diego and Santa Barbara are also lovely places you might like. If I go back to the USA I hope to visit Boston, Cape Cod, New York and Washington DC. Really my next place that I see in the States will be Seattle next summer when I pop over to it from Vancouver in Canada. I haven't been there yet but a natural sight like the Grand Canyon might be an interesting choice for you. Good luck choosing where you will go. It is a huge country so it has varied sights and it is so a friendly place to go.

• United States
24 May 09
It really depends on what you like. If you have children or like amusement areas you would probably want to visit Florida and go the the Disney World Parks, you can also visit the ocean while there which is about an hour away from the Disney Parks. If you like beautiful natural scenery like beautiful mountains. Go to Tennessee or Utah. If you like big city and night life visit New York City, New York, or Chicago. There are also beautiful areas in Utah. Each and every state in the United States has wonderful places to visit and their own share of beauty. Of course there is always Hawaii as well which is of course amazingly beautiful and comparable to paradise, but it is not connected to the rest of the states and if you go there you would have to take a plane to see any other parts of the United States. I also really love Las Vegas. There is a lot to do there aside from gambling. If you like looking at luxurious hotels, gambling and going to shows.

• United States
24 May 09
Two of my favorite places are Crater Lake in Oregon and Big Sur to Monterey in California. As for unique cities: San Francisco, Seattle, New Orleans, New York, Las Vegas. I've often wanted to do a tour of Lodges at the National Parks across the US. Have a great trip!

• United States
24 May 09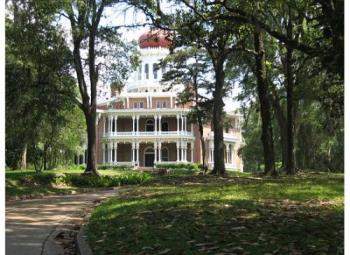 That all depends on what you are looking for, Are you more of a beach person, do you like large crowds, do you like historical sites, or do you just want to see the country side. There are so many great things in the states to see and do. Washington DC is a great place to visit, so many historical sites so many great monuments, museums etc that you can see. Then there are the beaches, We have some great beaches here, I prefer the ones that are less crowded, more private, Main, is gorgeous, but you do not want ot go there in the winter months. Your Southern states have so much to offer. Mississippi for one is beautiful, in Natchez you can stay in antebellum homes and if you go in the spring months all the flowers are in bloom, the history here is on every street corner, as when Sherman came through during the Civil war he did not burn Natchez, he in fact said it was too pretty to burn. Tell me some about you and I will make other suggestions, what you are looking to see, do etc.

• United States
24 May 09
Hi twinlady, I live in the USA and I have always wanted to visit Maine. For the sea food and the scenery. Alaska is another place that I'd like to visit. It is beautiful there and an Alaskan cruise would be fun:) It depends on what you like and what weather you like. Happy traveling!