What do you make of the claims of "Zeitgeist"??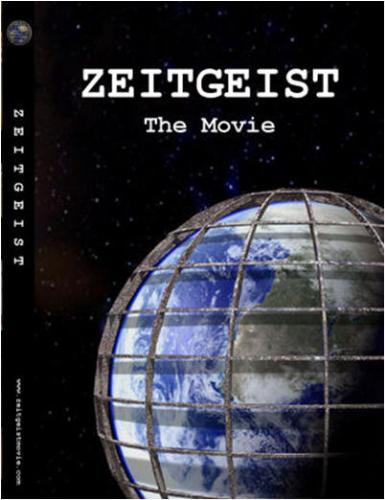 India
June 25, 2009 7:10pm CST
I recently saw the movie Zeitgeist. in one of its parts it tried to imply that christianity is a myth. it explains how most aspects of the bible, including the whole story of jesus christ's life, were actually copied from pagan religions. it also explains how these pagan religions were actually astronomical references, thus making the biblean astronomical reference, rather than a holy book. the movie also states that if jesus really did live n perform all those miracles, how is it that he was never recorded in any of the writings of the many historians around. I was shocked and kind of amazed when i watched this movie. it was extremely convincing. what are your thoughts about this movie and its claims??
3 responses

• Boston, Massachusetts
26 Jun 09
Do you ever find it interesting that no one makes movies trying to persuade people that any other religion is a myth? I find it telling that there are people who will go to great lengths to try to convince you that this particular book is something other than the Word of God and that Jesus was someone other than the Christ. Always question motives. Could you name for me five of the many historians you refer to? No? Can you name one of them? I could name Josephus, who did write about Jesus and was a Roman historian. Did you know that there is no serious historical scholar who doubts that Jesus existed? That is, the fact that there was a man named Jesus is well-documented. Did you know that there are more ancient manuscripts of the New Testament that still exist than there are ancient manuscripts of the Ilead? Yet no one claims that Homer didn't exist, why? And the last thing to consider is that a movie is... well, a movie...

• India
26 Jun 09
why would I name five historians or do any other thing you mentioned? i just asked what your opinion was bout the movie. i didn make the movie. im not trying to convince, you or anyone else for that matter, that christianity or any other religion is fake. i have my beliefs, you have yours. i respect that, you should too. and regarding your questions, watch the movie u will see what i mean. its not JUST a movie, its a lot more.

• Boston, Massachusetts
26 Jun 09
You're the one who said "he was never recorded in any of the writings of the many historians around". I just asked you who they were, I figured you must know since you know what they wrote about or didn't write about. I actually just gave you some facts, not beliefs.

• United States
26 Jun 09
People go after Christianity (or more like Judeo-Christianity) because many religions kind of stem from those original Jewish tribes. Not to mention, most other religions don't NEED you to follow them. The big 3 religions (Christianity, Judaism, and Islam) are the primary religions that have followers trying to convert you to their god (who is seemingly the same being anyways). I mean, I am a Satanist. People don't go after (real) Satanists simply because real Satanists don't really care whether people think the same way or not. Why? Because we're all going to die and rot in the grave at some point...whether we follow a religion or not. That is just my (and Satanist's in general) viewpoint, but it shows you why no one really goes out of their way to bring down these "religions" (they are more simple--beliefs). The same goes for most any other religion you can think of. They don't go around looking for "god's warriors" or new recruits for the church. I like to think that the bible is a story rooted in a lot of truth (otherwise how could it be convincing?). Some of the best stories work like this. Take for example practically any World War II movie in existance. That war was real, Pearl Harbor was really bombed; but its fluffed up and dramatized (even more than it was!) and this makes it sellable. I've heard a lot of people say that Jesus was well documented (and similar things)...however I have never really seen any authentic evidence. I have been directed to websites with quotes, however how can I really on sketchy looking websites for providing me with the truth? It is a hard situation because I would need to know a lot about the author/historian documenting. Its a complex issue that is interesting to discuss. Additionally, lots of people claim that Homer didn't exist. Some even believe that was just the title given to a compilation of individuals. I learned about this situation in my college philosophy class, which is interesting to think I would recall it now (a year later). And one more thing consider is that a book is...well, a book...If this film is an unreliable source of information, than anything can surely be unreliable...whether it be the holy book or those documenting events in said book (or anything at all). Movies are meant to stir ones mind. To the original question, I have never seen Zeitgeist; however it has interested me. I would like to see it even more now!


•
5 Jul 09
It is only partially true. It is true that there are many astronomical references in the bible especially concerning prophecy, but these are actual given as time references. It is also true that there has been many "solar messiahs" including Horus, Mithra and others. It is also true about the winter solstice (Dec. 25th) in these ancient religions. Now let me explain why it is NOT true. First of all the biggest lie ever told. Jesus was not born on Dec. 25th. The bible places his birth around September, Adding 6 months plus nine months to the date of Zacharias's temple duty, you have a birth date for Jesus on about the 15th of Tishri in the Hebrew calendar, or 29 September . How do I get that date you ask? Read Luke, Zacharias, the priest, performed his duties during the course of Abijah. After he returned home from Jerusalem, Elizabeth conceived. Mary conceived in the sixth month of Elizabeth's pregnancy. John was born approximately six months before Jesus. Also Virgo has nothing to do with the month of December. The Sun is in Virgo Aug-Sept. Also this is again alluded to in Revelations. Where the woman clothed in the Sun is about to give birth, means that the child (Jesus) was born when Virgo is clothed in the Sun, Aug.-Sept. Johns revelation was about as he said past present and future events. Also about the star and the three kings. First off the star was not in the east, but wise men from the east followed a star, you can not come from the east and follow a star in the east and go west! And the bible does not number the wise men. It wasn't until over three hundred years later that Constantine who was a worshiper of the Sun reorganized Christianity into what we see today with its pagan origins of Dec 25 and Easter. So while the movie is somewhat accurate, it is wrong in the historical facts of Jesus.

• India
9 Jul 09
wow. you have researched this a lot it seems. you do make a very good point. cheers. Happy MyLotting. =D