A Promising Site to Join.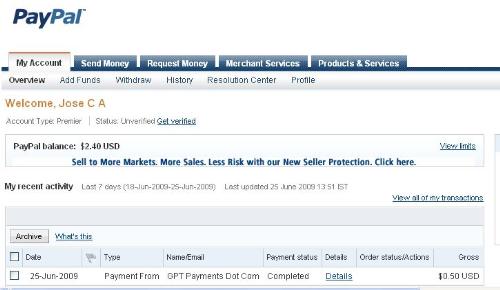 India
June 26, 2009 1:30am CST
I am very happy to inform mylot friends that I have already received my instant payment from getpaidto.com. It is $0.50. After registration and the subsequent account verification the amount send to my paypal account automatically. There is no limit for the minimum pay out. If there is funds in the site account, it will be automatically transferred to the paypal account. Very nice.If anybody need the link of this site visit my profile and see the "getpaidto.com" banner.The payment proof attached herewith.
5 responses

• Philippines
26 Jun 09
wow, sounds interesting. what exactly are we suppose to do there? I will try to check your link and join. Thanks for sharing


• India
26 Jun 09
It is very easy. The main earning resource is completing the offers.If you are completing an offer and its cash is comming to your account, that amount automatically come to your paypal account.There is provision to set automatic paypal payment in the profile setting. Before getting the money, they have to veryfy the account. It is a phone verification process. If you are encountering any problem in the verification process, simply inform the admin or open a ticket and place your complaint.Then they will verify your account.I joined this site about 4 days past.I had some verification problem. Then I acted accordingly what I explained above.I feel this site is very good.

• India
28 Jun 09
i am joining it today if i get my payment in a day or two i will keep the work going other wise screw them cause u see i have tried lot of this sites but it didnt work so i have lost hope but if this site is real then i will surly work with it as much as i can..........!

• Philippines
26 Jun 09
This seems like a very interesting site.cheers!!

• India
26 Jun 09
thats true.. its one of the genuine sites that are paying to their users.. i have also been paid by them 7 times.. and for more such genuine sites, have a look to my profile..and to my blog.. hope this will help many people in earning online.. anyway....Keep lotting....keep earning.... Byeee...