Has Anyone read Steve Harvey's "Act Like a Lady, Think Like a Man"?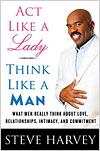 United States
July 20, 2009 10:21am CST
I have first heard about this book at the end of last year, and figured it would be something good to read; I finally bought a copy, read it through, to me, he makes some great points. But I am asking the MyLot community if they have read it as well as their thoughts on it;
3 responses

• United States
21 Jul 09
i have not read it, but i hear that it's a great read. i love steve harvey. i have heard him talk about this book on the radio and tv. i think he makes a lot of sense and i am going to get this book for myself

• Orangeville, Ontario
20 Jul 09
I haven't read the book. I have seen Steve Harvey promoting it on many talk shows - twice on Oprah, The View, probably Dr. Phil too. I do believe he makes sense but I don't think all men are the same. I don't think there is anything I can do to "encourage" my husband to put me ahead of golf. That's probably why I haven't made the effort to get a hold of the book and read it. I can't even get my husband to listen to me when I talk unless I start my sentences with the word "golf". I'm just thankful where I live golf isn't a year round sport.

• United States
20 Jul 09
I think that sounds like a pretty interesting book. many women wouldnt go through all the problems that they do if they had those attitudes. I think there are many t hings we can learn from men, and trying to keep some detachment would probably be beneficial to all women.