How many Glass of water we should drink and what time ?

India
8 responses

• Delhi, India
3 Aug 09
Hi anjali! I think whenever you feel like taking water, you should take it, there is no fixed time as such, as the weather is very hot and humid, there is no harm in taking plenty of liquid. It is said that at least 4-5 litres of water should be consumed by an adult person.

• India
11 Sep 09
ok. i think you are right and i usually take water as i fell like but just by drinking water as we feel like is not enough to go in daily need

• Delhi, India
11 Sep 09
You should set a target of taking 5-6 litres of water in a day.

• India
12 Sep 09
yes but i think i take only 2 litre water daily will try my best to go ahead with this target.

• China
30 Jul 09
i think we should drink 8 glasses of water.and i think 3 in the morning,and 3 glasses of water in the afternoon,and 2 in the night.

• India
30 Jul 09
thanks for the participation first. i liked your strait forward answer on the topic. i am agree with you and i will make sure i will try to take 8 glass of water daily. i love to drink water and i will keep on drinking to make me healthy but hope for the best that we will be getting clean and pure water for many years.

• Lithuania
30 Jul 09
i do not agree with you. We have to drink one glass of water early in the morning just when you woke up, it should be a room temperature. do not drink any liquids when you eating only 30 min after. some books write that if you have overweigh than it is very good to drink one glass of water 10 min. before eating. at a time drink no more than 2 grlasses of water. no less that 2liters of liquid per day. if will drink to much liquids you can have problems with kidneys ant etc.(more than 5 liters.)

• India
3 Aug 09
thanks for your further participation. and try to be more elobrative and counter discussion.

• Portugal
12 Sep 09
More the better. That is not to say that you should drink 50 liters of water in one day, but, you shouldn't be afraid of drinking water. You're the slightest thirsty? Water You haven't drunk anything in a while? Water You're not accompanying your meals with any sort of liquid? Water Either the water gets absorbed by the body or not (some will), it'll help on your health since it either replaces missing water from your system or it helps clean up your system from impurities (urinating frequently due to water consumption is a good sign since it means you're purging those impurities). The latter has the particularly good reason of helping avoid kidney sands/stones. At one point I went days barely touching water, drinking only crappy juices to accompany a meal and so and eventually I suffered from some sands in my kidneys which were an excruciating pain that I could have avoided altogether by just drinking water.

• India
12 Sep 09
you are right i think as it was same with my brother he use to drink very less water and he got stones in his kidney now he ias taking madicin of homeopathy to get rid of this problem because he is now is in initial stage in stone pain lets see when he will be understanding the importance of the water intake in daily life.

• India
1 Aug 09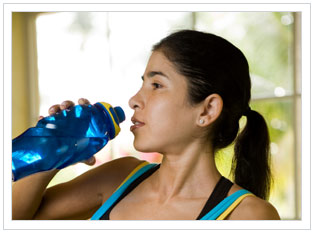 yes its good to be consious about intakes of water,,so according to the topic i should say that we must take sufficient amount of water in keep our systems active and fluid,,,

• India
1 Aug 09
yes it is very crucial other wise our body will become very dehydrated. that will give you very harsh and dry look threw out day. so also keep one bottle and glass of water with me all the time.

• United States
31 Jul 09
Typically you hear that we are supposed to drink 8 glasses of water a day. That is to keep your body hydrated. It would equate to about 3/4 of a cup of water during each waking hour. However, if you are trying to lose weight, you need to drink significantly more water than the recommended 8 glass of water a day. For weight loss it is recommended that you attempt to drink 20 oz (2.5 glasses of water) during each waking hour. This is hard to do, but it definitely does keep you from being really hungry and thus helps in weight loss programs.

• India
1 Aug 09
hope for the best that you are putting right figure here but if one is in office how cananyone can drink this much water otherwise one start going for the washroom again and again i guess.

• China
30 Jul 09
The correct way of drinking is:We should drink 9 Glass of water.The total volume is 2000ml more or less.Before you go to bed,and after you wake up,you should drink a big Glass of water.Breakfsst ,lunch,and dinner,you should drink a Glass of milk or water.During the Breakfast and lunch ,you should drink 2 Glasses of water,as well as lunch and dinner.I wish my advise can make you get out of being consious and make you healthy.Good luck and best wishes.

• India
1 Aug 09
thanks for the participation i liked ur advise i will try to follow it. keep participating here.

• United States
30 Jul 09
It depends on a day, some days i'd drink only 2 glasses a day (granted i eat mostly fruits and veggies that are loaded with water), but when it's too hot i drink water by the gallons. Water can be both, good and bad and drinking too much water can be unhealthy too, especially for those who have heart conditions like CHF. I mostly listen to my body and it's good at telling me when i need to drink more and when i don't have to.

• India
3 Aug 09
yes same here it is not reguler that i drink 8 glass daily. some time it become 4 glass and some time it is just 5 only. so it very every day.

• Philippines
30 Jul 09
hi! just last week a friend sent me an article about dr wu's book on natural medicine and he discussed in his book the 10 secrets to good health. one of the things included in the article was about drinking water. please see below what i have extracted in the article and i hope it would be helpful for you: [b]Dr. Wu's Secrets to Good Health: 6. Drink a lot of water, in the correct way. [/b] [i]How much water you need to drink each day depends on your specific situation. If your office is air-conditioned, drinking six glasses of water a day is enough. If your work involves lots of walking, you have to drink 8-10 glasses a day. If you work under the hot sun, then 10-12 glasses of water are required. The way you drink is also important. The correct way is to sip it little by little, to give your body cells time to absorb the water. If you drink the whole glass down at once, your cells can't absorb it all, and the water will be excreted as urine.[/i] aside from water, the article also mentioned about drinking 3-6 glasses of fruit smoothies a day. the ideal six glasses is broken into ff: 2 in the morning, 1 before lunch, 2 in the afternoon and 1 before dinner. have a great and healthy day!


• India
3 Aug 09
thanks for your participation here. i would love to see more discussion from your side for me.