How Is My Fellow Mobsters Doing?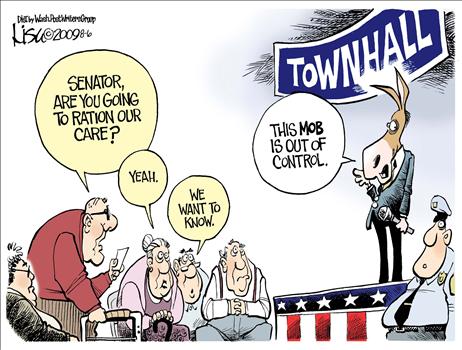 United States
August 5, 2009 12:14pm CST
Democrats of created this new ad**** http://www.youtube.com/watch?v=PtTBkxvBq88****, in this an America that chooses to voice opposition against Obama's agenda is just a mob. Going down a different road if back around 1776 the TV had been invented I think the British government would have been running ads like this about our Revolution. Just exchange Republicans for the founding fathers, and you got the ad. Also going down this road which side the Democrats would have sided with, the Patriots or the British. I think Democrats would have sided with the British, but that is just me. Okay done with that, now back to the ad are not citizens allowed to demonstrate? Have we forgot about ACORN, Code Pink, and Cindy Sheehan outside the Crawford ranch? If the TEA parties and these town hall protest are now classified as a mob are not ACORN, Code Pink and Cindy's bunch a mob?
4 responses


• Boston, Massachusetts
5 Aug 09
The most important thing for them right now is to try to marginalize the dissenters. If they can paint us as wackos, great. No one will listen. If they tell people we are just following an agenda and instructions from the party and not acting of our own volition, we're just swelling the crowd to make it appear as if there are dissenters. The only way for the dissenters to win is to all be there. Don't leave it up to someone else to go and ask the questions, hold the signs, or protest. We all have to make our voices heard. They won't be able to ignore it then.

• United States
5 Aug 09
Now here you go using common sense again. Here let me explain their logic to you.. If a large group of people are for them it is a legimate group with tons of creditibilty. If they are against them then they are an "angry mob" who are puppets of the oppositing side with absolutely NO creditibility what so ever. Understand now? Never apply common sense or rational thought to politics. At least not our poltiicans. THey don't.

• United States
5 Aug 09
Oh I understand. I don't like it....but I understand it. So I know how you feel.

• United States
5 Aug 09
The commercial is definately unfair to most people who dont agree with the health care, but there is a radical right wing group out there, who has this play book that lists ways to disrupt town hall meetings, in a way that disturbs the democratic process. The liberal media is in uproar. Sure I think that many of us americans are concerned about health care, but I dont think you or I or anyone else here is really so hate filled that we would go yell and scream at other people who just want to learn more about it from their congressman. To me it seems like a childish tactic, these people, cant have their way, so they throw a fit. If these people were legitimately concerned, they would voice their opinions in their own districts in a calm matter.

• United States
5 Aug 09
I didnt realize that acorn was run by a corporate lobby who told phony protestors to fan out to make it seem like they were the majority, or to yell early to rattle the congressman.

• United States
5 Aug 09
So are you going to say all the people that are against this plan are "puppets of the right wing conspiracy"? I am not right wing. I hate the republican party as much as I do the Democrats. They are both fiscally irresponsible, corrupt, lying, cheating.....etc...... I will go to the town hall meetings. I will let it be know I do not agree with this plan. I would say a small number of people may be a "right wing plot". But most are people like me.....mad at both sides for all the crazy low down BS they both pull. The gov. needs to stay out of my wallet....out of my private life and keep its hands off my healthcare.


• United States
6 Aug 09
For some reason the link just points to a page of many videos. No matter... here is an article that I got this morning concerning this very tactic, which is quite common with totalitarian regimes... http://www.wnd.com/index.php?fa=PAGE.view&pageId=106103