Crafting with newspaper and magazines

United States
September 5, 2009 9:33am CST
I was married to an ex-con. While we were married, he had to go back to prison for a violation of his parole. While there, he sent me the coolest birthday presents: three picture frames and a jewelry box, all made from newspaper. The newspaper is rolled very tightly, so that you end up with very strong, durable round "sticks" like dowels. You roll up a whole bunch and glue them together on a flat surface. Cut at an angle with a very sharp knife, like an Exacto blade. Make certain all your angle cuts are at the same angle. Then glue them together to form a frame. Paint and/or decorate as you see fit, and make sure to put a good amount of topcoat to seal it, so the newspaper doesn't get swollen from moisture. In this way, you can use your imagination to build boxes of all sizes. The jewelry box that I got had two compartments inside, and a "secret" hiding spot on the top -- it slid to the side to open. What you make is limited only by your imagination.
4 responses

• Malaysia
8 Sep 09
Hi matsulori, I think I can imagine what your husband has done for you based on your description. I made a paper frame recently too. It is pretty simple and nice to keep pictures of our little ones or anyone for that matters. It is nice isnt it to know that he is learning nice things in prison? All that, he can use later in life .. :) http://www.crafty-crafted.com/origami/origami-frame/

• United States
9 Sep 09
Hi back atcha, submerryn. Thanks so much for your comment. He's my 2nd ex-husband, but I didn't think it would be nice to talk about the not-so-nice things he did. I rather remember the nice things he did for me:). I will say that I was constantly impressed with their ingenuity in prison, for both good and not-exactly-good things. I got quite the education from Mr Hurley & friends, I did. And some of the funniest things I've ever heard in my life... Well, once should take a moment to think: all they have is time to think stuff up... and they do. It is nice that some of it is useful in a non-criminal manner later in life; yes. I met some VERY intelligent men in prison.

• United States
9 Sep 09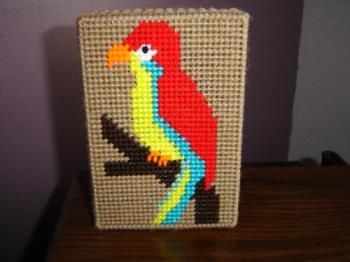 This sounds so interesting. Do you happen to have a photo you can post here so we can all see the finished project? I have the general idea but wouldn't know what to use as a sealer. I like to work with projects that are made with plastic canvas and yarn. Have sold many items at craft fairs. Below is a parrot trinket box I made and no sooner than I took it out to show my crafter friends at a fair, someone bought it. Was gone in less than 5 min. after setting up our table.

• United States
10 Sep 09
Hi, Carolbee. I apologize; I do not have a photo. However, I can tell you what the guys in prison used as a sealer: floor wax they'd let sit in the sun to thicken. They'd paint layer after layer so that it was like a lacquer over the finished products. I imagine any good thick clearcoat sealant should be okay; or even a two-part epoxy like shellaq would work. I'll try to hunt up some examples to put up.

• Garden Grove, California
9 Sep 09
hi matsulori that is fascinating and done with newspapers. wow. You should write an article about how that is done and sell' it to some hobby magazines. you would make at least a little'money. that soundslike a neat hobby for someone and old newspapers are always available so its not an expensive hobby either.

• United States
9 Sep 09
Hi there, Hatley. I found it endlessly fascinating what the guys thought up to make money in prison. This is what is referred to as a "hustle."

• United States
25 Oct 11
i used to do these kinds of crafts when i was a little child i still like them and i could still make some pretty cool things but i stopped because it made such a mess i used to cut up newspaper into little squares and soak them in water overnight then rung the water out of them and stirred plain white elmers glue into the cut up newspaper and it made a pulp like material you could then mold it like clay and let it air dry its really cool but like i said with the glue it can be rather messy