ouch!!!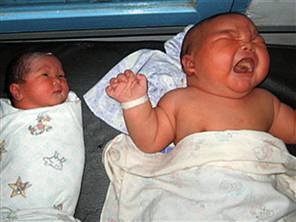 United States
September 24, 2009 8:03pm CST
http://today.msnbc.msn.com/id/32999499/ns/today-parenting_and_family/?GT1=43001 A woman in Jakarta Indonesia gave birth to a 19.2 pound baby boy. He was 24 inches long....approximately the same size as a 1 year old toddler. He was delivered by C-Section giving the doctors a rough time due to the size of his legs. His cry sounds like a roar & he's eating them out of house & home. He's about 3 times larger than the average sized baby. The thought of having a baby that large makes me cringe. What was the size & length of your baby??? Do you think it would be difficult to care for an infant that's that large??? How would you deal with having a baby that large???
8 responses

• United States
25 Sep 09
you know if you hadnt put a picture I probably would have not believe it, holy cow i mean holy cow! all of ypou are right if the baby grows are and infants growth rate, he will look like a four year old. forget the 0-3 months clothes you buy when you about to have a baby lets go with the 2t clothes. I would die of exaustation having a baby like that, they requiere alot of attention for at least the first 6 months, until they gain independency. I can barely carry my 10 month old that weights 20 lbs. he wont even ho in a infant carseat, he will have to go on the second stage carseat already. i wonder how strong he is? my 2 boys were little still for me was difficult, my oldest one was barely 6lbs 6oz, and my second one 7lbs 15 oz and they were pretty strong, their grip was very strong, this baby probably break your finger when he grips it. Well at least he will manage walking fast probably skip the crawling which walking is always good.

• United States
25 Sep 09
I wonder if his baby bones will be able to hold up a huge child. I don't know a lot about Indonesia, but I don't think it is a rich country. I wonder if she'll have any help or if they'll have enough food to feed him. He's either the 3rd or 4th child so he's not the only mouth waiting to eat. That could create other problems!!!

• United States
25 Sep 09
Ouch! is exactly the right word..then..Wow!

How in the heck? I have heard that sometimes diabetes and some other health problems can cause large babies. I have never heard of a baby that large before. Is it a world record birth weight?

I bet the child grows up to be mighty tall..Just think how much the baby eats now..imagine when the child is older and on regular foods..whew..wouldn't want to have that store bill or have to keep the child fed and satisfied.

• United States
25 Sep 09
Believe it or not, he doesn't hold the World Record!!! (OWIEEEEE) The largest baby holds the record at 23 pounds. I'd HATE to be the Mother to break that record!!!


• United States
25 Sep 09
LOL--I heard about this last night...like yikes--wonder what the mother was eating to make him so big

Well I've never had children, but I was the opposite..I only weighed 5-lbs, 4 ozs. when I was born...practically a premie sized baby

• United States
25 Sep 09
According to the article, they think it is because the Mother had diabetes & the extra glucose affected his growth rate. They were just showing him in the hospital on my local news. It looks like he's crammed into the baby bed they have at the hospital. My niece didn't weigh that much at 18 months old. I worry that they will have a hard time feeding him!!!


• United States
25 Sep 09
Wow, she gave birth to a sack of potatoes. My son was 8 lbs 7 ounces. He was 20 inches long and he ate me out of house and home. At his daycare center, his nickname was the dumpster. Now as an adult, he has been kicked out of all you can eat restaurants. I would think it would be tiring to carry around the 'little' one. A stroller would be a necessity or maybe a crane. Just think if this child goes with the rule of thumb or tripling birth weight in his first year, he will way 60 pounds, possibly before he walks. Now that is scary.

• United States
25 Sep 09
Yes, that would be very scary!!! He may very well be so big he won't be able to walk at the normal timeline. His little butt (LOL) may be draggin the floor by then!!!




• United States
27 Sep 09
Wow!! An infant being born the size of most 8 to 9 month olds. How could a doctor allow a baby to get this big before being born is amazing? How long was this woman pregnant for? This truly does sound painful for sure. I know I would have never wanted to have one this big from the start. Just think how expensive it will be just from the start.

• Australia
25 Sep 09
What the....!

Oh God, mother nature's tricks! Sheesh, at 1 month old and his diaper's an XL! Worse, Dr.P (adult diaper)! Hehe. oops sorry, I know it's not a laughing matter but sheesh...it's a very large baby alright. I wonder what the explanation for this is.

• United States
25 Sep 09
The doctor is blaming it on Mom's diabetes. They think the extra glucose caused him to grow without stopping. I worry now that he's here, they won't be able to feed him enough to keep him a healthy baby. I wonder if his bones are as weak as a regular infant or if they are formed well enough to deal with the extra weight???

• United States
13 Oct 09
That's like giving birth to an elephant. That's a heavy baby to carry around after a c-section when lifting is limited. Our kids were small. Only the third baby was over 6 pounds. Our first two babies were 5 pounds plus a few ounzes. They were healthy but I also had complications carrying all three. They were all average length also. Can't remember the exact sizes. Today they are all adults, average size and beautiful. We were so blessed.