How to Make New FRIENDS!!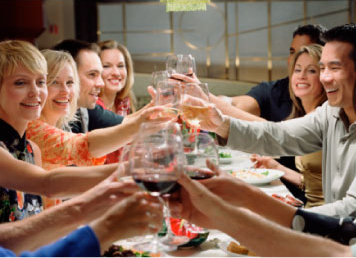 India
September 26, 2009 12:21pm CST
Lets Start with new thoughts!! There's a certain beauty in being a lone wolf You have more time to do things you want to do, like take introspective walks, read books,write poetry, and other solitary endeavors.If you want to diversify your options,though, there are literally billions of potential friends in the world. What's more, many of these people want to make friends just as much as you do. So consider suggestions to meet people and form strong, lasting friendships. so guys give tips to make new friends!! how about haveing more friends and its Fun!
3 responses

• United States
26 Sep 09
I don't know if people would consider me a lone wolf, but certainly I've felt like one most of my life. I broke out of this mode beginning of college when I got my first "real" job that I stuck with . . . as they say, I finally "blossomed". And even though I have family and lots of friends, I am still a lone wolf "at heart" and understand what you mean by a certain beauty of being one. Meeting people is not the difficult part, but forming a lasting friendship requires so much more. Some of my tips: *Be open minded, open hearted. If you keep your doors closed and locked, no one can find you, and you won't find others. *Be a good listener. It's nice to share your thoughts, but be mindful to let someone else share their thoughts too. *Ask questions. Let people know you are interesting in getting to know them better. *Invite others to join you in your interests. And then be open to try new things that other people do. Of course there's more to it than that .. . but the best thing to do is be relaxed and be yourself. Nothing better than having a friend who likes you for being you!!


• India
26 Sep 09
That was really nice bro!1 thanks this helps and its really good to hear and lot of imputs u have given... i agree wat u say.. being a open minined person is more important and definitly should be a good lisitner and inviting peopke on my own intrestes thats nice thnaks i will try to do that and it helps in both ways.. thnaks it helps me and others too :)

• China
27 Sep 09
welcome to www.xinqitrade.com for latest brand new styles nike shoes, nike air for ce one, air jordan, dunk sb, air max, dunk sb, gucci, supra, puma, lacoste shoes, timberland boots, ugg boots. xinqitrade
@hotmail
.com contact with Tina

• United States
27 Sep 09
well I like being a lone wolf sometimes but I have alot of freinds an the internet helps alot I started working onmy family tree though the internet now I am freinds with alot of my family members that i didnt even know exsited now as far as a lng friendship my best friend Dona an I have been friends for 35 years god do I feel old now an we meet because of my sister she was being rude to Donna's dad an I went over to say I was sorry for the way my sister actted an he told me it was ok an I shouldnt say sorry for my sister he introduce me to his family an the rest is history his daughter Donna is my daughters Godmother an I am glad I said sorry for my sister

•
28 Sep 09
I wouldnt recommend making friends on the internet. but if you go shopping or park and just chill then there is bound to be people you can meet. If you see someone you think looks nice, approach and chat, make friends. People become friends by talking to each other and that only happens if one of you starts the convo. If you know one person, you can do more fun stuff like attend a party together and you are bound to meet new people.

• United States
26 Sep 09
The Internet definitely helps, but of course you have to be careful. I don't know if it's the same in other countries, but here in the States you can look in your newspaper for library programs and town events like street fairs where you can meet new people without spending money. There are also business seminars and various classes you can take, but you'll likely have to pay for those. You mind find free ones held at your local library, though.

• India
26 Sep 09
NIce thanks wat u saying is 100% true.. need to be carefull lot.. it diffrers from country to country.. i live in india so its totally diffrent:) i have seen on newspaper adverts on making friends easy but i am sure its not worth.. its like paying to get friends.. library is good wat u saying since u get people at ur same idea and thoughts.. Thnaks for the suggetion laurie.. thats nice.