Do You Know Who Gloriana Is??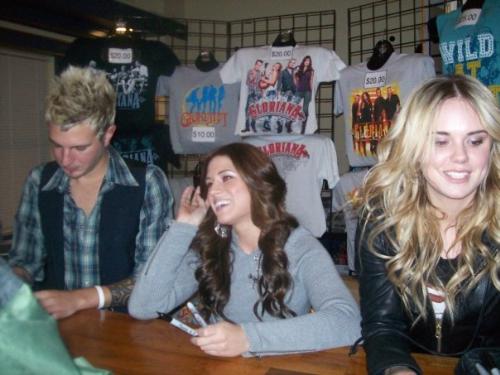 United States
December 18, 2009 9:27pm CST
Last week, a friend and I went to a concert. I've been wanting to see this group in concert for a few months now. They are a new country group and their new album is superb! I absolutely love it! The group is Gloriana. I had mentioned to a few people about going to see them and sadly, 8 out of every 10 people had never heard of them. Have you heard Gloriana's music? If so, do you like it, love it, or hate it? Here is a link their "Wild At Heart" video on YouTube: http://www.youtube.com/watch?v=qv3PJ1YSHFs If you have never heard of them then give them a listen and tell me what you think.
6 responses


• United States
19 Dec 09
Definitely! They are just as energetic in concert as they are in the video. It was an EXCELLENT concert. One of the best ones that I have ever been too. I'm hoping to go see them again real soon. Thanks for watching the video and letting me know if you liked them or not!

• United States
19 Dec 09
Yes, it is a beautiful name for a group and believe me, they are even more attractive in person!


• United States
19 Dec 09
I have heard that song before, but I did not know the name of the group that sang it. Lady Antebellum was the was same way with me. I had heard a few of their songs, but I never knew who they were. I normally only listen to the radio in the car, so by the time I get in the house I forget about the song and never look it up. I like the song. I will have to try to find something else by them and see if I have heard it before too.

• United States
19 Dec 09
Yes, I am the same way. I normally only listen to the radio in the car and don't remember who or what. I have heard of Lady Antebellum. A friend of mine is going to see them in concert in a couple months. She is really excited.

• United States
19 Dec 09
I am not famaliar w/them but i don't listen to new country. When i do listen to the radio i listen to a station that plays all oldies.

• India
19 Dec 09
this concert is very good

• United States
21 Dec 09
Hi there, Well you're right. Before tonight, I had never heard of Gloriana before. I went to the url and listened to "Wild at Heart" and have to say I love it. With the two male voices and the two female voices, they uniquely bring them all together to make one beautiful voice. I'm going to have to check out ITunes for their songs.Thanks for the insight!!

Happy MyLotting! Char


• United States
20 Dec 09
I have never heard of the group Gloriana. I will check it out, though. Thanks for your discussion. Merry Christmas