UPDATES..2 this morning..YAY!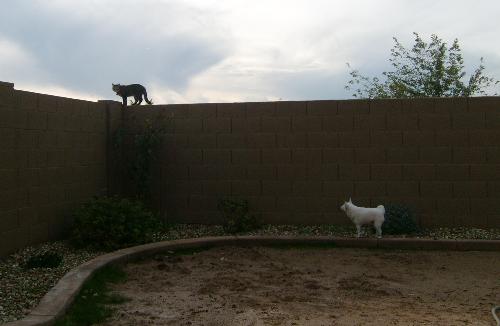 Holiday, Florida
January 26, 2010 1:40pm CST
I finally got several photos this morning for two other discussions Id needed them for.

I figured out why the kitty jumps on our wall. Phoenix area has lots of pigeons. They will make nests in your rafters outside. many people have told son to close up/fill in spots where they do this to get rid of them. but he doesnt have the heart to do it because sometimes they have babies in there. anyway, this morning I saw several pigeons on our wall. Suddenly the kitty jumped up there, but of course the pigeons got away

as someone put a bell on kitty. Coco noticed kitty right away, but couldnt run right out as we recently had a lot of rain and our back yard is full of mud again, so she tippy-toed out there.

So, I ran and got the camera with plenty of time. Have you ever been so anxious you couldnt wait to get to mylot to tell something?
10 responses

• United States
26 Jan 10
Leave the pigeons alone, that's my recommendation. Look at the purpose and exercise they cause. Keeps the cat busy, and keeps Coco too. I happen to love pigeons, it's easy to teach them to eat out of your hand. They love peanuts. Great picture, I see lots of terrific ones in your future. Did you post the other ones in your profile page?

• Holiday, Florida
27 Jan 10
you know, never thought of it

you are so smart. im going to try that. look later and if i can do it i will.



• Holiday, Florida
27 Jan 10

well they dont make it easy. i been flitting around on there for halph an hour and cant figure out nor remember how i did it before. so guess cant show them till i figure it out again. thats the one good thing about myspace only. its sooooo easy to load pics there. havent found any other site that easy for pics




• Holiday, Florida
30 Jan 10
oh and i havent been able to get on today until now so im wondering if gissi is ok?

• Pamplona, Spain
27 Jan 10
Hiya bunnybon, When I had my Parrot and if I would have been on mylot then I would have had many things that I could written about her. She is so funny and always up to antics that you would never imagine. I also had two Budgies that used to peck her feet when she was bothering them too.

• Holiday, Florida
30 Jan 10
oh i know what you mean. parrots are extremely intelligent!! my son in ohio had one that would sit on his shoulder and when he was drinking(i know i told him it was bad)it would nip his ear and say give me one. against my better judgement he would give it sips and he would sip till he was about to fall off his shoulder.

anyway, it seemed to be just like a person with conversation and understanding things



• Boise, Idaho
27 Jan 10
I have had afew great ideas (I thought) for discussions and I would always seem to have the page freeze on me and actually have to write it down so I don't forget the subject matter and what I want to say before I get to Mylot and the discussions, pick the right one to put it in, have it come up and then am able to write it down! Gheez! I should acheive sainthood for patience!! LOL

• Holiday, Florida
28 Jan 10

I should also when you consider not only would it only let me load just one pic, it hasnt been easy trying to put the others on my profile

which i've still not figured out.

• Boise, Idaho
28 Jan 10
Sometimes certain sites won't let me put photos on also. I don't know why. Just happens sometimes. That is when I feel like I am entering the Twilight Zone. Hehe?

• Shingle Springs, California
31 Jan 10
Great shot! :-) Sometimes I'll be out walking or driving and an idea will pop into my head and I will rehearse the discussion in my head so that I don't forget it when I get to a computer.

• Holiday, Florida
31 Jan 10

yes most of mine come when im outside smoking like for this one. its surprising how much meditation i do while smoking


• United States
28 Jan 10
That is about the neatest picture that I've ever seen. It's surprising that Coco didn't scare kitty away. And seeing that mud in Phoenix is just amazing. I've been out there twice in my life and during the total of three weeks that I have spent out there, it has rained a total of one time. As far as if I've ever had anything happen that I couldn't wait to share on here, it will happen from time to time, but most of the time I forget what I wanted to share by the time that I have the opportunity to get back on here.

• Holiday, Florida
30 Jan 10
yes phoenix seldom has rain but this winter the weather has been crazy just like everywhere else

• Philippines
27 Jan 10
Yeah, i am always excited to shares new discovery or any ideas which just flash suddenly on my mind that their is a feeling to me which somehow suggest to write it down before it disappear on my thoughts. So I really find time to write even if i feel busy as it is like obligated to write down as the ideas seem rarely and if i just let it pass i would no longer even recall it and for sure it would left me unsatisfied for sometime. so definitely sharing new breakthrough or new interesting topic is a must so everyone know it.

• Holiday, Florida
30 Jan 10
great. that is why i thought to take the pics to update 2 other discussions i done when i didnt have a pic to put in them and people wanted to see coco tippy toeing on the curb to avoid the mud and chaseing the kitty on the wall

so i got 2 pics in one this day.

• Lithuania
27 Jan 10
I only became a user of mylot today, so i'm still looking around and trying to get an idea what it's all about, but i think i'm going to like sharing my ideas and searching for the things i'm interested in. i love taking photos and i really think i may become a maniac of publishing them here :D

• Holiday, Florida
30 Jan 10
welcome and im going to be glad to see them. i really love seeing photos on here. problem is, i wanted to upload more of these but it only lets you do one per discussion.

•
26 Jan 10
Hi bunnybon7, What a briliant picture, I do love the the dog, looking up as if to say, "I'll get you next time cat", lol, but what a nice high walls you have there. Tamara

• Holiday, Florida
28 Jan 10
yes even son whos 6'1 has to pull up to see over it


• United States
26 Jan 10
Sometimes, I'll have an idea for a discussion and if I'm near a computer which is always since I have an iPhone I'll plug in my stuff. Sometimes I'll be out and about and think of something and then have to jot it down to keep from forgetting. Then when I'm at my PC I'll jump on and ask my question.