Pit Bulls arent bad.

United States
January 27, 2010 3:56pm CST
I own a 10 year old pit bull and her name is baby, and she pretty much is one. She Is the sweetest and loving dog around actually. We have two now, and theyre both very nice dogs, so tho who ever sais that theyre bad dogs I think are wrong, Its how you raise them.
10 responses


• United States
27 Jan 10
Yeah, I just wish people could see that.

•
27 Jan 10
Most Dogs Which Lives With Human From Birth Are Very Friendly,Not Angry... PitBull like Stafordcheer are Fighting Dogs and They are Really Dangerous... I Mean Dangerous Not For His Master but For Almost All Other People.

• United States
27 Jan 10
I have so many Pro-Pit bull things...bumper stickers on my car, articles on the internet...I love pit bulls. I think they are beautiful, awesome dogs! I've never had a pure pit bull, but I have had two pit/shepehrd/rotty mixes. Both great, beautiful dogs. Thanks for sharing! What are you dogs names?

• United States
27 Jan 10
Me too, I have stickers to pictures and magnets, Ha you name It I just think people look at pit bulls the wrong way and think theyre abd because of what they hear on tv. the older one's name is babygirl, and the young ones name is gizmo, who brings out the puppy back in my older dog. theyre cute together.

• United States
27 Jan 10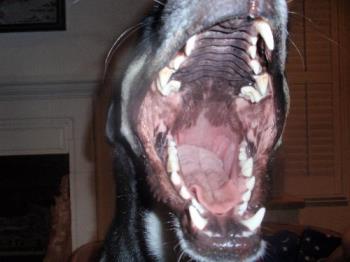 Yeah, I'm always tired of the media bad mouthing pit bulls. Aww Babygirl! Gizmo!

•
27 Jan 10
in my country pit bulls are actually illegal. but I can't see any reason why they'd be worse than any other dog. in about every account I've heard of, a well brought up pit bull is no different to any other well brought up dog. there are things to be considered with fighting breeds, but they are not inclined naturally to be agressive to humans. back when dog fighting was the poor mans sport, the dogs would have to live with their human owners. no matter how evil the dog fighting practice undoubtably is. so any dog that showed agression to humans, in such overcrowded conditions, with many generations in one room, was not worth the risk of keeping. a dog that showed agression to humans was quickly culled in this environment. fighting dogs are almost invariably great with people, if they're brought up right.

• United States
27 Jan 10
Pitbull are wonderful dogs.It really depends on the handler of them.Inexperienced people have trouble with them.I think it depends on how they are cared for.I think if you spend time with the dog,exercise it and bond with it,definately socialize it.They will be very friendly.The "Little Rascals "dog is a pittbull.They are good with children.

• United States
27 Jan 10
yeah, good point, both of my pits are amazing with children, they would climb on them and they wouldnt mind, theyre very smart dogs also.

• United States
28 Jan 10
I watch the Dog Whisperer,and he owna alot of pitt bulls that are very friendly,he says it's not the dog,it's the owner.Any dog you do not exercise will act destructively.I don't like people bad mouthing the breed when they know nothing about them.It is the owner,a bad dog becomes aggressive when they don't get socialized and exercised,not out in the yard but long walks.The Dog Whiperer recommends long walks,that makes the dog bond with humans.They don't like to be thrown out in the yard.Putting them out in the yard isn't gonna exercise them and socialize them.I don't own a pitt bull but I do like the breed.I know people that have good ones and that's because they socialized it as a puppy.The one pitt I know doesn't even bark at strangers when they come on the property.

• United States
9 Feb 10
I'm going to start fostering pitt bulls that are in need of homes.I love the breed.There are alot of them in shelters that are very friendly and I'll be fostering them and helping to find them a home.I'm excited,because I'm gonna save them,they're in a kill shelter,they'll be euthanized if they don't get a home.I'll help out.

• United States
31 Jan 10
My husband and I have 2 pitbulls and they love people. We trained them correctly and they don't even bark, let alone show aggression. I joke that they make terrible guard dogs since they would just lick and want to play with any intruder that should come in. I think it's a shame they get such a bad rap.

• United States
29 Jan 10
I am really leery about putting a label on any breed of dog. I have owned rottweilers in the past and we have recently adopted a pit bull that strayed into our yard. I think a lot has to do with their raising, however the numbers clearly show that the attack percentages are considerably higher with these two breeds. Of the dog bites that resulted in fatalities. One third is a high percentage and one that people, whether you love the breed or not should pay attention to. That being said I also find cases of malmutes, rhodesian ridgebacks, cocker spanials and others attacking their family members! There was even a case where a pomeranian killed a four month old baby! http://www.dogbitelaw.com/PAGES/statistics.html (almost end of page) What all dog lovers should remember is to be careful, any dog has the potential to bite, sickness, females with pups, pack mentality, tumors on the brain, and even feeding time are potential invites for a dog attack. With pit bulls and rottweilers they have such an intense force in their jaws that they can do catastrophic damage in seconds, where the family mongrel might only leave you needing stitches. Caution and wisdom is what anyone who owns ANY dog should keep in mind. By the way I have been attacked by two dogs, one a rottweiler, and one a mongrel. Thankfully the mongrel was when I was young enough to move quickly and it was on a chain and I have raised rotts, so I was able to keep the dog from hurting me, though I was terrified.

• United States
28 Jan 10
No, pit bulls aren't bad at all. My aunt owns one and she's really friendly. She's the only female out of my aunt's dogs so she kind of acts like the mother, helping the other dogs clean their ears and such

When I visit my aunt, her pit bull sleeps with me. She's a little sensitive about people touching her legs because she used to be abused but she is very very sweet.

• Canada
28 Jan 10
A pit is usually a very good dog. Some bloodlines r very agressive, with training it can be controlled. Most lines r very good and r sweet hearts. But they r a terrior, being of this breed r strong willed and protective.