Try the "shooting the rapids" at Pagsanjan falls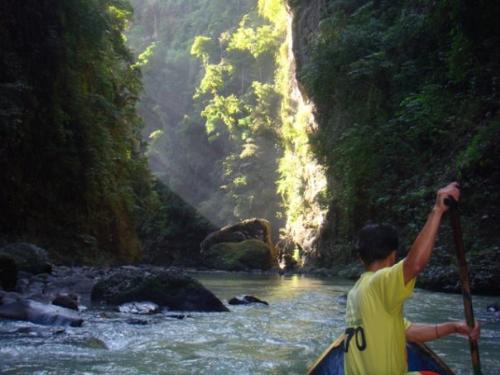 Philippines
4 responses

• Philippines
12 Feb 10
hello jiancarlo, wow! that's one of my dream...to experience the shooting the rapids of Pagsanjan! i am from Laguna but never been there... it looks really exciting & fun! i hope to visit the place when i get my vacation in Laguna this year...( i am now living in Cebu) by the way, how much will it cost to do that? i mean how much will be the payment for the boat?

• Philippines
12 Feb 10
whoa I am surprise your from Laguna ...lol I am from Bulacan and I enjoy my stay at Laguna ,I pay 1 thousand pesos per head . Hope to visit Cebu and experience the famous ,I dont know what you call that thing the tower coaster? I hope I am right

• Philippines
12 Feb 10
That nice I hope to visit that this year , 1 thousand all in then go to caliraya for the hotel =) except you love to give tip for the bangkeros ,insurance already included.


• Quezon City, Philippines
12 Feb 10
I think that it would be an exciting day to do that. I just do not know how to get there and how much to bring to avail of that adventure.

• Philippines
12 Feb 10
I paid 1 thousand pesos per head , from manila just take the SLEX going to calamba , from calamba take the national Hi way to Los banos, bay, sta cruz,just follow the national hi way it bring you to pagsanjan .. have a nice day.

• Lapu-Lapu City, Philippines
11 Feb 10
how i wish to see pagsanjan falls. i am from luzon but in my whole life, i have never been there. i wish, someday, i can go back to luzon and see pagsanjan and other beautiful places we have there.

• Philippines
11 Feb 10
yah I am also from north, hope you can visit pagsanjan someday me and my family enjoy the rapids ... have a nice day

• Philippines
17 Feb 10
Wow! This is definitely going to my "places-to-go" list. I really would like to explore our country it's just that I don't have any ideas on where to go to. Thank you for this information!