Miniture Pincher... what do you know about them?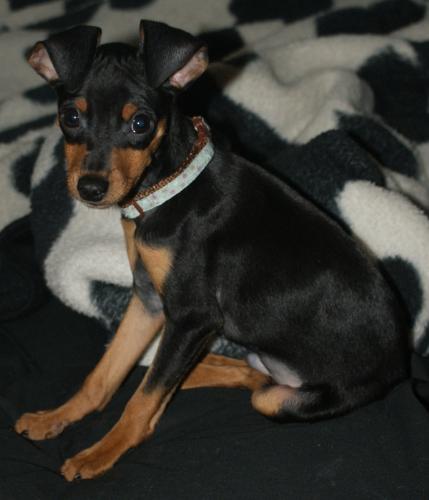 United States
February 23, 2010 2:34pm CST
I just got a 12 week old min pin 2 days ago. I would love to know any information and/or tips anyone has for this breed. He is a tiny boy and been docked and due clawed. I think we are gonna have his ears docked too not sure yet. But he is just soooo cute I have included his picture to show you my new baby! His name is bruiser, my hubby wanted a tough name!
8 responses

•
23 Feb 10
please don't mutilate his ears. that's a little puppy you're talking about. it's bad enough the poor critters already lost some of his spine. how can you look at a beautiful little puppy and think they'd look better when they've been cut up a bit? it's deeply saddnening that there are so called civilised countries that haven't made this sort of thing illegal yet. ear cropping has been illegal in the uk for a long time now, and tail docking is on the way out. it's so wonderful that we're now starting to see dogs like spaniels, with their lovely, long, plumey tails. they really do have a lovely tail. and they wag them a lot. surely if you love your dog you won't force them to undergo unneccessary and painful surgery to make them look different. if you wanted a dog with erect ears you should have got a breed with erect ears, not a breed with floppy ears and then mutilate them so they stand up. please please please. you have a wonderful dog there that will give you many many years of happiness and love and fun. cutting his ears up won't make him better looking, or more affectionate, or healthier or more fun. it's completely unneccessary and it's just not a fair thing to do to a puppy.

• United States
23 Feb 10
I agree and that is why I said I didn't know if we would be doing this. I had been told by a vet that he would need it done because his ears would bleed or something. That is causes problems in with their ears.

•
23 Feb 10
some vets still try to make out there's medical reasons for cosmetic procedures. lots of dog breeds with that same natural shape to their ears aren't cropped. and they don't have ear problems because of it. in fact, in the uk, there wouldn't be the option to have it done at all. because there's no valid medical reason to do it. ear cropping and docking of non damaged tails is purely cosmetic. there's really no need.

• United States
24 Feb 10
oh wow I did not know that I thought he was trlling me about his ears was true. I will now know not to because its not needed and unessassary. Thank you for that information. Wow in the UK its banned, didnt know that either.

• United States
23 Feb 10
my mother owned a miniture pincher and he was the more enregetic dog so i would say just make sure you have space to run and play with him/her alot they need it.

• United States
23 Feb 10
Yes he runs and plays a lot hes already got tons of toys and I know he likes running because he is like a little jet through the house. He runs zoom past and zoom back. He is super fast too. I can't believe how fast he is. I am got him a blue kong but miss placed it.

• United States
24 Feb 10
yea that was the same way my moms dog was but he was a super sweet dog and i have 2 daughters one is 3 and one is 3months and he is so good with them,.

• United States
24 Feb 10
Yes he is super sweet with the kids loves being around them and chasing them. I know if he isn't on my bed or what look for the kids he is there. I know that for a fact.

• United States
23 Feb 10
He is gonna need a tough name to live up to his personality. Most little dogs like Bruiser think they can whip the world. I know my little one does, she thinks she rules the roost. Be careful not to allow him to jump too much. Small dogs can often hurt their legs, especially during the first year of growth, by jumping on and off of furniture. If you are going to allow him on the couch or your bed, invest in a set of doggie steps. Also, small dogs are harder to house train. Be perpared, it can be very frustrating at times. I recommend crate training; it seems to work the best.

• United States
23 Feb 10
Yea I read that. I know what you mean about training. He hates going outside because of the snow and it is soo cold. I am working on him slowly though. Yea I am gonna get him a crate we had one but I believe its too big.

• United States
24 Feb 10
If you don't want to buy a new crate, they make divider panels for some of them that work great. That way you can let the crate grow with him. And you may want to invest in a sweater for him. I know I have to keep something on my papillion because she will shiver all of the time. Another thing about those little guys are that you should not bathe them too often. They are prone to have flakey skin and this is aggrivated by excessive washing and if you do have to wash them use an oatmeal shampoo.

• United States
24 Feb 10
Yeah I had read that somewhere. I have same problem with my chi. She is prone to dry skin and she loves baths so it bites because she wants a bath and I am like no. She jumps in the empty tub and I am like NO.

• Philippines
24 Feb 10
Oh wow, I have a min pin puppy as well, his name is Phoenix. I know a lot about this breed coz I made a lot of research about them. A lot of people really think that the smaller dogs are harder to train and they think they own the place, well they are all wrong. They are just being tolerated most of the time because they are cute, like for example, if you have a rottweiler dog, jumping on your feet and trying to play with you, of course you would stop him and tell him its wrong. it's because he is big, but try to look at a picture of a min pin doing the same way. Of course you wouldn't stop him coz he just looks so adorable. It's just the way how you train your dog, big or small, they are just the same. And about his ears, you don't really need to cut them, it's their natural look, unless if you want to show him off to people, like the main reason for them to get their tails and ears cut are simply because of their looks, sometimes they are born with extra longer tail or bigger ears which is not the "expected" look for a min pin, but that's totally normal, most countries don't even allow these stuff, its just all about looks, no other reasons. Min Pins are very smart dogs as well, so you won't have a lot of trouble training them, just that they are extra energetic, they play most of the time. :)

• Philippines
24 Feb 10
And oh, I almost forgot, you should protect him from the cold. They are the type of dogs that doesn't like the cold and prefers the heat. they get colds so easily and they are also the types of dogs who loves clothes. :) coz of the warmth :) enjoy your puppy.

• United States
24 Feb 10
Thank you so much for all this information. I would love to see a picture of phoenix if you would show me. I am gonna get him a coat and some booties I believe. I just am afraid he will pee on them when he potties outside. Yes he is very smart he is almost got potty training down even in the winter. We shoveled some of our front yard so it was grass and not so cold on him.


• United States
25 Feb 10

My husband named him its his pup. He wanted him to have a tough name! LOL


• United States
24 Feb 10
That is okay what do you think of him his picture is above!!

• United States
23 Feb 10
I don't know that much about them, myself, but I just wanted to say Bruiser is so cute! I rated your picture, btw, too. My nephew had a girlfriend who had a Miniature Pinscher. Hers was a female and she was so cute! She brought her up here to my house one time when she came with my nephew to see my horse. The girlfriend was a horseback rider and she had horses, too. She barrel races, as a matter of fact and my nephew called me before they came to let me know they were coming. Anyway, I didn't mean to get off the subject but I have a little Jack Russell Terrier Mix Dog. Her little dog and my little dog played so well together. They were so cute chasing each other around the backyard, lol



! Kathy.

• United States
24 Feb 10
yeah I have a chi and he chases her around and they zoon all over the house. I think its good for them to play and run they sound like you jack had fun!

• United States
25 Feb 10
They sure did! My niece brought her little shihzu puppy not too long ago and they played well together, too. We didn't take them outside, though. They stayed in the house. I guess it was too cold to be outside because it was close to Christmastime. Shihzus are strictly indoor dogs, anyway. Kathy.

• Canada
26 Feb 10
Hi, ask your vet, the ears done will help with the ear infections,wax and problems. I have Bouviers, their ears are done. Mini pins are a very active breed. Compared to the Std. Doberman the go 100 miles an hour most of the time. They shed coat 3-4 times a year and live a lone life style. You can find out more by going to the AKC breed standards and look up the breed. Also Dogs in Canada