Ashton Kutcher vs. Tom Cruise for "Killers" and "Knight and Day"?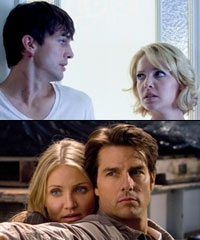 Philippines
2 responses

• Oklahoma City, Oklahoma
30 Sep 11
I dunno; I've only seen some before-movie previews for "Knight and Day," and don't think I've ever heard of "Killers" (although it's not a very distinctive title). Tom Cruise now reminds me of Jack Nicholson in "BATMAN"

• United States
15 Jun 10
I'm not sure which one did better at the box office, but I can tell you that I would like to see both! I LOVE Katherin Heigl and think she will be awesome opposite Kutcher. The storyline for Knight and Day looks like it would be alot of fun. I've also seen some of the behind the scenes things from this one, and it looked like they had a blast filming it!! (I especially liked the one where Cameron Diaz "accidently" knocks Tom Cruise off his feet with a karate kick.)