The most immoral product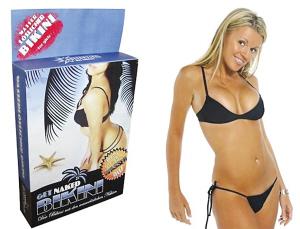 China
July 22, 2010 7:50am CST
I saw this news in a Chinese forum: A German company published a kind of bikini on their website. It looks no different from common bikinis, but it is made of a special material constituted of 80% starch and 20% urethane elastic fibre. This material can dissolve fast in water, so the girl who go swimming with this bikini will become nude in public. The German company advertise on their site that it is the ultimate trick to revenge oneself on his ex-girlfriend/wife. But, many women's organizations protest against these wicked swimsuits. What do you think about it?
10 responses

• Singapore
23 Jul 10
I guess soon there would be similar products coming out for the men - "dissolving swimming trunks" or even underpants? I sure would like to see that happening to the designer. People who gave this with dirty tricks in mind should get a taste of his own medicine.

• Singapore
24 Jul 10
Definitely! It was a really despicable idea


• United States
23 Jul 10
Hi qianyun6, This product should be taken off the market immediatly without question! It's horrible! Can you imagine an non-suspicious mom throwing this on for a quiet day at the lake with her kids and their friends? I mean, I personally would not accept a gift from an ex anyway but some people would and think nothing of it. No...this is just wrong. Hopefully and I'm thinking it maybe.,,,this is just a website colored with someones wild imagination. I am finding it really hard to believe that such a thing (if it really exists) made it to the shelves. I'd need to do some research to believe that this could be true.

• Garden Grove, California
23 Jul 10
qianyun6 if they are going to do that, make dissolving speedos for male p

layers, whats good for the goose is really good for the gander.Personally I think the idea is disgusting and the product should be banned and taken off the market. and too women who would buy those mus be pretty stupid to buy them in the first place.



• China
24 Jul 10
I think no one will buy it for herself. The seller must interpret the feature and usage of the goods they are selling, right? The only usage of the product is to play disgusting tricks on others. And, I agree with you, it should be banned immediately!

• Garden Grove, California
24 Jul 10
hi qianyun6 no i should hope not. he he. it is disgusting to me, and should not be sold.what some people will do just to make some money.

• Malaysia
24 Jul 10
i think that i'd like to order 5 of those soluble thingys

not to be used for revenge or anything nasty and bad like that... just that the interesting & naughty adventures that can be made possible are too mind boggling to ignore



• Canada
22 Jul 10
Im being bad today and I know a few women I would love to give this to haha. But nothing would come of it I imagine. They'd just be running for their clothes. Goes to show that someone in marketing has revenge on his mind!!!

• Brazil
25 Jul 10
I guess I'm a bad girl cause I LAUGHED my head off when I read this. To me it would be good revenge. But then again I like dirty tricks like fish in the back seat and nail in front of a parked car right before a new date.

• Brazil
25 Jul 10
Yup. My mother dated our next door neighbor and when it went south I learned a lot of cool things. He had a good sense of humor though and has never held any against us (In fact though he is married he still keeps in touch) Since the apartment had a parking lot, a shared laundry, he lived on the top/3rd floor while we lived on the ground level we could easily keep tabs on him. My sister and I use to bounce our tennis balls on his wall from outside as we practiced catching high flies (you throw the ball to hit a high wall and it comes back down as if a high fly and while they dated we only did it when he wasn't home - AFTER they stopped dating we did it ALL the time to get his attention and get him down to play with us), my mom would put a cotton ball of her perfume in his laundry so he would smell her everywhere - he never figured out this one, he use to get this wrong number, a woman looking for a Troy, so one day she took on the woman's inflection and called. When he said she got the wrong number again, my mom replied, "That's okay honey, You'll do!". We did the nail in his tire right before he was going to go on a date - my idea. And we placed a fish on the roof next to the vent which lead into his apartment so ... She has never done the really MEAN and costly stuff like: Sugar in gas tank or baloney slices with mustard on the car to ruin the paint job.


• Philippines
22 Jul 10
OMG. Well, that is in fact the ultimate trick to have a revenge on someone. Lol.

I think that will sell. But I will definitely not buy one.


• United Arab Emirates
22 Jul 10
It is a product to play dirty tricks with ex-wife or ex-girlfriend. In my opinion ex wife or ex girlfriend deserves more respect than revenge.

• United States
22 Jul 10
I think it is down right good for nothing. I would march for this not to be sold. I would be in jail had someone played this trick on me.