Over half way done with my big order!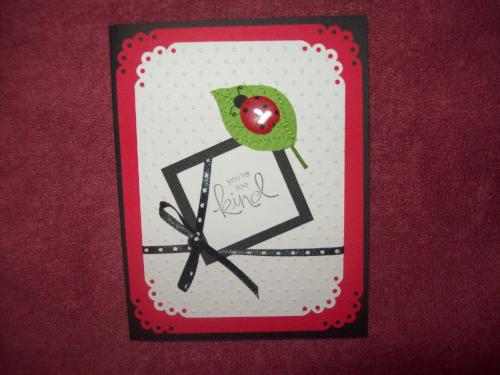 United States
September 2, 2010 7:18pm CST
Well I have gotten to a milestone in my order my sister in law got for me....I went over the half way mark. By the end of next week hopefully will have them done. I am also working on things for my craft sale! But I am anxious to get the order done as soon as possible....I like things behind me instead of ahead of me. Have you ever been totally happy to finish a project? Have you had to work under a deadline? I uploaded a picture of one of the 7 I have done. They are in sets of 10..each card is different.
8 responses

• United States
3 Sep 10
Good morning Jill, good for u. I'm always glad to get anything i need to do done & behind me. That is from the smallest to the biggest. I ser me a goal for everyday. I can't do everything in a day ot two like i use to. It may take me all week but i 'git r done', lol. Happy weekend to u.



• United States
3 Sep 10
Hey jill! That card is absolutely adorable! I love it! I think the ladybug is so cute! I don't have any idea how you do it but, I wish I was able to do some crafting! I did make a few little odds and ends around the house, but nothing like that. I did re-do an old music box by painting it and putting colored wooden butterflies on it! I like to re-finish or re-paint furniture. That's more of the stuff I do.

• United States
3 Sep 10
Cute card Jill! Good for you on being over half way done, that's some accomplishment in such a short time. Yes, I'm always happy when I finish a project..it's a great feeling, and especially if I'm all satisfied with it and the finishing touches come out the way I want them too. Do you have one of those cricut machines?

• United States
3 Sep 10
What a cute card. Bet you are happy to be half way finished with your latest project. Are the cards blank inside? Good luck with your upcoming craft sale. Hope you do exceptionally well. I don't do well at all with deadlines. My craft takes forever to complete one small project but when I am finished it's exciting. Am one of those crafters who starts, stops, starts so it takes me a long time to finish a big project. Still working on the firetruck bank and might have it done by Christmas 2011...lol


• United States
3 Sep 10
Glad to hear you are half way thru. Yes i have crocheted my son and my daughter a lap blanket and i was very happy when i finished them. I love to see the out come of any craft. I have been working on some beading and just simple stuff that i may can sell.