Education Budget Cuts are "crap"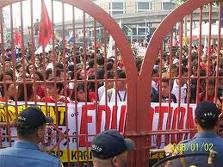 Philippines
November 26, 2010 9:44am CST
Hello Lotters

, We have been experiencing a lot of problems lately,although this had caught my attention for sure.

. I remember way back College about these unjustifiable increase in the Tuition through the high school and college.it didn't stop there even though i have graduate from my Alma Matter. of course, i thought it was normal since it was in public school. how ever, i didn't realize that even in public schools that this increase is also happening. I remember a Corruption that's happening i think in a University in batangas (i think). It's supposed to be Public School but unfortunately, fees increased on that school and most family members of that President of the school is part of the staff, Nepotism i must say. And now, Budget cuts are being done for the purpose of focusing on the Elementary and Tertiary instead? Why can they just request UN to increase budget for education instead of cutting funds that will lead for more tuition, more students and lesser teachers instead. Well, i don't have to be too mad since I DIDn't VOTE FOR HIM, so the pain is a bit less for me. I feel pity for those people who rally.
9 responses

• Philippines
27 Nov 10
That Nonoy is such a screwed up president and liar. I remember that he promised to prioritize education, during his campaign. And now he is doing otherwise. Therefore, he said that ust to gain votes. I bet he is also going to reneg from his other promises. He cuts down education budget, but approves an increase in Congress' pork barrel. I'm praying for a civil war to overthrow the government and murder all of its officials especially the president. We need change and we need it NOW!

• Philippines
27 Nov 10

Hello there, Change will take time, if we are in a hurry then nothings gonna happen. Civil War However will make it worse for sure. well, am sure people will protest if they don't explain themselves. despite of the dialogue i think satistics should be shown as well here.



• Philippines
28 Nov 10
Civil war is still best recourse. It is a prerequisite to progress. Take a look at ALL progressive nations. Yes to CIVIL WAR!!

• Philippines
28 Nov 10
Well, I have nothing more else to say with people who can twist words.

.


• Philippines
27 Nov 10
The problem really is bigger and more complicated than what is being made out in the papers. We all know that life has become more and more expensive, and increases are inevitable. I just think that these students need to look at their universities first before going to the government. State universities have their own charters, and as such, can even come up with their own ways of increasing revenues aside from government grants and subsidies. It's time that they cut their umbilical cords to the government. In most state universities, there is a lot of corruption, because precisely, they are autonomous units. I think its just selfish of them to whine why the basic education gets the bulk of the budget. In effect they want to get what is meant for their siblings. They know that these kids are too young to complain. It's like bickering siblings where the older sibling wants his/her parents to take the lollipop from the younger sibling for him. These brats claim that the K-12 program will take effect in 2016, why give them money next year? Well brat, that's because they need to build more schools so that the program will run on schedule. It's time that we stop depending on outside aid for our needs. Some of us need to sacrifice for the greater good - and certainly basic education is one common good that we should all strive for.

• Philippines
27 Nov 10

Hello Advocate, I see, well, this is basically the kind of explanation I've been looking for

. I wonder what was the dialogue the last time in terms of these proposals for the Deped which led to this initiative.Well, what can i say, whiners and complainers in our country will never disappear if they have lacked of understanding. that's why i pity them, they just depend on the big crowd and didn't know what possible solutions is undertaken. Unfortunately, such sacrifices needed to be identified so that the rest will understand. I wonder why the pork parrell from the President didn't decrease when it could have added to the cut budget in education?

well, tuition increase is hell up yet again. i guess INVESTMENTS of new business is just the only solution for this

• Philippines
27 Nov 10
If I remember right, the proposal to increase basic education to 12 years has to be enacted into law. I don't know what stage it is, but I guess they have supporters for the bill because they have incorporated this in the budget. I don't mind whiners and complainers, it's the price of democracy, I just can't take people who whine and complain without understanding the issues. As for the pork barrel, you might have a point there. I remember him saying that he will cut pork - shouldn't that include his own pork?

• Philippines
27 Nov 10
BUt of course, he needs to explain himself on that one too.


• Philippines
27 Nov 10
That is what the government is hoping to do - cut the budget for state universities to give to basic education. The LFS is questioning why the basic education should get high priority - well, DUH!

• Philippines
27 Nov 10
Hello Ifa

, that reminds me, there's a lot more students in the Tertiary and Elementary compare to the Schools in the collegiate. of course, the protest proves worryness but lack of understanding of the youth about the problem in terms of education.


• Philippines
26 Nov 10
I also pitty those people who voted for him and only to find out that his government is incompetent,much troubled, more corrupt( i think) and many people are beginning to discourage on how he handles his staff as well as the country. To the topic, we have already requested UN budget and still waiting for it. Not sure if they'll handle it out.

• Philippines
27 Nov 10
And I pity people who will resort to finger pointing when the going get tough. The problem with us Filipinos is that we want others to sacrifice, but will complain when the time comes for personal sacrifices. We are a third world country with so many problems - we all need to make sacrifices, some more than others. Why do we need to seek help outside when state universities are empowered to look for sources of revenues. The state universities should shape up or risk closing.

• Philippines
27 Nov 10

Hello Bushin, Well, am so sure that those student protesters will change their minds if we do get the budget from the UN regarding this concern. the problem is that most of our people are WAY TOO IMPATIENT.trouble is we expect fast band aid solutions with out being patient. i believe it is the next generation who will feel the prosperity if things go well.


• Philippines
27 Nov 10
There is no such thing as aid from the UN regarding education. I think you are misinformed.

• Philippines
27 Nov 10
Yes I really feel sad for them as well because of the budget cut. It is now up to all the students to learn for themselves. I hope the Government will do something about this. I believe the Department of Education has the biggest budget. I am still wondering why there are still lacking of good schools here in our country.

• Philippines
27 Nov 10
Hello Aaronfyzeon,

Well, we don't know exactly what part of the Budget had been cut. maybe it was indeed necessary but they need to explain it to the public so that the youth would know which expenses aren't really not that important. for some reason, they should be on detail to this because it's not really showing any kind of evidence that they're doing something good here.


• Philippines
28 Nov 10
I absolutely agree that they should give us a detailed explanation where the part of the budget went and why did they cut it out.

• Portugal
26 Nov 10
im sorry that pinas is in a bad wave again

i really wish that life in pinas could be better really. is like you always have a new problem to bother you guys. anyway i really wish that someday you have a good president that really helps you move on and have a better life. i just feel that is hard to find someone that cares for others instead of care for his own pockets


• Philippines
27 Nov 10

Hello there sweetie, Well, my country is still developing but at least it's on the phase of growing.

.well, we have a President who is doing the best i think he can to find solutions to the problem.that's why the world is getting poorer and poorer every single day which is hard for real

• Philippines
26 Nov 10
I feel pity for those who rally too because no matter how they shout at the top of their voices, they can't really change anything or influence the decisions of the governing authorities...sigh

• Philippines
27 Nov 10
Every time the LFS is involved in rallies, I tend to take the issue with a grain of salt. I went through the same phase of rebellion, but I think I am not like them who seem to be deaf to explanations. I think public money is wasted on them since they do not seem to have learned to communicate. Manners are still important, and violence is not an answer, and never will be.

• Philippines
27 Nov 10
Well, if they are deaf, i believe such protest advocate is completely useless on my part. i guess there's a reason to pity them because they just want to whine. well, if some one those have communist ideas then there's not much to say there

Dialogues can still be open Marapples but t depends on the protesters if they will listen.

• Garden Grove, California
27 Nov 10
hi letran why is it that some politicans always focus on cutting back on school funds and making classes too large so teachers cannot do their jobs of teaching all the kids. Here in the Us its almost as bad as right in California where I am they keep cutting way back onfunds for education saying they dont have the money but they sure have it for private interests so yes I guess we do have some corrupt

politicians too here.



• Philippines
27 Nov 10

Hello hatley, THat's why the youth is so angry with the annoucement that most decided for a wide protest.

they fear of corruption not to mention the Presidents pork barrell isn't cut down. but at least some still have education there unlike here, children are attending schools only use of sandals or feet just to attend classes. lack of class rooms or chairs alike/


• Malaysia
26 Nov 10
We are fortunate that education here is well taken care of by our government. Education is getting one of the highest government allocation. It relieved all parents of the burden to fork out lots of money to educate their kids in the elementary classes up to secondary stages. Everything is free. Textbooks, school uniforms, tuition are borne by the government. They even have free meals in school. Those hardcore poor students receive cash at the beginning of every school term.

• Philippines
27 Nov 10

Hello zandi, i guess that's one thing you should thankful for in you're country. although we do have free books in the Elementary, that's why it's being prioritize by the government because they are much more needed i think