The car washer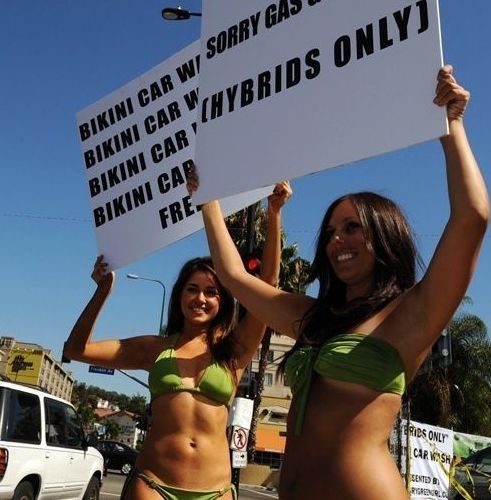 India
December 11, 2010 3:08am CST
While returning from Jharsuguda, after picking my daughter in law and granddaughter, we refilled our car at a petrol pump.

There I saw car washers, while we took some snacks, they washed our car for one hundred rupees, they were a group of four, qualified, but because they could not get any white collar job, they are doing this job.

Unemployment is rising in my city, state and I think entire India.
In my opinion there is no harm doing this job, though many Indians may not like because of their qualification.
[b]What is 'unemployment' scenery at your place? Do you have such qualified car washers at your place?[/b] NOTE- THE PICTURE IS NOT THOSE OF THE GIRLS WHOM WE SAW.
Professor 'Bhuwan'.
. Cheers have a lucky day ahead.

5 responses

• United States
14 Dec 10
Though I think that there are a lot of people that feel ashamed by the fact that they are currently underemployed, the fact is that people should be happy to have any job that they are able to find with the economic climate being as it is. My brother has a master's degree in civil engineering and has held his degree since 2007, however, he is currently working on a factory line because there is no work to be had in his field of specialty.

• United States
12 Dec 10
Most of the time, I wash my own car and my mom's car. Sometimes, I will take it to a car wash, but very rarely since it is pretty expensive. Thing is, here is Cali, people judge you by your car. If your car doesn't look good, people think that their is something wrong with you or that you have no money.

• Garden Grove, California
12 Dec 10
second time grrrrrrrrrrrrrrrr lost my whole response my son is again out of work and ten percent is now the last number for every job of anykind 'there are a hundred people for that opening. in one of the richest co untries in the worl why is thies happening four years ago my son whould hnave had his choice of many computer prgramming job. now its hard to find one. Isee no harm in working beneath your skills s if its good honest work;




• Singapore
11 Dec 10
Last time, in my country, there was a taxi driver, who went out of job and had to do this tiring job. He had a University certificate and just because he went out of job, he had to resort to driving taxis. Well, let me tell you what's the actual scene here. The society here is very realistic. If you have no money, then there's no use negotiating. People always say, no money, no honey. That's how it went. The government here emphasizes on democracy. The better ones will thrive, get better paid while those who have no academic excellence will have no choice but to work with low pay. Those who are not that good with academics but have a rich family, then they can start a business on their own. I know that all those jobs are decent but people here will always see them as uneducated. This is how it works, sadly. The society can be really unfair to those who have no education. But look at another perspective, if we don't have all these car washers, construction workers(another looked down upon job), then where do we get buildings? Where will we get roads?

There are no such qualified car washers here as the economy here is prosperous. Quite a lot of people get jobs nowadays.

• Philippines
11 Dec 10
hello professor, here shows that even girls can compete with the male in the same kind of work.

work is getting scarce and it is because of the population boom. add the incapacity of the government of not being able to make additional employments. for the people who needs employment, it is best not to be choosy and they should be innovative.

have a nice day. thank you for sharing the picture. that's what i call innovation hehehehe. ann