When you have parties how much do you spend on food?

United States
January 9, 2011 9:54am CST
My husband is likely going to be laid off in the next two weeks so I am trying to spend as little money as possible. However, my son's 7th birthday party is next Saturday. Obviously I have to fee our guests but I don't want to spend a lot of money, so any advice on what to serve that won't be expensive would be helpful. I would have just had it be a cake and ice cream party if I knew about the lay off, but when I sent out the invitation I didn't know. How do you serve your party guests without spending a lot of money, how much do you typically spend? If at all possible I would like to keep it under $50.00 including drinks, plates, napkins and silver wear. I can make the cake myself, and already have the mix and icing. Any and all advice would be great.
10 responses

• United States
9 Jan 11
Its a kids party. You should go onto coupons.com and print out the pizzas they have coupond for and i would buy those cheap pizzas as here in FLorida they are around 1.25 a piece and not that bad and i would cook some of those up for the kids and i would put the paperplates that are the white cheap ones as kids dont care and buyh some napkins and be done. Maybe get a couple bags of chips and that is the way to go. The adults can eat the same thing as well as i eat them with the kids and enjoy them for a cheap last night dinner. I go to walmart and get everything so i would do the same if i was you to save money of course. Hope i was helpful and i hope your kid has a gret party.

• Philippines
10 Jan 11
For a children party, you can serve not too expensive food but children would surely enjoy. Cook a spaghetti, fried cheese sticks (cheese wrapped in molo wrapper then deep fry), buy some choco chips cookies, hotdogs on sticks, and orange juice would be good enough for children. Ice cream, cake & spaghetti combination is okay too. What you will feed the children is okay for adults as well.

• Philippines
10 Jan 11
By the way, I suggest that you use whatever plates and utensils you have at home instead of buying cups and paper plates. Washing plates may be taxing but it will save you on cost.

• United States
10 Jan 11
Pizza is a good idea. Kids love pizza. On the other hand, don't bother to cook five kinds of food, because the kids don't have time to eat; they want to play. if you have some adults on the party... there is a problem to be solved. Make some easy salad with beans and onion and vinegar, or a salad with tuna and corn and green lettuce and mayonnaise; and appetizers on a plate (cheese, crakers, salami) - I don't know - something not so expensive. In fact it is a party for kids. And something important: choose some games for kids - to paint, to build a castle with disposable cups (in teams, of course), to break ballons.

• Philippines
10 Jan 11
If i were on your shoes, with my husband to be laid off in the next two weeks, i would be practical. Instead of spaghetti, i will just cook pancit or stir fried noodles, cocktail sized hotdogs on stick with some marshmallows in it. I will bake a chiffon cake and just put a delicious icing on it, because the icing is the part the children loves. I will serve drinks in foils, thoroughly chilled in the fridge beforehand. As to the plates & glasses, i will use the plastic ones that i may already have, which could be easily washed afterwards. So that's it . At least i have been as thrifty as possible, my husband will be proud of me.

• United States
10 Jan 11
I think I would mostly go along with what the other people said. Pizza is the way to go. Pizzas that you buy at a store like Sam's and then come home and bake them yourself. They are as good as the ones from the pizza parlor but they are about half the price. Then I would get the big two liters of soda and provide cups which is cheaper then buying cans. The dollar store has big huge bottles of soda and they have cups, and cheap plastic wear.

• United States
9 Jan 11
What I have done was gone to a wholesale club like Sam's, BJ's, or Costco and buy a few snacks that will feed a lot of people. Last time I threw a party I bought some tiny taco things, mini corn dogs, bagel pizzas, stuff like that. Of course a couple bags of chips and some dip (which you could make yourself cheaply). Buy a few 2 liters of soda, they are usually around a dollar a piece. I tend to get 2 or 3 different kinds to please everyone. Then order a pizza or 2, enough to feed all the guests. You can get cheap pizzas either at the store and you'll have to cook them, or go someplace that delivers cooked pizzas and see if they have any deals or coupons. If you have a Little Caesar's nearby, their pizzas are only $5 each, sometimes mini marts have pizza for $5 or $6 each. Or, like I said, buy it at the store and cook it up at home.. those are rarely that expensive. All of that together should not cost more than $50.

• Philippines
10 Jan 11
Kids party is really something parents should prepare well. Not considering the budget. It must be enjoyable for the kids, too! In my nephew's case, he had his 5th birthday at school last weekend. My brother spent around $186. We just took a package in a fast food. It includes a party host, a mascot (Jollibee), loot bags, party hats, balloons, birthday cake, game prizes and food for the kids. The kids really had fun and it's worth it! I think it pays of for reducing the burden of tiring ourselves in preparing the food and looking for give a ways for the kids. Paying that spared all of us from stress and worries. Given a choice, I would love to prepare the food my self. Knowing what kind of party you want would make your expenses lighter. Finger food would be good. And it depends on where the party venue is. You must also consider how many guests will be invited in the party. You can add some cookies and biscuits in your menu. You can also make fruit punch out of powdered juice where you can add up sliced apple. Having the cake and ice cream with some finger foods wood be great. Hope this helps.


• Philippines
10 Jan 11
Having the cake and ice cream with some finger foods
would
be great. sorry...



• United States
16 Jan 11
I would make something that is big and cheap. Maybe chili? That could feed a lot of people for a small amount of money. Tacos could be pretty cheap too, if you only buy hamburger. Maybe you could ask some of your guests to chip in. I'm sure they would be glad to help given your situation. I wish I could be there! I would help!

• Bulgaria
10 Jan 11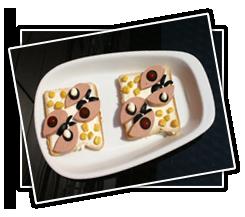 Hello LadyM, when i was child, here we had great birthday parties. I'll put a picture of the sandwiches our parents could prepare. Usually my own parents used to buy loaf (french round bread), butter, pate, some tomatoes, cucumbers, olives, yellow cheese, white cheese, salami - from everything little amounts and they made great birthday sandwiches. Also kind of cheap drinks were good. I don't know the prices in your country, but i believe that for 50$ you can do a great party.