Do you like Sunbathing? Be Careful with Sunstroke Syndrome

Indonesia
February 6, 2011 10:59am CST
If you like sunbathing and very obsessed to have a golden skin, so be careful of the sunstroke syndrome. Exposure to excessive sunlight or heat can cause this syndrome. This syndrome can make a person could no longer feel the cold because it always felt his own body heat. It's really not good for health. Someone who is under the scorching sun for several hours without adequate fluid intake, prone to this syndrome. To avoid this condition, try to consume a glass of water every hour if need be where the heat for a long time and did not consume alcohol.
11 responses


• China
7 Feb 11
From the long aspect,excessive sunshine may also cause skin cancer,so appropriate amount of sunshine is needed when someome does sunbathing.Well,I don't like sunbathing——my target colour for skin is snowy——but I do admit that sunshine is good for health.It do help for the absorption of calcium in order that our bones can stay strong.I love sunny days,but I'm also afriad of sunshine.That's werid,ha??

• Indonesia
7 Feb 11
Yes, you are right. The sunshine in the morning and in the evening is also good for health, especially for changing pro-vitamin D become vitamin D that needed by our bones. But, excessive sunshine is not good for health. By the way, I don't care my colour of skin looks like, I just like my skin as I have. :)

• Philippines
30 Aug 11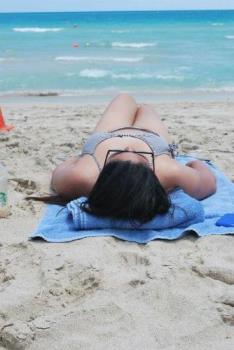 I don't do sunbathing.

I'm afraid of the ultraviolet rays so never would I expose myself to strong heat of the sun as what others do in the beaches. I've been spending a lot to keep my skin fair so I will never ever allow the sun to burn me.

Ultraviolet rays can cause skin cancer so I am really very careful about exposing myself to it. Sunstroke can also happen as you said so I think those who love sunbathing should be very careful.



• Philippines
7 Feb 11
Luckily, i do not want sunbathing, nor to get sunburned. When i was younger, we used to swim in the sea and we get sunburned, because we were so intense in enjoying our swimming. But as i became older, i realized it's bad to get sunburned always, so i avoid it as much as possible. I now avoid exposing myself from the sunlight.


• United States
7 Feb 11
I agree. I like to sun bathe for just a little bit to get my Vitamin D but not for a long time because it is not healthy.

• Philippines
6 Feb 11
I don't go sunbathing, the threat of skin cancer and other skin diseases because of over exposure to the sun's ultraviolet rays is serious.

• Koeln, Germany
6 Feb 11
I like sunbathing but not for too long. If the skin is exposed to the Sun and especially to the UV light that is emitted by it the skin can be damaged. Damage effects vary from sunburns to skin cancer. Latter may be a result of continued and overdone sun exposure.

• Israel
6 Feb 11
No, I don't particularly like it. It gets too hot for me, LOL! Maybe it is because I live in a hot country though, we have plenty of sun so I see no need to expose myself to it more than necessary...