Why can't God and Man Govern together?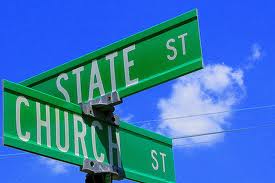 Canada
February 26, 2011 7:14pm CST
It is interesting isn't it, that there are no National Church and State Governments on earth that are outstanding for their Humanities. One would think that with God as Leader and Guide such a Government would be something to strive for, but in reality this is exactly the opposite. In most Christian countries Church and State rule has been outlawed centuries ago. Why do you think God, and Man cannot rule harmoniously?
5 responses

• United States
28 Feb 11
It cannot work because when religion is tossed into the works the fanatics come out of the woodwork...I just spent this evening reading Contemporary Legal Rulings in Shi'i Law...I am totally creeped out by the thought of a religious group ruling a country. By the way that is online if anyone else wishes to read it. It is very enlightening. There has never been a society that was ruled by religion that was ruled fairly for all within its boundaries. Women invariably lose out in these instances. Look at what the catholics did for centuries. They kept people totally illiterate and in total poverty toiling for the church. They taught them that the church came first and people last. Protestants took care of that belief, although it still took centuries for women to gain their freedom. You cannot take the human element out of anything. So even though you say G'd, you are really saying religion and religion means man's influence. Then you get egos involved and power and greed and wow its all there just like government. Man is corrupt. Just look at the churches. How many of them are corrupted...How many pastors have had to step down or have publicly confessed to all kinds of disgusting things in the past years? I made my point.

• United States
27 Feb 11
Do you know what a country with a theocracy operate? What do you do to those who deny god? Do you punish them? Who is in charge? If god rules the country then Let's hear from him instead of a representative.

• United States
28 Feb 11
So do you know why god and man can't govern together?

• United States
27 Feb 11
Simple, God wants to allow us freedom of choices then allow the consequences to teach us. Religion and mankind wants to control it all. If you notice that the countries that allow the most freedom have a higher standard of living for their people. When everyone is allowed to express that which is special about themselves, the world works so much better. Mankind knows it all and wants to control others. It is a narrow view that holds us all back from true greatness.

• Canada
27 Feb 11
It is very noticeable that those countries with the most freedoms, and the highest standards of living are the countries which have separated Church and State. This separation has allowed those forward thinking countries to forge ahead with true Greatness!

• Canada
27 Feb 11
The natural man is an an enemy to God, and has been since the time Adam and Eve ate of the fruit. God's Love and Mercy are incomprehensible to many men in the world, and what men don't understand, they tend to destroy. Greed, Ego, and Pride, comes in conflict with many of principles taught by God in the Scriptures, such as Generosity, Charity, and Love. Men that don't follow God, have a hard time living by his rules, and it seems that more and more people are choosing to harden their hearts to the Lord. That is why I think God and Man can not rule harmoniously. Sincerely and With Appreciation.

• Canada
27 Feb 11
I beg to differ,- Natural man has no Enemies, especially God! The Garden of Eden story is just,'a story.' I agree that Greed, Ego, and Pride are the downfall of many would-be leaders, but the outstanding problem is that their hearts and minds are worldly rather than Godly.