A vulture sat for a few hours on my roof today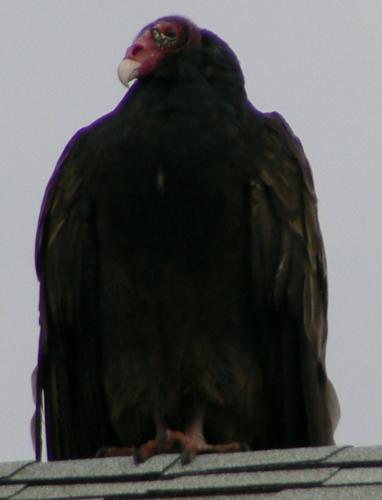 United States
March 30, 2011 10:11pm CST
Today for a few hours there was a vulture perched on my roof. I took a picture of it (which I've attached below) when my father came over to show me it. We got closer and were talking and it scared it off. I am not superstitious never have been but this creeped me out. My husband just died 8 days ago. I dont need any more bad things happening. My daughter has a dentist appointment tomorrow an hour from our home. The weather channel isnt real sure what time it will start snowing. I am going to cancel the appointment and stay home just to play it safe. Since my husband died I've been terrified that something will happen to me and my kids will be left orphans. How would you feel if this ugly bird perched itself on top of your house? If it was just in the trees near my house I wouldnt be freaked out at all but the fact it was sitting on my roof has me spooked.
7 responses

• Canada
5 Apr 11
I think if you hang out with li'l 'ol ladies (just like me when I was young), they would tell you that this bird was your ex's spirit. Wanting to be close to you and the kids before he says goodbye. Usually it would be butterflies, or some little bird. It's a bit spooky, since it's a vulture, but I don't think it's unheard off.


• Koeln, Germany
31 Mar 11
shaggin, I'm not absolutely sure but I think that the reason why the vulture sat down on the roof could be that it has an injured eye, at least it looks a bit like that. It could also be a common characteristic for this particular vulture species. But I remember a buzzard that had an infection in his eye and sat down in our garden - something buzzards usually don't do. They normally avoid humans. So it's probably just a coincidence, an injured vulture resting on a roof trying to find some food in places where it is not disturbed by its fellows. Nice photo btw, I love birds - ugly or not :D All the best stk

• United States
1 Apr 11
Eww when I zoom in close on the picture the vulture is so gross looking. It doesnt have an injured eye from what I can tell anyway. When I found one just like it on the internet it had the same kind of eyes and markings. Its called a turkey vulture. My dad called it a turkey buzzard.

• Malaysia
31 Mar 11
yes vulture is big bird as big as a small monkey and it is quite scary to be pertched on your roof top and quite intimating when nearby , usually they hang around their nest or food source . they can be quite fierce maybe should ask zoo authories to look around because some places vulture are protected species .

• United States
1 Apr 11
I've seen plenty of them around so I dont think they are something that would be protected around here. I would never harm one anyway. I just didnt like it perched on my roof because it creeped me out. I've seen these vultures but they are usually a little smaller then this one. It was huge.

• India
1 Apr 11
Hi shaggin.. You may be scary after watching that bird on your roof and you have reason for it. You have said that your are not superstitious but superstitions are working here. What that poor bird is indicating about your coming trouble? Is it possible? They are not to indicate any wrong or right of your coming life. Just think it as a bird and nothing to worry about it. Take care.

• Philippines
31 Mar 11
wow i have never seen vultures before, ever, i do not know if we have that here in Philippines. But that is scary creature. Just pray and have faith, be strong. Nothing will happen to you


• United States
31 Mar 11
I looked it up quick and there are vultures there. I guess pretty much all of them look very similar all over the world. I was surprised at just how large this vulture was. It was huge compared to others I have seen. When I zoomed in on the photo I couldnt believe how large the talons were.

• Philippines
31 Mar 11
really we have? i looked it up too but what i found were Eagles. lol are they the same? i have seen eagles here, there are very very big ones..with really large talons.. but i am not sure if those are the same and if they eat decayed flesh. Wow i am learning everyday here.

• Philippines
31 Mar 11
oh already found, they are related but different. We have vultures here but not really vultures, we call them the Philippine monkey eating eagles since they are fond of eating monkeys.



• United States
31 Mar 11
I will be careful thanks :) Today I almost got hit by a car when I was walking my daughter to the bus stop. I think from now on I will take my dads advice and walk to the other end of the driveway to cross there so I am not walking my daughter across the street on a blind corner.

• Gold Coast, Australia
31 Mar 11
Well I am glad that we do not have those birds here, but in reality, it is just a bird looking for something to eat perhaps, or maybe it is just having a rest. I would not worry about it. You have enough things to worry about already my dear.