The environmentalists in Alberta feel more for animals then people

Canada
April 7, 2011 2:16pm CST
Right now a fight is going on between the oil producers in Alberta with the environmentalists who want so much land set aside for conservative values and it is not a small amount either. Because of what is going on in the States with the environmentalists closing up wells, and the problem in the Middle East, and Opec, Libya and all, we may be the only source for oil exports for our nearest neighbour. On top of it, it has been a cold winter. I live in Winnipeg, and there is still snow in my backyard, and when I went for a walk last Saturday, I feel on the road on a brief piece of ice that covered the gravel and broke my knee cap.because I felt it was warm enough to walk with my runners. So what is wrong with these animal lover, people haters who do not realize that when it is cold, we use more gas and oil?
4 responses

• Canada
7 Apr 11
Think about this for a moment. Look at all the new housing that goes up, whether it be condos, houses, or even shopping malls. How does this happen? Developers purchase land, often this is land that wildlife has lived on for so long. Nature has no place to go when this happens. Now, think about this building. More of this means more people, more energy consumption, more need for fuel, etc. So now, more refineries need to be built, and this means a decrease in space for wild life. See the problem? The environmentalists will lose in the long run, so will nature when you think about it. I guess you're not an animal lover, or a nature lover if you feel that way. Think about something else as well. Farmland is being sold all the time. Such spaces house animals too. Many of the farms that are sold to developers have cattle on them. Where do these animals go if they're not going for slaughter for us to eat? We need those farms, we need that cattle, most of us survive on eating meat that comes from these farms. If these farms are sold and the livestock destroyed, we have no food. Sure, there's now a place to live, but that doesn't help us much does it? Animals are important. They have feelings too. They find ways to survive winter, they don't have the luxuries that we do such as heat and proper roofs over our heads. They suffer. Some of them even die. If there's no place for the animals anymore, where are they going to go? The environmentalists, they have a good point. The land must be left alone for wildlife to survive. There's plenty of land around, but some should be left alone.

• Canada
8 Apr 11
They do not have a point. Animals can adapt. We have wild foxes, and other animals roaming in our city. Out neighbours have even seen deer. I am an animal lover, but it is obviously that you do not love people. Also do they need to set aside that much land and did they know that that land contained a lot of oil reserves? Because this is not about loving animals, if it were they could compromise. It is about making oil reserves unavailable and with all the technology they can get out the oil and still save the land. And I do not want to see my gas bill go up to $400 a month average, or about $1000 in January so that these lands are made unavailable and the alternative energy does not work everywhere. For instance, here it gets damp in the fall and spring. And with wind energy they have to take out land from agricultural production. And I do not want to eat unhealthy cheap food because some idiot believes that animals are more ilmportant and also gives animals human feelings that they do not attribute to humans.

• United States
9 Apr 11
Kris, would you have humans eradicated? There is a happy medium if only people would realize it. Build UP instead of out, get over this insane notion that everyone should own their own home and land and push apartment living. Stop the insane ethanol crap where we literally burn food that we and other nations could use. Allow the US to drill for oil in the Gulf--the president is allowing Cuba to drill but denying permits for US companies. If we would use some common sense, humans and animals would be so much happier and better off. Instead, greed for money and power rules the world. Would you have a child starve because you denied a farmer land? That kind of thinking is as insane as that of developers that put out poison to kill endangered species on land they want to build on--something that happens in the Southwest US on a regular basis. Build UP, not OUT!!

• Canada
9 Apr 11
That is right. I would rather favour humans. And animals and people can co exist. We have a zoo in Alberni, BC because the so called animal lovers decided to close the one in Stanley Park. Now poor people cannot afford to leave the ciity and drive all the way to Alberni. Before they could either walk from down town or take the bus to see the animals, but no more. And in Canada we do not have those big estates such as the ordinary middle class has in the States. My home is quite modest and there is plenty of room in the backyard for the robins, the grouse, and that weird animal who claws our tree that is probably the result of some mad scientist experimentation. And I do not ned to destroy my home or to pay high gas prices in order to see animals. And we should not have to import oil and there should not be the excuse to set aside a lot of land for animals when we need the oil or is this an attempt to get us to pay higher oil prices?

• United States
16 Apr 11
Whoa, wow, and tread with a light foot I tell myself on this thread. I agree that drilling domestically is the way to go at this point. I have even heard that there is a place in Northern Canada that has an oil reserve so full of oil it literally floats atop the landscape (oil sands). Now the argument for that is that it takes 20x the cost of 'regular' drilling to extract the oil and there are great amounts of water that are needed. My question is... where's the oil COMING from? Do we have to skim the oil sands or is there a monster reserve under all this top-level oil? Alaska -- it's SO BIG and the technology we have to be able to drill one hole and then go where the oil is under the ground means minimal invasion to any wildlife that is out there. Ghawar HAS to be drying up although the Saudis say differently. It is estimated there are 30 billion barrels still there; the largest in the world. But wait... the North Shore of Alaska is said to hold
40
billion. We don't know... we can't drill there. CRAZY. There is also the Gulf of Mexico and other places as well. Are the top 10 (not including North Shore Alaska) in Saudi Arabia, Iraq, Kazakhstan, Uzbekistan, etc... yeah. Is there enough in our back yard to be oil independant... darn right there is.!

Zelo


• Canada
18 Apr 11
I agree. I think the enviromentalists who are against drilling want to go back to a time when we traveled by wagon and had not electricity or modern conveniences. The hippies. Of couse they have no such requests to be made of China or the other Asian or African countries. They can drill for oil, get technoliically advanced as long as they can. Here in Canada, we have high gas prices but most of it is the taxes and fees on it. But it looks like down there it is the amount of oil you are allowed to drill domestically. Bad situation all around. You do have more then enough.

• United States
18 Apr 11
Yes I just saw the other day that Canada is well over $5/gallon (we are nearing $4 here in the States AGAIN). Makes you sick when Venezuelans are paying 6¢/gallon (not kidding) for gas. That's $.01585032 / liter. Yeah a penny for gasoline.

• United States
30 Apr 11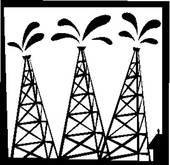 Just a little factoid about the United States. We are 40% self-sustained. We import 17% and 13.5% of oil from Canada and Mexico respectively. So out of the 60% of oil we DO import... over 20% of that is from Canada and Mexico (our border-neighbors). Our gas prices rising because of Libya? The Middle East? The numbers are just not there. http://www.eia.doe.gov/pub/oil_gas/petroleum/data_publications/company_level_imports/current/import.html Just thought this little morsel would be relevant.

Zelo



• Canada
18 Apr 11
You know there is a way of doing it to help everyone. For instance, they can take the oil from one part of the land and then restore it. And they can do what they used to do with fallow farming. There were patches of land that had wheat or barley, etc. on it, and next to it a patch of land that was left fallow. It is not about building because well people would not like to build houses there because the ground could be infertile. It is about being allowed to get the oil out of the land and then put it back so the animals can use it.

• United States
19 Apr 11
Maybe you should write them with the idea as that seems like it could be done. and I was talking of here they take the land to build way to much away from the animals no wonder a mountain lion wondered into a furniture store and went to sleep on one of their beds!

• Canada
29 Apr 11
I think that others have written, but their minds are made up. They feel that animals cannot interact in cities. And that the world should be beautiful with no people, but that does not make sense. I mean here in Winnipeg, we have yards and they are not all enclosed in concrete and there are some open areas so the animals have no disappeared.


• United States
8 Apr 11
I have no idea what they are thinking. It's as if they want us all to be dependent on foreign oil. In the U.S. we can't drill our own oil in the Gulf of Mexico but Cuba was just given a permit to drill. The Chinese can drill, anyone can drill but have a U.S. company apply for a permit and they practically have to move heaven and earth to get a permit. We also have farmland that can't be farmed because of some little bug or plant that has to be protected. There are many instances of that--for example, in California thousands of acres of farmland were deprived of water because of a little minnow called the Delta Smelt.