Eat Better All Day? Is Nutri Grain Serious? ( a semi rant)

United States
May 20, 2011 8:08pm CST
I just saw a commercial where there was a split screen. On the right a woman had a Nutri grain bar for breakfast and on the left the same woman had a donut . And they follow all through the day . The woman on the right had a " healthy" lunch , snack and dinner , while the woman had what the food Nazis deem unhealthy.At the end of the day , the Nutri Grain eater looked happy while the other did not. One problem, I don't think Every person who eats a " good for you" breakfast is good All day! Many are good in the morning so they can be bad later! And what Nutri grain doesn't understand is that I would be the one with a sad face if I Had to eat what was good for me All day long, lol! Your thoughts.
8 responses

• Canada
28 May 11
That commercial is just silly. Just because I might have a bagel with cream cheese does not mean that I am going to eat donuats for lunch. In fact, what IK eat for breakfast does not determine what I eat the rest of the day. Like today, I had cereal and an egg, and stew for dinner, and then I snacked on a candy bar. According to that commercial, should have eaten healthy all day.

• United States
29 May 11
To the Food Nazis , the egg you had is unhealthy.

• United States
23 May 11
Hi. sarahruthbeth22. I can eat a healthy breakfast and then sooner or later, I will get tired during the day time too. I have seen this Nutri Grain commercial and I have to say that I have found it very interesting.

I first was introduced to the Nutri Grain bar by my aunt. At first, I thought that it was a boring bar to eat, but now, I have found out that the Nutri Grain bar is very delicious to eat.


• United States
23 May 11
I get up and start going , I never eat breakfast so I am not a Nutri grain person , If I Did try it and like it, I would have it as a snack at night, lol!

• Canada
23 May 11
I was just thinking about this yesterday! I was thinking about my health, and eating healthy, but I came to a conclusion that I couldn't possibly eat what's good for me, for the whole day. I think I would need some variation or a treat at the end of the day so I wouldn't go crazy just eating veggies the whole day.
The nutri gain bar could even be my treat, as long as it is covered in caramel and chocolate, maybe.


• United States
23 May 11
I just checked and they don't have any bar with chocolate. lol! I think you have a good idea there. Be good most of the day and spurge for one meal... but not too much. And along with this , go out and play with your little ones!

• United States
23 May 11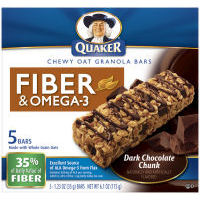 Wait a minute! I found a bar With choclate, lol! It is by Quaker Oats

• United States
22 May 11

No need for a sad face..lol.. Those commercials really try to make their product seem like the bees knees. I can honestly say that I have tried to eat super healthy for a period of time..I was worried about being tired ALL the time...and I couldn't really tell a difference in what I normally eat. I was happier with my norm. I don't eat a lot of junk..but when I want it...I have it. I think that life is too short to deprive ourselves.


• Canada
21 May 11
I have egg, rye crisp or whole grain bread for breakfast and a couple slices of toast plus an orange and coffee. I also have a glass of milk. If I had a cereal bar or a donut, I would be ravenous later on in the morning. I have to have my protein. It would not make me eat unhealthy for the rest of the day though. But I would eat more then I should. Even of the good stuff.

• United States
22 May 11
You are my opposite. If I eat too much too soon, I'm sick all day.

• United States
21 May 11
Well, I have no choice but to eat healthy. I am diabetic. I do understand what you're saying. Lets face it, a donut has more sugar than a nutri-grain bar so as I see it, wouldn't the sugar be more of a get up and go? Look, no one should eat junk food or fast food all day long, but give me a break, we have to live don't we? I remember eating good stuff myself, like chocolate ice cream, candy bars, cake and cookies. I cheat every now and then. I do look for sugar free things. I did find a bakery here in Brooklyn where I live that makes tons of sugar free pastry and it's good to. It is all made with splenda. So I indulge from time to time.

• United States
21 May 11
I'm sorry to hear about your Diabetes. I'm glad you have somewhere you can indulge your sweet tooth. To Food Nazis my diet Is Junk Food. But I don't care. It just hit me that not Every person is going to eat Healthy All day , every day.

• Canada
28 Jun 11
I totally agree. I'd be a mad lady if I couldn't have my mocha latte.