Surprise Candlelight Dinner!!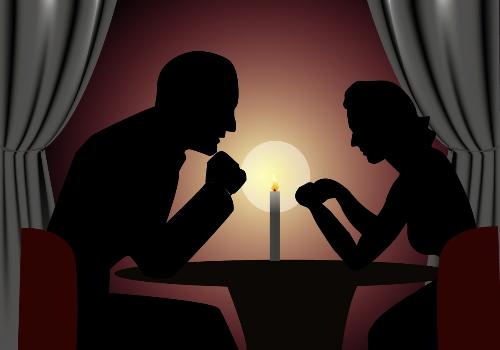 India
June 25, 2011 8:21am CST
It was more than 5 months, me and my hubby went out at night spending time together. My mother has come from native and she takes care of our kids. Yesterday, my hubby asked me to get ready as there is a wedding party of his friend. It was already 8pm. So I dressed myself with his favorite colored costume. When we went few kms, he turned on a romantic song and his smile gave me a clue that we are not going for a party. He stopped near beach restaurant and to my surprise, he has already booked for a private seats for our dinner. It was very dark when I entered in, after few minutes, I could see only three before me - moonlight behind the open window, a candle light and him. That's a romantic dinner after long time of our day!
8 responses


• India
27 Jun 11
Hi Jillhill, Yes he is very caring, he used to give more surprises when we were in love, after marriage we never got time for years after we had kids, only yesterday we got a oppurtunity. I am lucky for having him.! Cheers!!

• United States
25 Jun 11
Hi besthope

Wow I am truly smiling my dear friend! This is wonderful of your husband to do. He is so romantic and you are truly blessed to have him as your husband. I am very glad you enjoyed the romantic dinner instead of the wedding party. You two need this, in fact all couples need this. Once in a while it is such a great idea to boost the romance in a committed couple. Tell your hubby HWG says

and that I was very happy the two of you had such a wonderful evening together.


• India
27 Jun 11
Hi HWG, Thats so sweeet of you. I let my hubby read your comments and he asked to convey his happiness for you. Happy to hear it got a smile on you and i was able to share my happiness with you all. It was a best dinner and we got chance to convey ourselves how much we love each other after long time! Cheers!!

• United States
25 Jun 11
Oh how sweet, this brought happy tears to my eyes for you..My husband can't do anything like this because he is disorganized and I know right away when he has planned something...Sometimes I don't say what I know and let him think he surprised me, but rarely does he really surprise me...

• India
27 Jun 11
Oh carmelanirel, am so pleased you shared my joy. I feel Mylot is best place to share our joy and it gives more joy when you were able to feel my happiness. I can understand you, as long as they love us that is enough, little surprises bonds love more. Am blessed with your happy tears.!!!

•
27 Jun 11
hii...... when we hear about candle light dinner it sounds very romantic.... when ur spouse takes u for a candle light dinner aur gives u a surprise candle llight party then one will be in seven heaven of the world becuse they talk about their love and do romantic chat... when guy sees the face of his beloved in the beam of light then he thinks that his beloved or wife is the most gorgeous women... it help to makes a romantic mood.

• India
27 Jun 11
Hi Godfever, So wonderfully explained about candle light dinner. So true, i felt am in seventh heaven and took time for me to become normal. I was just asking him"My gosh whats this..where i am"..a sweet surprise! Cheers!!


• India
27 Jun 11
Hi Stephcjh, Thats so nice to hear, I wonder why husband has to give most surprises. Why not for a change you surprise your husband with candle light dinner. He would definitely love it. Cheers!

• Philippines
26 Jun 11
For me good for you it is good so that you have more time together so that your relationship make strong.

• India
27 Jun 11
Hi ebuscat, You are right, it bonds the love and understanding, by expressing our love towards each other in all these small meetings.

• United States
25 Jun 11

Nothing can beat the romance of a candlelight dinner. It doesn't have to be extravagant or expesnive. it just has to come from the heart. You know you have love in your life when you find a candlelight dinner waiting for you. enjoy!

• India
27 Jun 11
Oh ya sender, even i haven't smelled the beauty of a candlelight dinner. And it was a pleasant surprise and i was blinking sometime on to find out whats going on around me and finally it was a best romantic dinner of life. Cheers!

• India
25 Jun 11
I am sure you had enjoyable time. Once in a while we must go out have dinner like this and enjoy life. This age will not come back for any of us. have a nice day.

• India
26 Jun 11
Hi Sir, You are right. We hardly get time to spend together. I am always busy with kids and so he with his work. Yes, few hours together will bond the relationship strongly.