SwagBucks gave me 50 swagbucks for my birthday!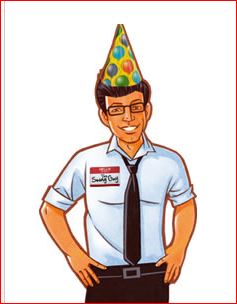 United States
July 30, 2011 1:05pm CST
I was very surprised when I got the email from the Swagbucks website announcing they were giving me 50 bucks just because it was my birthday! I thought that was pretty cool! I like that site, they seem to be getting better and better. They offer so many ways to get their swgbucks...easy ways too. I mainly use the swagbucks to get paypal cards. Last month I got two $10.00 paypal cards. Next I'm going to look at their other gift cards cause I saw one for a store that had school uniforms Do you use Swagbucks and what is your favorite thing at the Swagstore?
4 responses

• United States
30 Jul 11
I need to be more active there, i also got swagbucks for my birthday as well. I know some people get good prizes etc, I'd like some paypal cash myself!

• United States
30 Jul 11
That's great you got them on your birthday too! I didn't know they did that. Wouldn't it be great if all our sites did that!

• United States
30 Jul 11
especially when its free paypal cash! (mostly)

• United States
30 Jul 11
Swagbucks is fun. I have never earned anything since I keep trying to win the prize drawings! lol. I never knew they gave you swagbucks for your birthday - that is awesome - and Happy Birthday!!

• United States
30 Jul 11
Thank You! If you don't seem to be getting anywhere with the drawings try saving the sbucks up a little, they have large variety of gift cards!

• United States
31 Jul 11
That's great. Happy Birthday. I am a member of Swagbucks and really like the site. I watch the videos and do searches only. I have cashed in $10 which was sent to my paypal account and am now working towards the $25 payout. It's an interesting site. Much success to you.

• United States
31 Jul 11
Thanks for the bday wishes and much success to you also!