What do you think the dog is thinking about while the dog is sleeping ?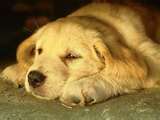 Hong Kong
August 18, 2011 3:00am CST
We always see the dog is so relax and have a good sleep all the time.Sometimes, I wonder what's in the dog's mind when the dog is sleeping. The funny thing is that since dogs are more alert that they will wake up at anytime. That's why their thinking can be easily be disturbed. It would be fun to watch on the screen to show us everything the dog is thinking. Perhaps we can see the T-bone like dog food on the screen and sometimes the dog fight with another dog as well. What do you think?

6 responses

• United States
22 Aug 11
I believe that dogs dream when they are sleeping much the same way that people dream when they are sleeping. I know that I've seen my dogs sleeping before and you will see their legs just going wild and their mouths as well. I've always thought that when they are doing that while they are sleeping, they are dreaming of chasing small animals, like rabbits and such that you will see dogs chasing when they are in the wild.

• United States
20 Aug 11
I think my dogs think about chasing things - lol - they sometimes pant and wimper and move their legs around as if they are running. it's pretty funny to watch.

• United States
19 Aug 11
Sometimes when I see a dog sleeping and his legs are moving I think he is chasing an animal in his sleep!I am not sure if dogs even dream but it would be fun to think they do! Dogs are great animals and thye are very smart animals!

• United States
18 Aug 11
It would be funny if the dog actually has ESP and was actually dreaming that it was seeing you looking at it.


• United States
18 Aug 11
Well since dogs cant talk but i wish they could we will never know what they are thinking when they are or not sleeping. Of course i wish i knew this because since my house was robbed earlier this year i wish my dog could talk and tell me everything that happened and what they looked like and if there was one person or two. I want the details but since my dog is still with me i still dont know the answers to my questions because my dog doesnt talk of course. I wish tehre was a way to know waht the dog was saying almost like the part on the RichieRichie movie where they have the dog scanner thing that tells you what the dog is saying i wish there was actually something like that to use to know what are dogs are thinking and saying.

• Philippines
18 Aug 11
The dog is also dreaming, they even bark and their foot are moving together with the eyes. I've seen my dogs dreaming many times.