Lots of fiber in awesome cookies.

Chile
August 24, 2011 7:40pm CST
Due to some of the secondary effects of chemo, I must eat fod with a high fiber content. I get tired of not eating some of my favorite cheeses and hams so I turned to making cookies. First I made the normal recipe for oatmeal cookies, changing butter to oil (cholesterol problemsdue to chemo too). But THen I had a bright idea. And I added one of those only fiber cereals (crushed) to the oatmeal recipe. The cookies turned out wonderful and they are crunchier than the regular ones. I bring some to the computer and munch away my snacks whle I wrte here. Please, have one!

Do you change normal recipes to suit your needs? How do you do it? Share!

8 responses

• Philippines
29 Aug 11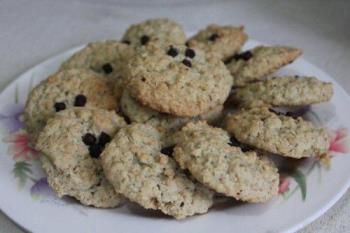 The cookies you made must be really great! I love oatmeal cookies and you gave me a good idea. I think I will also try adding fiber cereals to my cookies so that I could taste how crunchier my cookies would become. Thanks for that tip! And yes I always do change normal recipes to suit my requirement to eat just healthy food as much as possible. Like when I bake cookies, I don't use white flour, only wholewheat flour, along with all other healthy ingredients. When I make spaghetti sauce, I don't use bee, hotdogs or any processed meat, instead I use mushroom and white chicken meat only. When I make my own pizza I also don't put processed meat in my toppings. Instead I use mushroom and lots of veggies.



• Philippines
30 Aug 11
Those homegrown tomatoes of yours make the healthiest choice. I can't exchange them for canned tomato sauce. They are surely organic, no preservatives, and no artificial food coloring added. I also do grow my own tomatoes and other veggies and fruits to enjoy the benefits to the fullest.


• United States
28 Aug 11
I can honestly say that I've never changed any of my favorite recipes because of special dietary needs that I've had in my life. However, I will also say that cookies are a great canvass of something to play with when you are cooking them so that you really can make them your own. I've made variations on chocolate chip cookies many times just because I might be craving something a little bit different when I'm making cookies.

• Chile
29 Aug 11
Why don´t you add some crushed fiber in your favorite chocolate chip cookies? It will help your hubby. I crush the fiber cereal with an old popato masher.

• United States
25 Aug 11
Darn Marguicha my mouth was getting watery. As I read the discussion in my email I came running to grab one. I have learned a lot from you and Deb about supplementing and making changes during treatments as you two are undergoing. That if someday I have to I will always remember you two and the wonderful suggestions you always bring us. To date I have not had to supplement, except for simply removing sugars and salt. I have learned to live without them during certain times that I was told by my doctor.

• Chile
25 Aug 11
Those cookies can be changed into something that suits you too. You can use Svelta intead of sugar ( or whatever you can). And they are wonderful snacks as they won´t make you put on weight as part of it is pure fiber.


• Chile
25 Aug 11
Replacing non fiber or little fiber ingredients with other with more fiber will not make a cookie taste bad. The flavour is given mostly from the sugar,butter or oil, milk, egg and the little flour they all have. In fact, if you check it, those are the ingredientss of all cakes.

• United States
25 Aug 11
true, but I'm really not much of a cook, I think you need to know how something is done before you start replacing things... or, the former roommate took a recipe and changed EVERYTHING and then wondered why it tasted like cr*p...

• Chile
29 Aug 11

I picked up a normal oatmeal cookies recipe from a good source. Then I changed the butter to oil (cannot eat butter), added crushed fiber (a couple of spoonfulls to the recipe) and crossed my fingers. They turned out awesome.



• United States
25 Aug 11
Yummy!! Can you send me some cookies? I am really wanting some now!! L.O.L.

Yes a few weeks ago I tried to make sugar cookies from some recepie and I added my own things and OOPS!!! It came out like a cake but everyone said it was good!!! L.O.L.


• Chile
26 Aug 11
When my cookies end up like cakes (too soft) I put two together and jam in between. THey taste wonderful! I always try to turn a failure into a new thing!


• United States
26 Aug 11
L.O.L. I am the same way!!


• United States
30 Aug 11
That sounds good. I would love to have one. You could some carrots in to your cookies as well. I found out I am diabetic in March so I have totally changed the way that I eat. I add fiber to just about everything I cook by adding extra veggies, and things like that. I wish I could eat more baked goods but even the ones for diabetics have bad effects on my blood sugar.

• Chile
7 Sep 11
I´m sure oatmeal cookies, if you use Splenda and half fiber and half oatmeal, will do for you. Diabetic people must eat carbohidrates, but in legumes and grains that take its time to break uo in the digestive tract. As for carrots, I cannot eat them as long as I have digestive problems with my chemos. They do the opposite fiber does

. I could add some orange pulp though.

• United States
25 Aug 11
Glad your cookies turned out well. That is a sign of a good cook when u can do that.

• Chile
26 Aug 11
Thanks, Jo. I justt changed what I should not eat for what I could ( oli instead of butter) and added the extra fiber. I wasn´t sure about that at first but it turned out awesome.

• United States
10 Sep 11
Yes that sounds awesome to find something you can eat. I know chemo is so hard on patients. I am not a crazy chocolate person. So I took the nestle toll house recipe and left out the chocolate chips, and added the white chocolate chips and added a teaspoon of lemon extract like vanilla and you have a buttery lemony cookie with white chocolate. Not as rich and so awesome to have with hot tea as that is my choice of drink before I go to bed. Thanks for the idea to add the cereal too! I will give it a try.

• Chile
15 Sep 11
There are many things a chemo patient can eat, but unfortunatly we have been raised eating all sorts of very yummy and unhealthy foods. I cannot eat any spices, no thing fried, no meat with fat, and to take care of foods high in cholesterol. That leaves a lot where you can work on, but I crave for the worst possible food sometimes.