Mystery of the Shopping Carts! ((would you push a cart across town?))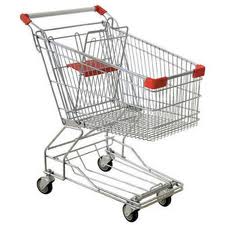 Canada
September 4, 2011 1:31am CST
the other day I opened my front door and stepped out the door to grab the mail, out of the corner of my eye I spotted a shopping cart between the walkway of the two house across the courtyard. And then the thought popped up "why do we have shopping cart here?" The next thought was "how did it get here?" I could clearly see it was a safeway cart.... "why would anyone push a Safeway cart this far from a the grocery store?" A few days later on a walk I spotted a flock(?) of carts congregating by a BFI bin (industral sized waste bin). I stopped and looked with wonder, here were 5 different types of carts gathered, Safeway, Walmart, Co-op, Zellars and Sears all together. How did they get here? I live in a city with valleys and according to Google maps it would take 1 hour 38 minutes to walk from Zellars to my neighbourhood... pretty sure it would take longer pushing a cart. So how did it get here and who would push a cart that far ((8.8 km )) Would you push a cart across town? How about a few blocks?
6 responses

• Omagh, Northern Ireland
4 Sep 11
I think the first cart had been expelled by it's herd and was looking for a new one to join...maybe it was looking for that other group?

I've never even thought of bringing a trolley out of the car park before,though I've heard of ones being taken for pranks,and being found in waterways and even ending up as garden planters or barbecues! Our "Local" Asda (10 miles away!) has carts with a type of what must be a magnetic brake on the wheels...the path away from the car park has a sign up saying the carts won't go beyond "this" point..so there may be an electrical loop of some kind there to lock up the brake,I assume.. but I wonder what would happen if the cart was being pushed along the roadway instead?


• Canada
6 Sep 11
"expelled by it's herd" I had a good laugh at that! The magnet brake I think is a good idea. It would certainly save the the grocery store money in lost carts. Here there is a dollar coin slot to make the would be shopper want to return the cart to recieve thier dollar back.

• Canada
5 Sep 11
This is a huge pet peeve of mine. I hate when I spot a shopping cart outside on my street. I think it makes the neighbourhood look awful. I understand why someone would want to use it, but, if they insist on stealing shopping carts, bring them back. They're not supposed to be used outside store property, and drives me nuts when I see people using them like they own them. I have a friend who has a pretty good business searching neighbourhoods for abandoned carts, and returning them to the stores. The stores give him a couple of bucks for every cart returned. As to how they got so far? Maybe they originally only went half way, and over time, kids got playing with them or something, and they ended up near your place.

• Canada
6 Sep 11
This is too a pet peeve of mine, now there is a new cart outside! Again! It's true its an eye sore and makes the neighbourhood look junkie. I normally buy the large amount of groceries once per month and then I like to go weekly for fresh fruit, dairy etc. I live about 2 km away from the grocery store and will walk for exercise and pick up the few items I need but I have never pushed a cart home. I would feel funny doing that probably embarrassed too.

• Australia
5 Sep 11
i never do this before... the furthest i had ever use the trolley is only to the carpark and i will return it... also, all the carts here are on a coin-operating system... so you need to return it to get your money back... take care and have a nice day...

• United States
4 Sep 11
Hi Amfyre, Well, yes, I probably would and have pushed a cart quite a distance but probably not 1 hour and 38 mins worth. I remember years ago when I did not have a car and my kids were small. I did not like relying on or even asking for rides so I would walk to get groceries and other things we needed. I'd bring the cart back when I returned, sometimes leaving it and other times re-using it depending on how much I had to carry. I see this a lot where I live now. If you don't have a vehicle and if you don't have the money for a taxi or bus then you just do what you have to do.

• Canada
14 Sep 11
I notice many stores are protecting their carts now by making customers deposit money into them. Some return the cart to get their money back while others leave the money. Yep, those of low income can use the money or might use the cart to get the goods home and avoid the delivery charge. Property is property however and if I understand it correctly these carts are not cheap to replace. You do shake you head though these days when you think of how much people buy and need or think they need to keep up with the Jones. I guess that applies to everyone. Maybe we do not need huge carts at all? I see some people using little electric bikes with tiny containers that they tow behind them.

• Canada
15 Sep 11
I have family in Denmark and they buy groceries on a weekly bases, everything is fresh and good. But here in North America we buy everything at once and stick it in the freezer or cupboards. I see carts over flowing and if you stop and actually look at what is in the carts... its all prepackaged food, quick fix meals, meals in a box! It's a dietitian's nightmare! It makes more sense to me to buy in small qauntities and have fresh! As for the lovely carts populating my neighbourhood... As of yesterday there is a new Safeway cart parked across they way. Today it have moved onto new pastures! where I do not know but its lerking about!

• Canada
15 Sep 11
I really enjoy going to a smaller store that specializes in home grown veggies. Now it does not always have great prices or in season specials but it is good and fresh when available product is there and worth the shop. I am finding that although product is more expensive it is sometimes worth looking for because it just makes more sense. The big stores fall short in many areas and can push the crazy stuff at their customers huh huh.

• United States
7 Sep 11
I live in Florida and sometimes I see a cart down the street or up the street. If they get caught taking it off the parking lot there is a trip to the police Dept, and get booked, and pay a hefty fine. I imagine if you had quite a few groceries, and did not have a car you would take your changes. I know when we have extreme heat, and someone walking with their groceries I pull over if its safe for me to and ask them if they would like a ride. One time I took 7 mexicans home. We have a trolly that only goes to a certain part of town. Since they were Mexicans and working in our local restaurants and housekeeping on visas, everyone gave them the wrong way to go. When I saw them all walking and tired, trying to carry groceries and having to stop and rest, I went and asked them where they were going. When only one that knew good English told me where they were going I realized how cruel people can be to make these poor people go out of their way. I put their groceries in the back and drove them all home. I have to admit that was a mean welcome to come help with jobs none of the regular Americans would. That is one time I know I would have given them a cart!

• Canada
7 Sep 11
True people can be cruel and nasty! Giving people the wrong directions carrying groceries is so wrong in so many ways! I can't imagine getting a police record over a shopping cart! I can tell you right now that my family and friends would tease me silly!