Just watched Sigourney Weaver in Snow White: A Tale of Terror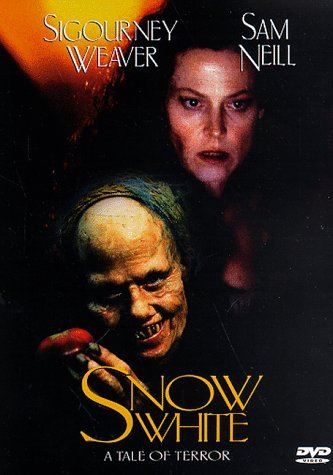 United States
October 12, 2011 4:20pm CST
Yesterday I watched a movie called
"Snow White: A Tale of Terror"
starring Sigourney Weaver and Sam Neill. I had seen this movie when it first came out back in the 1990's. Sigourney Weaver plays the Evil Queen and Sam Neill plays Snow White's father. It was actually a pretty dark version of the story, very true to the original story of Snow White based on the Brothers Grimm fairytale. It definitely was not the
"Snow White and the Seven Dwarfs"
story put out by Walt Disney! Instead of being dwarfs, the seven are dirty, some disfigured, miners that discover Snow White in the woods after she is left there by her evil stepmother's henchman. Her encounters in the woods and with the miners is definitely much more dark and sinister as that with the Seven Dwarfs of Disney fame. I don't think this "horor" movie is suitable for small children, but as an adult I thoroughly enjoyed this movie. If you like the story of Snow White, or fairy tales in general I would highly recommend seeing it. Sigourney Weaver plays crazy/evil very well. And the makeup used is superb.

Have a great day and happy myLotting!!!

9 responses

• United States
16 Oct 11
I saw this movie years ago when it first came out. It was the most disturbing version I ever saw of Snow White, that's for sure! I think I prefer these darker, more sinister versions of the fairytales though. Thanks for reminding me about this classic movie!



• United States
12 Oct 11
It sounds very entertaining. Thanks for the review. I used to find many of the fairy tales much more "scary" than Disney did.


• United States
27 Oct 11
i didnt even know about this movie but now that you told me about it i gotta see!! i love horror movies

• Australia
21 Oct 11
Your post really got to me so I went to Ebay and sourced a copy of the movie. It's paid for and I hope it doesn't take too long to arrive. I'm really looking forward to watching it and I have you to thank for bringing it to my notice. \ Cheers!



• United States
14 Oct 11
I really enjoyed that movie! Have you also read the book Mirror, Mirror by Gregory MacGuire? It's very similar to that movie but darker and I loved it. I like his take on Fairy Tales--Confessions of a Wicked Stepmothers re-tells the Cinderella story and Wicked concerns Oz. Anyway, Snow White was a really good movie!


• Philippines
13 Oct 11
Hi schulzie! I like twisted versions of fairy tales! I have watched the Brother Grimm's fairy tale movies and I really liked it because I just love horror movies.

I even prefer reading about the gruesome truth about these fairy tales and not the child versions (that of Walt Disney's). Anyway, this movie is new, right? Because I think I have read somewhere about this as an upcoming movie. And the 1990 version you were talking about is a different movie, right?


• Malaysia
13 Oct 11
TAles of TERROR wow ..what a way to put it ... catchy title..i maybe will check it out..sigourney is one good actress..