Customized Cupcakes for my boyfriend's birthday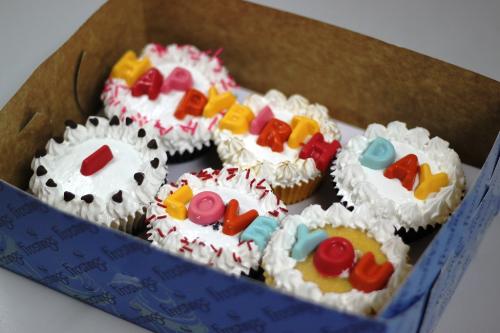 Philippines
December 14, 2011 7:08pm CST
I wanted to buy a unique gift for my boyfriend's birthday. He is a practical guy so I wanted something he could consume. So I bought this customized cupcakes with message on top to express my love for him. Have to pre-order them five days before the "day". We took some pictures of it before eating them. Take a look at the attached cupcake photo. :)
3 responses

• United States
28 Mar 12
That is a very cute and unique gift that you have given. I thought that the message was short and sweet. What kind of cupcakes were they, just plain or flavored? How much did they cost? it seems such a simple request.

• Philippines
28 Mar 12
As far I can remember, the cupcakes are $1 each. And the letters on the top are 1 cent each. It was made to order, and they have to be purchased atleast one week before the event. I was lucky because they let me order with less one week. I got the cakes five days after, just in time for his birthday.

By the way, I cannot remember exactly the flavors, because I was not lucky enough to eat any of them. I think there's a melon and a chocolate flavor there. The story was, when the cakes were delivered to him in his workplace, his officemates immediately grabbed the cakes, until there was nothing left for me. But it's okay, his happy.


• Netherlands
15 Dec 11
I think it's unique, unless he doesn't like cupcakes. Seems to me they are very populair suddenly (the cupcakes) how come? And what is the difference between that and a muffin (beside of the fact it's smaller and there is a lot of coloured stuff on it which you have to like?). I tried to make them but I have to admit I don't like the smell of those cakes and they are kind of tasteless if you don't put something on (or in like marmelade) it. Where does this cupcake hype is comming from? Nobody likes the normal cake or muffins anymore?

• Philippines
16 Dec 11
He did liked my present, he ate almost all of it. He's a practical guy so I did not gave him something material or sentimental. I'm not sure if cupcakes are becoming popular these days, this is my first time to use it as present. But I think what differs from it from muffins is that it looks like a cake, with the icing or frosting on top. Unlike muffins which are plain I think. The cupcakes I bought are quite tasty, they have filling inside the bread depending on the flavor. Nothing new with normal or colorful cakes, they can both fill up your stomach, its just a matter of presentation. :)

• United States
15 Dec 11
Oh wow, these look amazing. I love cupcakes a lot and these look really yummy! I'm sure your boyfriend will love them.