Quilting....HELP....how to you pick it all out?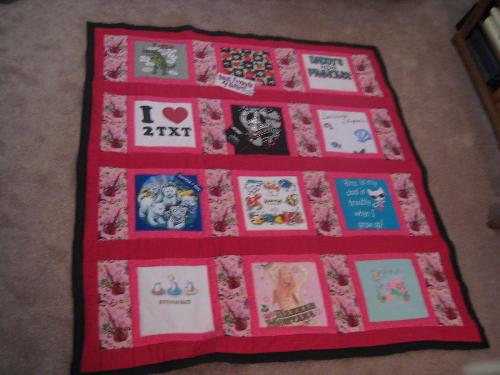 United States
December 17, 2011 8:15pm CST
Can't get anyone in the "quilting" interest to post anything, so I hope there are some quilters here...I am going to be starting my first piece quilt. I usually make up my own patterns and do applique quilts and my most recent..T-shirt quilt (see the picture) but now I want to do a "real" quilt with the squares and triangles and all but... First problem.....how do you choose which pattern to use? I have looked at the enormous patterns offered and see great blocks, but can't imagen that as a whole quilt. So, how do you choose? Next problem..and my most serious one that has plagued me since the day I started sewing 45 years ago....how do you choose colors? I know that if you have a favorite you can choose that, but I don't! I have thought I'd got with blues/greens/teals...but then...how many prints and how many solids? And how do you figure how they will match? Placing the fabric on top of each other at the store...just doesn't do if for me..I can't imagen it as little squares. Then... you have to have connecting border strips...which color are those? how do you choose? And of course the outer final binding...yet another color! Putting colors together have been a lifelong problem for me. I am an extremely good seamstress...but coordinating colors has been nearly impossible for me. Takes me longer to put the colors/prints and all together than it does to sew up the project! The quilt you see here...took me about 2 days to stitch it up, but all tolled...DAYS and DAYS and DAYS to figure the color coordination! So any tips, suggestions, helps or ANYTHING you have to offer me to solve my delima so I can start this quilt after Christmas...I would REALLY appreiate!
4 responses

• Canada
27 Jan 12
I do some quilting on an off. I make my own template myself, I'm good at drawing and make colors work together it is a talent. When you want to choose colors,try different shade of, lets say of " blue" ," green" and "red" Alternate them I mean put them in a different position to create a pattern. I hope it is helpful what I told you because it is not easy for me to explain it. But don't get discourage because I do believe that it is and art that can be acquired in a long run with practice.

• United States
30 Jan 12
I've been watching lot of tutorials on YouTube and other quilt places. I have the problem now of watching and getting carried away with watching, and then no time to quilt!

• United States
19 Dec 11
I did quilts for all my kids. I let them pick out the pattern and then the color. So went to the fabric store and just picked up coordinating colors in both print and plain. I really don't know how to tell you to pick the colors. I basically go by what the pattern is like...Like take a log cabin quilt pattern....and go according to how many different prints and solids they have on the pattern. I know there is way too many to choose from...but it will come to you!

• United States
20 Dec 11
I don't think so! I've been sewing for 45 years and even when I did my own clothes..I had this problem. Just can't figure it out! It kills me on every project!


• United States
18 Dec 11
Actually doing it isn't that hard...creating and designing it are whats hard for me!

• United States
17 Mar 12
It is too late for before this Christmas, but already you are probably working on next year's projects. Have you thought of using a color wheel such as artists use? There is a website called The Color Wheel Artist that might help: http://www.color-wheel-artist.com/color-schemes.html If you use too many patterns, then the quilt might look too "busy" but it is everyone's taste that is different, so really you can do anything you like. However, I would suggest working around the primary colors and balancing one color with its opposite. For instance, if your main color is purple then the complement to that is yellow. Or if it is blue, you might add some orange. The important thing is to have fun!