True Essence of Christmas for You

Philippines
December 26, 2011 2:33am CST
Christmas is the time of loving and sharing. During Christmas, we usually see many Christmas lights, Christmas trees, foods, gifts, parties, etc. It is enjoyable to spend Christmas together with our family and friends. There is an extreme camaraderie and togetherness when spend Christmas together with your family and friends. The true essence of Christmas for me is to commemorate the birthday of our Savior, Jesus Christ. I do not care about how many are the foods served in the table nor the gifts I received. What matter most to me is to thank God for everything. Without Him, I have no family, friends, and life. To give back to Jesus Christ, we must go to church and pray for Him all the times. My dear friends and fellow mylotters, what is the true essence of Christmas for you?
10 responses

• Philippines
28 Dec 11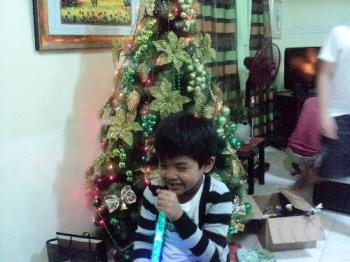 Some folks believe Christmas is just for kids. Well they are wrong. Christmas is for kids and adults alike. Whether young or old, whether rich or poor, whoever and whatsoever state you may be, Christmas is for you. Well of course those who believe otherwise are missing a lot. Those who do not believe Christ is missing even more. Christ is the very essence of Christ. If we take out Christ from Christmas it will be just mas which means nothing at all. So to me Christmas is all about Christ. His birth and the essence of his birth which gave mankind the hope to live eternally, so we must celebrate Christmas in a way that would glorify the one and only Savior of all.


• United States
27 Dec 11
While I know that the true reason for the season is Jesus, for me it is about so much more. For me, the Christmas season is about making miracles happen. I love to help people out during the Christmas season that might not be able to do for themselves. In addition to that, I also like to think about the many ways in which our family has been blessed. I am happy that I also have the opportunity to visit with my family during the Christmas season.

• Philippines
27 Dec 11
We are in the same thinking as to what is the true essence of Christmas my friend. In addition, Christmas is also the day, is the birthday of our one and only child, our daughter.



• Philippines
27 Dec 11
The true essence of Christmas is giving thanks to God, sharing our blessings and forgiveness for those who gives us heartaches. This is the time when we need to realize how our life was for the year and have the courage to change it for the better and for the year to come. We will be more blessed by making our life fruitful and meaningful. God Bless Us all.

•
26 Dec 11
for me it is spending time with the people I love, eating lots of great food, drinking lots of great drinks, and giving presents I have chosen because I know their recipient will feel happy that I chose that for them. I love Christmas. and for me the true meaning of Christmas is family.

• Philippines
26 Dec 11
for me the true essence of Christmas is sharing love to your family.Thanking God for the Gift of life..Merry Christmas to you

• Philippines
26 Dec 11
for me, christmas is really a time for sharing your blessings and remembering your loved ones. i dont mind so much the food and the gifts but i would be happy if i have a lot to eat on that day and get to open gifts. i always look forward to christmas coz its the time when our family really get together.

• Philippines
26 Dec 11
Christmas is time wherein you share your blessing to others,a time of forgiveness and a time to share your loves for others. The true essence of Christmas is that when you thank God for all the things that you have.

• Philippines
26 Dec 11
I also do not care much about the food we eat on Christmas, but it is just a plus.

What I care more is that my family is complete and that we share Christmas together- which usually does not happen anymore..

But I also agree that this is the time for Jesus too- since it is His birthday.. which is why it's important to give praise to Him that day.

• Paso Robles, California
30 Dec 11
Without Christ, there would be no Christmas, and without him there is no hope for the forgiveness of our sins and an intimate relationship with God the Father. The mystery of Christmas is that Almighty God, the Creator of all, became flesh, taking the form of a servant, in order to show us the way to God and then die to make that relationship with God possible for all those who believe in Him. Our celebrations with family and friends are a reflection of his great love for us.