Do you want to be a baker?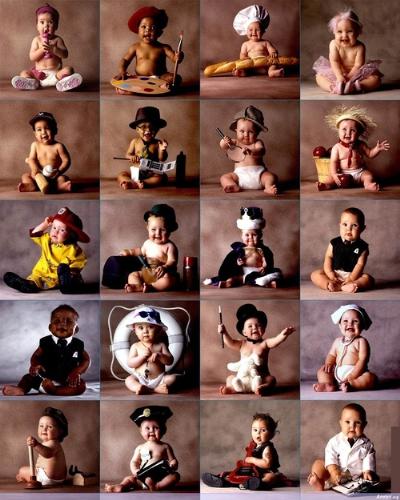 Singapore
February 2, 2012 10:07pm CST
This little 6 year old girl told me she loves to bake and wants to open a bakery. She has just started school for about 1 month and already she has recruited the required staff for her bakery, from among her classmates! One is to be a baker, one the cashier and so on. I asked her, "I want to be your customer!" Great dreams for a little girl! Now isn't that cute? Do you recall having great dreams when you are that young or have you met any kid with great ambitions?
6 responses

• Canada
5 Feb 12
I recall having a great dream, and having a great ambition when I was little. I wanted to be a doctor. So I could help a lot of people. And then I realized that seeing blood don't sit with me pretty well. And that there's a lot of memorization needed to become a doctor. So, I had to give it up. I bet a lot of people also thought that was cute when I was saying that when I was 5 yearls old.

• Singapore
7 Feb 12
There was a recent study that showed that many of those who became doctors regret it. I would say it is one of the toughest jobs in the world, having to deal with pain and suffering on an everyday basis. I'm not saying that it is bad but I really do admire those doctors with conviction and a spirit to serve. I guess some dreams are just that, dreams, and unfulfillable. Well, dreams and aspirations change all the time and we might have given up some and fulfill others. I hope you have.

• Singapore
10 Feb 12
We should each have a purpose in life, regardless how tiny it may be. If someone is gifted, it would be good for them to use that to the maximum. The rest of us who are just ordinary folks should try to be the best in our own life.

• United States
4 Feb 12
I would love to be a baker but I probably couldn't because I would probably eat all the sweets. My mother used to be a baker and would sell cakes our of our house. She used to be very popular but then prices of ingredients went up, other bakers started selling cakes and her clientele dropped. I wish I could open up a bakery for my mom so she could do what she loves and I could get free bakery goods whenever I want, so that's one dream that I would like to make come true for her. I have always wanted to be a writer when I grow up, then in high school I started aspiring to be an actress and so far I haven't really completed my dreams. I have written two books but have not published them; I also haven't landed any big acting gigs. But hopefully this year I can take some big steps to realize my dreams or at least be closer to reaching them. I hope the little girl continues working on her dream, and who knows she might be the next big baker!


• Singapore
7 Feb 12
I love to eat cakes and stuff too and I do wish my mum's a baker too but too bad she wasn't, nowhere close in fact.

The things you have done sound good to me, the books you have written and the dream of making your mum's dream come true. I hope you will really do that one day.

• Canada
3 Feb 12
that is something she could stick with by starting out to bake at home and selling her wares. good for her. i hope she continues on with that. as for me, no such dreams as that. i really admire people with the drive and tenacity to know what career path they want to take from an early age.

• Singapore
7 Feb 12
I know what you mean, there are just some people who know exactly what they want to be and how to achieve that. They might have had good advice from parent or friends. For me, I just take it one step at a time and see what comes next and try to adapt.

• Philippines
3 Feb 12
Hi! I want to be am expert in baking. Although I have tried several times to bake it was not that perfect. I hope i will be able to enroll in a culinary course. My dream when I was to be an artist then a teacher. All of them did not come true but I believe God has a purpose.:)

• Singapore
7 Feb 12
We all have our talents and flairs, sounds like you have an interest in baking and I think practice would make it better. It is good to have dreams and try to fulfill them as you progress along in life.

• India
3 Feb 12
Hi moon.. Not going to tell about others but i was an ambitious boy and wished to involve on wildlife but it was too hard for the economical condition of my family. Anyway, i am now happy with my job and my little involvement with wildlife. Have a nice time.

• Singapore
7 Feb 12
Hi shi... It is sad sometimes when reality clashes with our dreams but it would be good if we can work something out that combines both. I see that you have managed to do that, so well done! All the best to you.

• Philippines
3 Feb 12
i think this little girl will be able to open her bakery someday! i remember when i was that young, my friends and i would play having a restaurant. i always want to be the cook. we pretend to go to market and get leaves and flowers and then experiment on cooking. and then we would talk about the taste as if its real and sell them to our other friends. my course now is totally different from what i want as a kid.....but i still would want to have a formal training in cooking.....maybe someday.

• Singapore
3 Feb 12
I would think so too. She is very enthusiastic now and I got a bag of lemon biscuits from her and her sisters (all of them less than 10 years old)! Your game sounds very familiar, something which I have done myself and I didn't turn out to be a cook, and nowhere near LOL. It would be good for you to learn, then benefit yourself and others around you.