Our New Cordless Kettle Is VERY White!

Carlisle, England
February 3, 2012 6:39pm CST
I was gutted when my other kettle started leaking. I wondered why the worktop was full of water all the time lol.

Anyway, my broken kettle is a Morphy Richards Opera I in a pearlescent grey. Unfortunately, it seems to be discontinued so I trawled the internet (Comet didn't have the Philips one I wanted) and managed to find a Morphy Richards Opera II in white. It's now an extra £5 to get one that makes the water glow..in this case blue, which is a bit of a swizz. Oh well, the kettle arrived yesterday and - like I said, it's EXTREMELY white. Sticks out like a sore thumb in fact BUT I do like it a lot..and it does whistle like the other one did, hence the name OPERA! In fact, we do have a grey toaster that bleeps so you should hear them when they both go off at the same time, it's quite entertaining...for sad people. Haha!

Have you had to replace something electrical recently that is (sort of) the same model but isn't?

8 responses

• St. Catharines, Ontario
4 Feb 12
"it's quite entertaining...for sad people." Nice turn of phrase.


• Philippines
4 Feb 12
I assume you are referring to non-electric kettle since it is cordless right? At first I was thinking about what a cordless kettle would look like, I have always thought kettles are those where you heat water and they whistle whenever the water is already hot. But we also have kettles where we store the water, and those are the cordless ones. I guess that is what you are referring too


• Carlisle, England
4 Feb 12
If you take a look in box 1 in this discussion I have posted a pic from the internet of a kettle that's identical to ours. It's called a cordless kettle but it isn't really because the electric cord is attached to the base rather than the kettle itself. This allows me to fill the kettle at the tap and not risk getting electrocuted, which wouldn't be good would it lol.



• Carlisle, England
4 Feb 12
That's what I loved about my pearlescent grey kettle. Just a wipe down and that was that. The matching toaster is the same. Perhaps the grey one is dearer to make than the standard ones, I don't know. Anyway, the white one will have to do. At least it works.


• China
4 Feb 12
To my shame,I have never heard of the cordless kettle before.Mine isn't cordless one. I lose count of how many times I replace the wire and plug.although It whistles too,but boiling water overflowering is hard to avoid sometimes ,as a result wire and plug are burning more and once.By the way,I don't see the point of "makes the water glow".

• Carlisle, England
4 Feb 12
No, I don't either actually. It's just our last kettle..the water glowed orange and it seemed natural to have another one that did the same, this time in blue. It's all a bit gimmicky I agree but you're hard-pressed to find one that doesn't make the water glow another colour. Weird but true!

• Canada
5 Feb 12
it's quite entertaining...for sad people. I don't have a kettle that whistles, or a toaster that bleeps, but that line up there is quite funny! I've recently found a 'Frame' channel on cable TV. It doesn't air any shows except some beautiful views of different parts of the world. Beautiful beaches, sunsets, mountains, etc. Now that's what I'd call 'entertaining, for sad people (like me)'.

• Carlisle, England
5 Feb 12
Sounds great, I think I'd like that too! There is a radio channel (well, they used to be) called birdsong and all it played was..yes, you guessed it birdsong. Very relaxing and drove the cat mad!


• United States
5 Feb 12
Is this some sort of an electric tea kettle or ? Looks slick design wise. The only thing I've replaced is my camera but I didn't look for the same modeal. I do need to replace my all-in-one printer/scanner though the ink it uses is so expensive compared to what ink for newer models costs.

• Carlisle, England
5 Feb 12
There are some good deals to be had on the all-in-one printers although I would love a laser one, I must admit as the colour ones are coming down in price now.

Our jug kettle holds water but is electric as opposed to putting it on a gas or electric hob. The cord comes out of the base so I can take the kettle to the cold water tap. You can actually pay "silly money" for a jug kettle but, basically, they're all the same.


• Garden Grove, California
5 Feb 12
Hi janey no I wish I was in the situation where I needed to replace electrical appliances but I am stuck here in a tiresome retirement center. We are fed and babied more than I would'like but i once more have my monitor and computer so life is still good for me.I am here in the US for me it wo uld mean a coffee maker as I am a coffee drinker not so much for tea. but everything is made for me. I had thought of getting a coffee'maker for our room one that co uld heat water for either coffee or tea. that would be so neat.




• Carlisle, England
5 Feb 12
Are you not allowed to buy one for your room?

My Uncle has his own TV (bought by the owner of the place) as he doesn't like mixing with the others too much..likes to be on his own. He does come out for meals and to make himself a brew though although Mum would prefer him to get out more. No doubt she will invite him round to hers once the weather improves in the spring.

• United States
4 Feb 12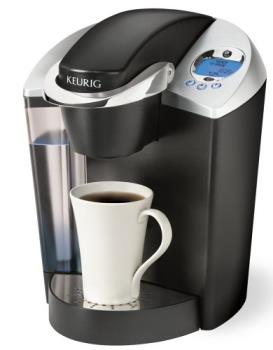 I've never heard of that tea kettle or even knew people still used tea kettles. We have a coffee machine that we had to replace because the first one broke. It's a Keurig B60 Coffee Maker, Single Serve. They have more expensive models but we bought the cheaper one. The replacement seemed to be working fine at first, but now every time we use it it seems like it's about to die. It's makes this really loud motor noise. I love how easy & fast it is to make coffee, but I told my husband that someday we need to get the more expensive model I think. This is one is just way too loud...LOL

• Carlisle, England
4 Feb 12

Hi guys! Noisy appliances..not good! Mind you, our Opera kettle whistling to us when it's boiled is quite rare in jug kettles so I'm glad they're still being made.