why Adam is not the first man on earth

Philippines
February 8, 2012 9:38pm CST
The Bible says:" So God created man in his own image and, in the image of God created he him;male and female he created them.And God blessed them and God said unto them:be fruitful and multiply and REPLENISH the earth." we all know that we could not really REPLENISH something unless there has formerly been something formed before it vanished and made again. replenish means to make full or complete again or to supply again. So that only means before Adam was created and before He said all these words to him, there was a former race. A race he subjugated and destroyed before He made a NEW HEAVEN AND NEW EARTH where Adam and his wife lived. the Bible further sates,:" and Cain went out from the presence of the lord.....and Cain knew his wife....and after the birth of his son he built a city." So where do you think Cain got his wife if Adam and Eve were supposed to be the first persons on earth. surely there were other races. one more thing is that there can never be a city without many inhabitants. So what do you believe now? this has been along standing issue between atheist and Christians.
10 responses

• Canada
9 Feb 12
Genesis 1:28 King James Version (KJV) 28And God blessed them, and God said unto them, Be fruitful, and multiply, and replenish the earth, and subdue it: and have dominion over the fish of the sea, and over the fowl of the air, and over every living thing that moveth upon the earth. Notice the better translations of that verse. Genesis 1:28 New King James Version (NKJV) 28 Then God blessed them, and God said to them, "Be fruitful and multiply; fill the earth and subdue it; have dominion over the fish of the sea, over the birds of the air, and over every living thing that moves on the earth." Genesis 1:28 New American Standard Bible (NASB) 28 God blessed them; and God said to them, "Be fruitful and multiply, and fill the earth, and subdue it; and rule over the fish of the sea and over the birds of the [a]sky and over every living thing that [b]moves on the earth."

• United States
9 Feb 12
I spoke with a woman who is a teacher of Hebrew and Old Testament History and she told me the word should be translated "fill up."

• Canada
10 Feb 12
Exactly! The word replenish is not accurate, at least in the meaning of today. "Fill up" or fill the earth is more accurate. God's original purpose was that Adam and Eve should have children and fill the earth.

• Philippines
8 Mar 12
Nice one... I read it also in other translation and this replenish word is not used either. I'm not leaning on my own understanding when reading the bible, I pray first for HIS guidance and wisdom to make me understand what HE wants me to learn.


• Thailand
9 Feb 12
The story of Adam and Eve is allogoraical and not to be taken as litteral truth.

• Thailand
16 Feb 12
Why would you draw the inference that I do not believe in a god from the fact that I realize that there are some parts of the Bible that are allegorical? A bit judgmental aren't you?

• South Africa
13 May 12
I agree with you Otakumarie that there were people before Adam and Eve, but here is the explanation - that when God says that Adam was the first man, it does not mean he was the first man on earth - there were already people - but the first man to have a conscience. Before Adam the world was a wild place. Adam was the first spirituality conscious human being.

• Philippines
3 Apr 12
NO! You misinterpreted that verse. Yes the verse is true but if you will read it further, you will understand the earlier verse. The first verses are the summary of God's creation but if you will continue reading, you will see God's creation detail by detail.

• Philippines
18 Feb 12
I think adam is not the first man on earth because he is defined as one of the great product of GOd. In which opposes the scientific analysis on how man are created. These are only representations of God's work in the BIBLE. Same as making a new product, You come up with different tests then until you improve that product and be considered as the best of your works. I think, there are also other human creatures in the world during that time, and ADAM and EVE was used only for such purpose of presenting GOd's actions and what he wanted to express which serves as a guideline that will be used in reference of the bible. THis is more of moral values like good or bad.. What GOd considered as good and not.. and testing these creature by faith in believing in him...

• Philippines
16 Feb 12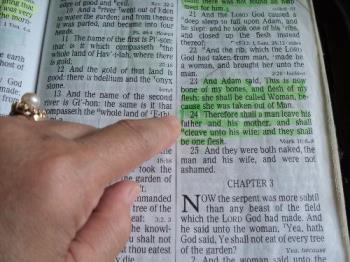 Well the Bible says it is Adam who is the first man on earth (1 Corinthians 15:45)so I can never believe any other theory more than what the Bible exactly says. Now with regard to that "replenish" thing which is part of the "Gap Theory", I'd say this is nothing but misinterpretation of the Word of God. This excerpt explains it very well http://www.gotquestions.org/pre-Adamic-race.html and I quote: 'A "mistranslation" has contributed to the case for this misinterpretation. In the King James Version of the Bible, God says to Adam, "Be fruitful, and multiply, and replenish the earth." Proponents of the Gap Theory emphasize the word "replenish." They interpret the text as saying that Adam and Eve were to refill the Earth. They were to fill it again. The problem with this view is that, regardless of what it says in English translations, the Hebrew word is mâlê', and it simply means "to fill" or "to be full." Moreover, the English translators of the King James Version knew the word means "to fill." They chose "replenish" because, in 17th-century Elizabethan English, "replenish" meant "to fill" (similar to how in modern English the word "replete" doesn't mean to "abound again," it simply means "abundant" or "abounding"). Language is not static, but dynamic. Words change meaning over time. Today "replenish" means "to fill again." It didn't mean the same thing in 17th century England. Nearly all modern translations translate mâlê' as simply "fill" in the passage in question (Genesis 1:28)'

• Romania
10 Feb 12
He is the first man. Not the first male. Man as a fully formed human that can think. And god didn't made them, he just helped them make another step in evolution. And the most important thing, the bible was rewritten and the informations was changed. There is a book that is said to be the true bible. I want to read it and i think that would get it this summer.


• Philippines
9 Feb 12
Hey there guys, Man you are really smart all of you am not a bible guy and I am also a catholic but I find the bible a bit confusing on the part about adam and eve because in the story people just keep on popping up without any explanation of where they came from, but with Jesus i believe a 100% and God is our true creator thing is that history doesn't really give us a lot to go on, but i know that God is true, gotta have faith and gotta have to believe in a higher power because i cant believe that this world just popped from nothing.

• Philippines
9 Feb 12
All creatures in the World is created by God within 6 days including the first man Adam and Eve. There is no other races that God created, but if you consider atheist, they are not believing in God. Not only Cain, Abel, Seth the children of Adam and Eve. We can read in Genesis 5:2, male and FEMALE he created. The NAME of the son of Adam is mention in the Bible, but no name of the daughter mention. You can imagine that almost the name of the sons are mentioned in the Bible.