Indian Rojak

Australia
March 17, 2012 10:01pm CST
The term 'rojak' or 'rujak' seems to be multicultural in some Asian countries. It refers to a dish of cut up fruits, or vegetables, or fried items then eaten with different types of dips or sauces. I tried the Indian Rojak for the first time last night, and it was delicious. It contains boiled eggs, steamed potatoes, and some fried items which I am not too sure what they are made of. It was served with some sauce which to me taste a little bit similar to peanut sauce. Perhaps some here are more familiar with the dish and could help me describe this?
5 responses

• Bhubaneswar, India
21 Oct 15
Wondering why have they named it Indian? There is nothing anywhere similar to this dish in India (as far as I know). A quick search leads me to the following info -
Rojak or Rujak is a traditional fruit and vegetable salad dish commonly found in Indonesia, Malaysia and Singapore. The term "Rojak" is Malay for mixture.
Maybe they used the name "Indian" just to lure in visitors and diners.

or because the chef was a poor guy in India who never got any recognition for his art of foreign eateries here and migrated to the foreign lands

In any case, a further read, makes me clear, it is not anything Indian. Sorry to disappoint you.

• Malaysia
21 Oct 15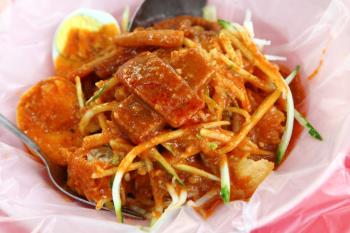 A search on Indian Rojak brings me to this and it is called "Pasembur". It's a Malaysian dish consisting of cucumber (shredded), potatoes, bean curd, turnip, bean sprouts, prawn fritters and served with a sweet and spicy nut sauce. Sometimes spicy fried crab, fried octopus or other seafood are added to it.

Do you have that in your country?

• Bhubaneswar, India
21 Oct 15
@Jlyn10
Cucumber... Yes potatoes.... Yes bean curd... What is that? turnip.... Yes bean sprouts... Never knew that these can have sprouts and people eat them prawn fritters... Ok, some parts of India have this - but I doubt if Fritters are Indian origin sweet and spicy nut sauce.... Maybe. They can call anything pasty as sauce today spicy fried crab, fried octopus or other seafood... Must be somewhere in Goa or other beach places. Octopus is definitely non Indian. Maybe the "spicy" part uses some of those condiments traditionally in Indian Dishes.


• Aurora, Missouri
21 Oct 15
@sishy7
Ma'am, may I inquire what color the sauce was that you ate with the Rojak? It appears that it could have been either the traditional bright orange sauce or a creamy colored sauce... At any rate, both sauces are based on ground peanuts. The creamy sauce has less spice in it while the orange sauce gets its distinct characteristics from fermented prawn paste, chilli powder, lime and sugar. The dish includes a mix of fruits, vegetables and fried dough fritters which is all covered in a sweet, sour and spicy sauce. This dish brings/combines the strong flavors of the diverse ingredients that flow into a delicious whole. Hmmm... I wonder who I know that might like something like this?
@PhredWreck
?
@rebelann
?
@ramapo17
?
@thesids
?
@Unforgettable_Raja
?
@Jlyn10
?
@purplealabaster
? Would any of you be willing to try this dish? It sounds pretty good, actually...

• El Paso, Texas
21 Oct 15
Ummm, count me out daddyo, I'm not a fan of peanuts although I sometimes will eat them from the shell. Pinto beans n jalapenos with cheeze perhaps?


• Australia
21 Oct 15
@DaddyEvil
You should've counted
@rebelann
in when it's about sushi or Mexican food...



• United States
21 Oct 15
Nope, I have never heard of this dish. I thought I read on your other discussion that you had included a picture of the dish on this discussion, but I don't see it. I did see the ones that Jlyn added, and it looks good.

• United States
22 Oct 15


• Malaysia
21 Oct 15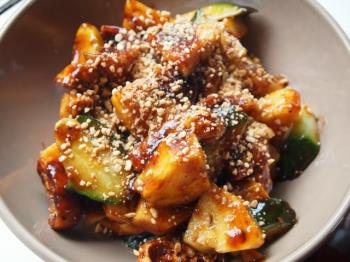 There are actually many types of Rojak and I don't know which one you are referring to but the one I like most is this one called Malaysian Rojak. It's a mixture of cut up fruits and salad dish like cucumber, yam bean, pineapple and green mango (original ingredients) and sometimes added with guava, cuttlefish, rose apples and any other fruits or salad that you like..

• Australia
21 Oct 15
I was referring to the one you posted on sids response. I didn't know it's called something else in Malaysia. But in Singaporean or Malaysian dining places here they are called Indian Rojak while the type that you posted here with the fruits and salad is called Chinese Rojak... I've tried both and I like them both.


• Melbourne, Florida
24 Oct 15
@sishy7
this looks like a dessert. Could it be used as such or do you eat it while eating the main meal?


• Perth, Australia
6 Dec
@sishy7
Yeah. I wanna get me some Rojak! Sounds so delicious! I've never had anything like this before but would love to try it.

• Australia
6 Dec
It's called Indian Rojak but it might not be something from India (DJ may know something about it?). I think it's what they are called in Singapore or Malaysia. I'm pretty sure there are many Singaporean or Malaysian places in Perth where you will be able to find them...

• Perth, Australia
7 Dec
@sishy7
Funny enough I was going to tag DJ here to ask. I think I will anyway.
@Daljinder

• Australia
7 Dec
@VivaLaDani13

She usually shows up where you are even without being tagged...