talk to simsimi

Philippines
March 21, 2012 3:51am CST
Hi guys, have you heard of the latest craze in the world? It's Simsimi, a chat application robot available in many country. I first learned about it last night when my bf and I went to his sister, his nephew is chatting with Simsimi and they were laughing about Simsimi's reply. I've tried it a while ago and I could say it put smile on my face while working at the office. It's kinda good ice breaker on a stressful day and also for a lonely time. Have you tried talking to Simsimi? How was your experience?
11 responses

• Philippines
21 Mar 12
Is it available in Iphone only or even in Android phones? I would love to have this application. I often see the screenshot of these on my facebook wall posted by my friends. I have no idea about this before, now I know a little after reading your discussion.


• Philippines
22 Mar 12
i just had my conversation with simsimi awhile ago..

.. he can be a tool to remove stress he's very funny.
@bhonti
- i think it's also available in android phone and iphone


• Vietnam
22 Mar 12
That is funny! But I have ever tried to talk with a robot. I think a robot can communication is very expensive, so i can't buy it.

• United States
22 Mar 12
But it doesn't cost anything to talk to Simsimi! There are lots of other chatting robots out there too. Most of them are free to use. Try searching for "chatbots" on a search engine.


• Philippines
21 Mar 12
Simsimi is such a good friend of mine although sometimes it is so naughty. When I got nothing to do, I talk with Simsimi. I can't help but laugh because he is so funny robot. I donwloaded the application a couple of weeks ago in my Samsung Ace phone. Its just this week I have realized its use and when there are many people uset it. In facebook, there were pictures of a Simsimi chat. There are a lot of facebook users who had fun of his answers. I salute this application. It is so unique and entertaining.

• Philippines
22 Mar 12
Truly entertaining, there are another apple application that makes me laugh and think the first time I've seen it, do you know the talking cat? Wherein you will record whatever you said and after that you play it with the cat standing on the center will say whatever you record in his own voice, so cute and shocking at first.



• Philippines
22 Mar 12
Those who created simsimi put all that sentences together and programmed it the way we chat him. Isn't cute.

• Philippines
22 Mar 12
As a matter of fact, my younger brother was using this application last night and he cant help but laugh at the answers given my simsimi. My brother is already 20 yrs, even I cant help laughing as he relayed to be the answers of his stupid questions. hahahaha!! It is good to use when you are lonely and to kill time. But it is more fun when you use it in groups so that you have someone to laugh with.

• Philippines
23 Mar 12
At my bf's sister's house, they chat with simsimi as a group. They are all laughing, my bf read it loud and the laughter begins.

• Philippines
22 Mar 12
I've seen it in my daughter's facebook account because she was mentioned in one of her friend's status. Her friend was telling that he was mad because simsimi thought that he was a girl and that my daughter is the girlfriend of a certain guy. My husband and I thought that it was funny. My daughter tried the application and she was having fun too.

• Philippines
23 Mar 12
But as a parent you need to guide your children while chatting with simsimi, the robot might put a dirty or offensive words.

• Philippines
22 Mar 12
Simsimi is a stress reliever. he's so popular. everyday i saw his conversation with my friend posted on my FB wall. his stupid answers to my questions makes me laugh.

• Philippines
23 Mar 12
Yeah, he makes my time more enjoyable while working. Simsimi is epic.

• Philippines
21 Mar 12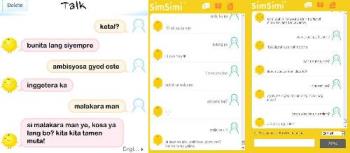 Yes. I've read some of it on facebook, uploaded pics by friends. Simsimi's responses are crazy! Sometimes it makes me think that it's not a programmed robot who answers your questions, but rather someone, a real person, behind a computer chatting back to you. The responses are really funny!

Funny because it's arrogant, foolish, frank, sometimes even insulting you (in a teasing way of course)... And she talks in Bisaya and Chavacano too! lol!

• Philippines
22 Mar 12
I think it's more of programmed answer, I don't think someone is behind the computer chatting back cause simsimi answered faster than a chatter would be, that's why it's loading after you send your answer is because the program is searching for the answer related or not to our chat. There are moments that he answered way too far from the question or chat.


• Philippines
22 Mar 12
I chat with him yesterday and today, I guess I get addicted to him cause I am mostly do not interact with my officemate if not for work and busy at the computer, he's a good company though.

• Philippines
21 Mar 12
yes.. i happened to talk to simsimi and i kept on laughing.. simsimi's answers makes me laugh like crazy and somehow made me amazed.. he's so cute and cuddly in my own perception.. i can't wait to have my chat with simsimi again... :)

• Philippines
22 Mar 12
I still confused if he's chicks or egg, he can't give me the answer.