My FIL's cat Smokey keeps peeing on his bed, any advice??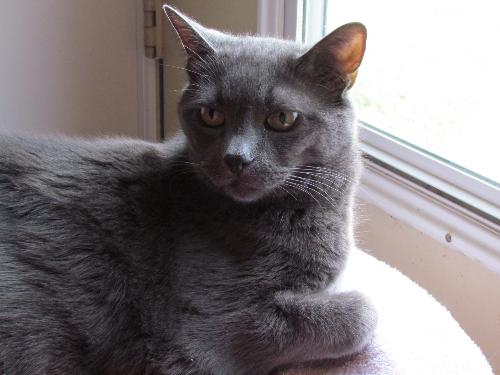 United States
May 11, 2012 7:49pm CST
This cat once belong to my husband, but after we got married he gave Smokey to my father in law to take care of. The cat has been in the family for many years & everyone loves him most especially my FIL. Lately though my FIL has had to work a lot so he hasn't been home a whole lot. He's not sure if this is why Smokey keeps peeing on his bed though, but so far he's peed on his bed at least five times. Now my FIL is talking about getting rid of the cat since he doesn't know what else to do. He really loves the cat & doesn't want to get rid of him, but he can't have Smokey peeing on his bed anymore. Does anyone know why the cat keeps doing this? Is he acting out or is this a medical problem?
6 responses

•
12 May 12
I think it sounds like it could be a medical problem maybe you could put a cat litter tray in you FILs room that may help

•
2 Jun 12
I hope it isn't a medical proplem, I hope you cat is ok..

• United States
7 Jun 12
Well it wasn't my cat, but my FIL's cat. He decided that the cat deserved a better home so he took the cat to an animal shelter where they do their best to find animals homes rather then putting them to sleep.


• Canada
13 May 12
He has passed the cat off and the cat is simply letting him know this simple solution figure out what is upsetting the cat and change it back to before if nit there are many pharamone sprays you can get to help calm the cat down so he doesn't get so upset

• United States
15 May 12
Excellent advice, something I would have tried first before making any final decisions. Unfortunately my FIL decided he didn't have the time to care for Smokey's needs any longer. He took him to a local shelter where they do their best to find these cats good homes.

• Canada
16 May 12
You are aware that 75%of shelters euthanize all cats over 5 years old without even trying to adopt them out as the older cats hold up a cage for way to long when they could move a younger cat much quicker the other few shelters will give the cat a month maybe two then euthanize him and the 2% of shelters that are no kill often the cats sit there for well over a year before being adopted.people need to realize animals are life long commitments not something u just give away or dump on someone else when things change

• United States
18 May 12
I couldn't agree with you more. I've had all my animals since they were babies & I would never dream of giving them up, but unfortunately Smokey was not my cat so the decision was not mine to make.

• United States
12 May 12
First thing, I'd take the cat to the vet to rule out a urinary infection or some other illness. If he checks out okay at the vet it might be separation anxiety. Smokey could be stressing about being left alone so much. Maybe he can out the cat in the bathroom and out the litter pan in there when he works. The cat is either sick or stressed. He isn't being a bad cat. Hope your FIL will do what is best for the cat. I think devouring him to an area will be better than getting rid if him.

• United States
15 May 12
Unfortunately like most men my FIL just up & decided to get rid of Smokey before trying other ways to solve the problem.

• United States
15 May 12
Oh how sad. Like that solves Smokey's problems. Maybe the cat will be better off with someone else. I can only hope so.

• United States
18 May 12
Yeah me too. I really hope he finds a good, loving home

• United States
12 May 12
Generally speaking, cats will urinate in unwanted places because they are trying to get someone's attention. usually, it's because they are sick or in pain. As the others in this discussion have stated as well, my first guess would be a urinary tract infection, or perhaps crystals or other blockage. Your FIL really needs to take the cat to the vet to make sure he isn't in physical distress. If it turns out that the cat is healthy, then it may be a sign that the cat needs more attention. If he can't provide the attention that Smokey needs, perhaps the solution would be to get a second cat! Our beautiful maine (c)oon, Simba, was desperate for attention when he was left alone, and he would do all sorts of destructive stuff when we were at work. We got him a playmate and he settled down and we had very few problems after that.


• United States
15 May 12
Thank you so much for your comment & excellent advice.

• United States
15 May 12
I hope it works out for you, your FIL, and your cat!


• United States
12 May 12
Since it is a sudden event, it could be that Smokey has a urinary tract infection. There isn't outright symptoms that you can observe except that the cat will urinate in unusual places. If Smokey is straining to pee, peeing in even more unusual spots, and is squatting often to pee then it is very likely a UTI. It wouldn't hurt to have the vet check him out. It could be separation anxiety. If Smokey is used to your FIL being around and he isn't, it is upsetting to the cat. I am sure that you FIL is tired when he gets home, but he needs to give Smokey extra attention and love. Does your FIL treat the spot with odor neutralizer? It is definitely an necessity to treat the spot on the bed and the bed clothes with an odor neutralizer. When the sheets and blankets are washed, use vinegar (about a cup to a cup and a half) in the rinse to remove the odor of the urine. On the mattress use "Nature's Miracle". It works really really well to eliminate the odor. Also, when your FIL goes to work he will need to close the bedroom door so that the cat can't have access to the bed. Or, cover the bed with clean garbage sacks or a plastic drop cloth. I remember that Dingelebeary (my Maine Koon cat) was peeing on my bed and it turned out to be a UTI! I got the urinary tract infection treated and it stopped his peeing on the bed. I would really recommend that Smokey has a check up by the vet.

• United States
12 May 12
Is there a possibility that your FIL changed the brand of kitty litter he is using? It just struck me as I had the problem with one of my cats, she would pee and poop in my Mom's potted plants. We had the battle for two years (I would wake up nearly every morning with the mighty shout from my Mom "YOUR CAT POOPED IN MY POTTED PLANTS!!!"). It finally dawned on me that maybe it was the cat litter. I changed to a softer litter rather than the sharp clay that is non scoopable. Once I changed to the softer scoopable litter the problem of the pooping in the potted plants changed.

• United States
15 May 12
Thank you very much for your excellent advice. I wish I would've had the chance to suggest these solutions to my FIL before he decided to get rid of the cat & drop him off at a local shelter. The good thing is is that they do their very best to find these cats homes before having to decide to put them to sleep or not. I personally hope they find Smokey a good home.


• United States
15 May 12
Unfortunately it didn't save Smokey either. My FIL decided to take him to a local animal shelter.