Anyone else like the winter?

United States
June 3, 2012 2:25am CST
The winter is by far my favorite season. After living abroad in a place 32 degrees C (90F) with 70 percent humidity every day in the summer, I really appreciate my winters back home in Maryland! I guess the thing I like about it is... if you get cold, you can just wear more clothes or wrap up under some warm blankets (which is very comfy in itself o_o)oh and you have excuses to drink hot chocolate. In the summer, if you get hot... there isn't much you can do besides find some AC and a nice cold drink. I'm also a big fan of snow. =) So how about everyone else?
11 responses

• United States
4 Jun 12
I'm a winter bird, too. I hate it when the temperature gets above 80F. I like to bundle up and drink hot tea and chocolate and watch the snow. I even like to get out in it.

The only thing I don't like about it here is that there isn't much to do outside when it gets cold. In the warmer weather I garden and I can find an excuse to get out there, weeding or cleaning up or something. When it's cold all I can do is walk and sometimes shovel snow. I do like iced tea, though!


• United States
4 Jun 12
We spent a year in Singapore and while I thoroughly enjoyed the people, the food and the sights, the warm temperatures, high humidity and little fluctuation of either had me dreaming of Wyoming, where I grew up. All that to say that I understand your longing for winter.


• India
3 Jun 12
I am that 'else',dear.My username is else too,and I do like winter.I am from India and now we have been facing an unbearable heat wave here.Still I love this season.Actually I love all seasons.We in India have six seasons here.Today's temperature here in our hometown is 46 c.Imagine how difficult it is for us to bear it.But,as you know,love accepts everything and all difficulties.That's why I love all the six seasons we experience here.Now rainy season is following in a matter of days.It would last for four months.Then winter would follow.I love winter as I love all other seasons,because they are the different aspects of my life.And I enjoy life.

• United States
4 Jun 12
I actually despise the winter which is sort of a problem because I live in Northern Michigan so close to half of the year or more is cold weather or full blown nasty winter. I just don't really have any activities that I enjoy doing during the winter time and I end up staying inside a lot an don't really always enjoy driving in it because the roads can get bad and people aren't always the best drivers on it. I also enjoy gardening a lot and with the winter and long fall it's hard to have a decent growing season, and you get really limited to what you can grow because you only have about three good months to get things going.


• Canada
3 Jun 12
i like winter too because of sweaters, hot chocolate, fire places, blankets etc. here in southern ontario, it gets really hot and muggy in the summer. while i like the spring and the fall (all those crunchy brightly coloured leaves are a sight to behold) i like the winter (i also love boots!)

•
3 Jun 12
Nice winter. My favorite season in spring times. But I also like summer sunny day.

• Vietnam
4 Jun 12
I don't like both winter and summer also. I love snow but i can't play with it for long since i am very slim, can't stand in cold weather in long time. Summer in here is very hot, the hostess could be 40 degrees Celsius, i can't stand it. I love the autumn the most, very nice, not hot, not cold ....but unfortunately the autumn is very short...

• Malaysia
4 Jun 12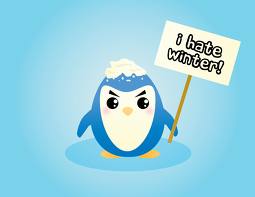 personally i hate cold weather , it really make my bones pain and numb, and i also can perform daily tasks if the weather is freezing cold , the brain shut down and the body numb. I prefer temperature above 24 celcius. Even the air con 16-18 celcius is little too much for me , i can't stand inside the room for long period of time.I prefer the fan.haha.

• Australia
4 Jun 12
I too love the winter for the same reasons... its easy to dress warm, but it near impossible to keep cool in the summer... if you go swimming you end up burnt and sore, if you run air conditioners all the time, the power companies love you... Winter is a wonderful time of the year, to quote the lines of an old song.

• Australia
3 Jun 12
I don't really have a favorite season, but I do miss the snow... I'm still trying to get used to 'opposite' seasons here; it feels strange sometimes to have Fall in March, Spring in September, and most of all, Christmas in the Summer time! When I lived in Maryland during the '80s, I'd be making a snowman on my front yard at Christmas time...


• United States
3 Jun 12
I do admit that there is some kind of quality of beauty with the winter, providing the snow and the ice does not rather get too much out of control. Of course, this is going to be fairly likely to happen more often than not. Thus my enjoyment of the winter rather tends to wane at an insane rate, when you really think about it. Snow is something that has been the bane of my life, because it never does anything halfway. I'll be honest, both summer and winter have their problems, and their good qualities as well. Spring is about the closest thing to a perfect season and perfect weather, but it does seem like more with each passing year, there is just two seasons, the really hot and the really cold. Perhaps it is just me, but that's just what it seems like.