The Ralphie triolgy ends, He was too dumb to make it!

United States
July 9, 2012 11:59am CST
RIP poor Ralphie, it turns out that he was extremely dumb and his luck ran out! Last night he made his third trip into the world of Khuay, and he got caught. This time he didn't get the chance to escape. Bill and I were watching t.v. when Khuay started thumping in my bedroom. I didn't think too much about it until he came down the hallway with something in his mouth, and it wasn't a pair of shorts! He came to the doorway to show me that he had caught the mouse
AGAIN
. He dropped it on the floor so I was sure that it was Ralphie and then he picked it up again and tossed it up in the air. He caught it again and then strutted off to the bedroom to finish off the mouse. I went back to see if there was any remains (I am not that countryfied that I like walking on mouse remains in my bare feet). At first I didn't see any, then I looked closer and found a couple of small mouse parts. I cleaned them up and said a little prayer for poor Ralphie. Then my imagination kicked in again... Mouse one: "Has anyone seen Ralphie??" Mouse two: "Nope not here, think he's coming back?" Mouse one: "Nah, he probably found a woman, we'll have to send someone else to check the house" Mouse two: "Not me, there's cats!" Mouse one: "Aw come on, they're cats, they are lazy, well fed and they sleep a LOT!" Mouse two: "Okay, then you go!" Mouse one: "NOT ME!!! THERE'S CATS!!!!" Mouse two: "But you just said..." Mouse one: "Don't believe everything you hear! I don't do cats at all!" Mouse two: "Okay, lets get Ferddy, he's not quite bright, and he'll do anything for a piece of cheese!" Mouse one: "That might work except we sent Ferddy in before we sent in Sam who we sent in before Bob and we sent Bob in just before Craig who we sent in just before Frank. Then we sent Frank in just before Ralphie." Mouse two: "Do you sense a pattern here?" Mouse one: "Not really, what are you getting at?" Mouse two: "Never mind...How about Clint? He's over there chowing down on some chocolate over in the corner...or Chelsie could go" Mouse one: "Well maybe Clint, bot Chelsie is out, she's a she and she's blond and is built like a brick mouse house!" As I was imagining the conversation I was over whelmed by an odor that would kill an elephant! I checked the house in terror that the septic tank might be having problems. No septic problems, and as I was coming back from the office bathroom I looked over towards the litter box and Khuay was busily burying his poop. EWWWW! Man to say the least "mouse" doesn't agree with his system and I really need to control his consumption of mice. Man that poop was enough to kill a moose 6 miles away! Talk about
STINK
!!!!



Even air freshener didn't help. Hopefully there won't be more mice anytime soon...the smell is still lingering and it will take a while to get past the odor.
4 responses

• United States
9 Jul 12
lol, u & THOSE CATS & MICE. hOPE THAT IS THE END OF THEM FOR AWHILE. I hate bad odors so don't envy u that problem.


• United States
9 Jul 12
I can handle a LOT, but odors that strong are a bit too much for me to handle! I can't believe that a smell that bad came out of a cat that sweet!!! And he looked so innocent about it...he probably gagged a lot when he tried to cover it up. It seems to be a bad year for mice. A neighbor a couple of streets north of me is having problems with mice, I am getting him a couple of feral cats for around his place so that maybe his mouse problem will be cut down. He is really upset as the mice chewed through the cord to his golf cart charger!

• United States
9 Jul 12
I don't know about there but it has been sooooo hot & dry here they say snakes & all other 'varmits' are going to be bad. Guess they are hunting for water but hope they all stay away from my house.

• United States
9 Jul 12
We had a really dry winter, and boy do we have snakes! Bill got called down to one of the neighbors to deal with a 41 inch rattler with 13 rattles! He took the wrong ammo and it took more shots than usual. I have seen tons of snakes starting in February. Normally the snakes aren't out until April or May. Thing is that the snakes should be eliminating the mice, but the snakes aren't doing their jobs either. Of course with the dry winter the mice and ground squirrels are out of control. They all have a great source of water down at the lake although there isn't any standing water anywhere. I am just happy that I don't have any of the slithery creatures in my yard. I don't care about snakes, and have adjusted to their being around but I don't really want to get up close and personal with one.


• United States
9 Jul 12
Ugh, one thing I can say about Penny, she kills, but doesn't eat her prey, and if she did, at least her business is done outside.,..


• United States
9 Jul 12
I can't believe that the odor is still lingering! It's been nearly an hour after the mouse elimination in the litter box and the place still smells horrible! Looks like I need to get a mask on and do some serious cleaning and deodorizing! I hate taking the prey away from the cats, and the experts say that you shouldn't because it discourages their hunting instincts but the smell is more than I can handle!!! ICK!!!




• United States
9 Jul 12
Yes, I think you do need to clean and deodorize, is there a special cleaner you can pick up to eliminate orders?

• United States
9 Jul 12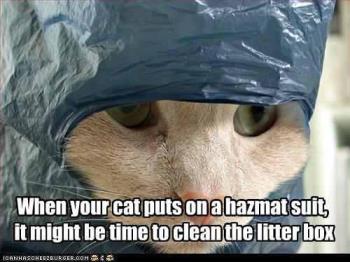 ROTFL!!!!!!!!!!!


Amazing, right after I replied, I went to Facebook and someone posted this picture..Of course I immediately thought of you...


• United States
9 Jul 12
I love the mouse "conversation" you imagined, that makes me LAUGH.OUT.LOUD.

But I do hope Khuay isn't sick after eating the mouse, you know how they say sometimes these mice have diseases. I dunno if it was the mouse or not, but---that was quite a story, as always.


• United States
9 Jul 12
A moment of silence for Ralphie.

Ah well, it was bound to happen at some point if he didn't find a way to escape the house. Ewwww... I'm glad my cat doesn't have any mice to chase! I don't think I could stand the stink or finding little mouse parts.